Manages computer training institute and horticulture farm simultaneously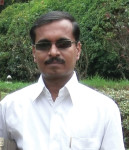 Mr. Pankaj Kumar Joshi grows flowers and fruits at his farm located at Shorapur Taluka in Karnataka state. Since 17 years he is running Computer Software Training Institute (KEONICS) but as he belonged to an agricultural family he had natural inclination towards farming. He manages both professions with ease.
Farm is about 6.25 acres having 7000 jasmine plants of about 1 year old, 500 rose plants, 125 mango trees, 130 sapota trees and 110 guavas trees about 4 -5 years old.  "I adopted organic farming, with drip irrigation and we use latest machinery like brush cutter, 50 lit. sprayer, mini-handy tiller etc.," says  Mr. Joshi.
All fruits and flowers are sold in local market and in nearby district only. Initially it was difficult to sell jasmine flowers but slowly after capturing the market sales are satisfactory.  Mr. Joshi shares, "I am not happy with the price I get for the flowers. Less technical/ agricultural information from government and its officers is available to us and we have to face marketing challenges".
Storage
Jasmine has everyday market hence there is no need for storage. "We have an agreement with the buyers of flowers so it is sold fresh regularly. In case of fruits it is done on contract basis with buyers and hence no losses," avers Mr. Joshi.
Future Plans
Future plans are to grow more flower plants of different varieties in another farm of around 17 acres.
Our Correspondent
Contact Details
Pankaj Kumar Joshi, Yash Computers, 4-3-3, SBH Road,
Shorapur -585224, Dist: Yadgir Karnataka
Mobile: 093425 94391 Email: psj174@gmail.com
Source : Agriculture & Industry Survey