Enters the realm of organic farming to provide chemical free and quality food
'A wish to give people high quality food, free of chemicals' is what inspired Rayson Rappai and Robin Rappai to take up organic farming and establish OTR Organic Farm in 2007. "We had some inspiration as our uncle is an organic farmer for the past 30 years," the duo adds. The farm is focused mainly on horticulture.
The company grows sapotas, amlas, coconuts, areca nuts, mangoes, guavas, jamun, and pomegranates whereas turmeric, vegetables and greens are grown as intercrop. In addition to organic cultivation it also produce some value added products like jams, pickles, dried vegetables, dried chillies, herbal amla tonic, turmeric powder, coconut jaggery blocks and coconut jaggery powder.
Of these greens are the most popular products of the company with claims saying customers have rated the green as having 'unsurpassed flavor and taste'. "All our vegetables and fruits are in high demand," says Mr. Rayson.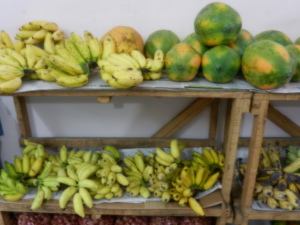 In addition to the cultivation of various horticulture produces the company also procures from other organic farmers. "We have a group of organic farmers in and around Coimbatore specializing in different kinds of produce," Mr. Robin shares. "We procure from each of these certified organic farmers and sell these products at our store."
The company has its own retail outlet where all types of organic products are sold including grains, spices, eco-friendly products and natural toiletries.
"Our unique feature is strict adherence to the organic principles of farming," Mr Rayson shares. "Another important feature is our water management techniques." With water management he implies, 'We do not waste water in our farm. Just flooding water in the farm without any planning actually increases the weed growth and does not helps growth of the plant. Removing the weeds is waste of resources precisely time and money. In one sentence I would like to sum, 'Plant needs moisture not water'. Our source of water is bore well pure water not the river water."
At OTR Farms rain water harvesting is practiced. To rejuvenate ground water there are lots of soak pits in the farm and near the borewell. Rain water is used only for spraying in the farm. In summers, the existing water source is sufficient, since water is used efficiently. "We water the plants through drip, where only 2 litres of water is passed/hour. It controls weed growth. We also have raised beds almost one foot above the ground level. We plant all the vegetables and greens in these beds. We pass drip line through the bed. The bed is covered with carbon stuffing like dry leaves, small wood pieces and wood shavings which keeps moisture in the soil and avoids evaporation. This means a layer is formed between soil and sun. We water the plants twice a week not alternate days. Even sometimes water is put once in a week depending on the moisture content which is measured using the moisture meter." Mulching also helps in maintaining the moisture in the farm. The idea of mulching was adopted at the farm after the founders visited other farms and self-study on the subject.
Growing crops is rainy season is tribulation as heavy rains hinder the seed germination process, more threat of pest attack and harvesting is difficult. "We can manage bright sun but not heavy rains. So this year we are going for poly house in order to produce veggies for our customer sufficiently during rainy season," says Mr. Rayson.
The company employs integrated farming method. Mr. Rayson informs, "We have built a very big vermicompost yard to manage weeds. We have planned for 10 times vermicompost production in a year. Weeds will be given to cows and sheep in our farm and dung will come back to the farm. All the seeds in the dung will start germinating and leads to weeds." In vermicompost, the seeds of weeds will be eaten by vermi and spitted out through the gut; these seeds will not germinate leading to less weeds. The total cost incurred to set up the new vermicompost yard is Rs. 1.5 lakh. Farm's microclimate attracts birds and small animals which in turn act as pest controllers. The farm is plastic free and eco-friendly.
"Main challenge faced in growing organic products is the uneven yield," the duo shares saying organic farming is a field where a farmer's patience will be tested countless times. Procuring and determining the genuineness of the product is the main issue. Acceptance from the public is also a challenge while selling organic products as Mr. Robin put in words, "Many people still see organic label as vice to sell products at a premium."
Mr. Rayson says maintaining quality and integrity was the only step taken by the company to boost sales saying, "We never had to resort to marketing gimmicks to sell our products. Our products speak for itself, 'Quality always sells'." The customers were price sensitive in the early stages when the company started selling however, "After using our products they are happy to pay the little extra premium in exchange of trust worthy organic products," he adds.
"There is a healthy competition in this field off late," The duo shares happily. "We need more farmers turning the organic way, to make our agriculture sustainable and chemical free." When asked how the company copes with competition the duo shares, "Keep up our integrity, strict principles and standards."
The company sells their produce mainly at the company's outlet at Coimbatore. During times of surplus it also sells at other outlets. "Some of our value added products like coconut jaggery, turmeric powder, dried amla etc. are sent all over India," Mr. Robin shares. The future plan of the company is to start organic restaurant and produce eco-friendly products.
Mr. Rayson Rappai has BSc and PGDMIT and Mr. Robin Rappai has MCA and BTech (farm technologies).
Contact details-
OTR Organic Farm
6, Alagesan Main Road Number 2,
S.R.P. Nagar, Saibaba Colony,
Coimbatore- 641 011. Tamil Nadu.
Phone: 0422-2453550
Email: fresh@otrfarms.com
Website: http://www.otrfarms.com