Coimbatore, Tamil Nadu based specialist in manufacturing custom-made grain sorting systems. Recent turnover 50 Crores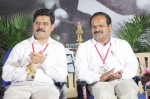 Orange Sorting Machines was established in November 2004, in Coimbatore, Tamil Nadu. The founders of this company are Messrs Srinivasan and Zahir Hussain. Orange is an ISO 9000:2008 certified company and follows strict ISO quality standards and procedures throughout its production line. It is recipient of Quality Brand Certification for the year 2012 -14. Orange is now working on CE certification for its products enabling it to export machines to European Union. The annual turnover is Rs. 50 crore.
Orange Sorting Machines (India) Pvt . Ltd with decade of experience in the field of vision-based sorting system manufactures custom-made vision systems that meet customers' individual inspection needs. The company technocrats develops and delivers advanced technology products that can gently and efficiently sort dissimilar items based on their shape, size, length, width, height, weight, fixture and finish to the fullest satisfaction of customers.
With the aim of serving the world, Orange is engaged in manufacturing and selling a wide range of industrially developed Sorting Plants. Our product range includes Colour Sorting Machines, Commodities Sorting Machines, Coffee Sorting Machines, Sorting Equipments, Rice Sorters and Grain Sorting Machines. Orange is a vision-oriented organization and is backed by cutting-edge technology to deliver best products and services in the market.
Mr. Srinivasan is a BE graduate in Electronics. Mr. Zahir Hussain is an AMIETE – Electronics Major. He is also a member of IEEE.
Mr. Srinivasan says "people are now not only quality conscious but also see pleasantness in their food. The grains direct from the field contains many defects like discolor, immature grains, mouse drops, insect damage etc., which is not suitable for consumption. These grains undergo various levels of cleaning and grading and then it is sorted for final quality making it ready for consumption.''
"In the rice segment, our operation is in the states of Karnataka, Tamil Nadu, Andhra Pradesh, Chhattisgarh, Odisha, Punjab, West Bengal, Haryana and rest of India. Orange has now started manufacturing dal sorting machines and we look forward in the dal segment of India such as Maharashtra, Madhya Pradesh, Gujarat, Rajasthan and New Delhi,'' adds Mr. Srinivasan.
Mr. Zahir Husain says "right now we are exporting our machines to Sri Lanka, Nepal, Bangladesh and look forward to export our machines to Thailand, Myanmar, Philippines, Laos, Cambodia etc.''
"We face competition from the international brands as we have grown up to their levels in quality and give sorting service at a reasonable price structure. Our customers choose Orange as the alternative for those international brands. We stand out from our domestic and international players due to our high tech Research & Development, quality of products, service back up and brand value,'' proudly says Mr. Zahir Hussain. Our next milestone is to provide vision-based sorting / inspection solutions for diversified industries that needs our service,'' adds Mr. Zahir.
Our Correspondent
For more information, contact :
Orange Sorting Machines (India) Pvt. Ltd., SF # 90/3, Aadhavan Industrial Area, Atthipalayam Road, Chinnavedampatty Village Coimbatore – 641049, Tamil Nadu. Ph: 0422 4528888 Email – marketing@orangesorter.com
Website – www.orangesorter.com
Source : Agriculture & Industry Survey