Responsible collective efforts of residents leads entire village to self-sustenance and affluence
Reverse migration, chemical-free farming, waste management, proficient irrigation system, water conservation and energy preservation are the unique features of Niravu Vengeri village that sets it apart in the country. Spread in 60 acres, near Kozhikode, Kerala, the village residents have proved that agriculture in alliance with nature is very much profitable and rewarding.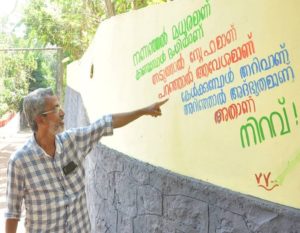 As of date, Niravu Vengeri village has attained self-sustenance in every aspect and all farmers-villagers are consistently progressing towards affluence. The movement of change started in the year 2006 under the guidance and leadership of Mr. Babu Parambath, Mr. P.P. Mohanan, Mr. Ramanathan P.P., Mr. A.P. Sathyanathan and Mr. Rajeev E.P. They took the selfless route to bring prosperity to the village and soon the small initiative turned into a movement when all the village residents joined in willingly and enthusiastically. They spoke with us about the movement of change, results and future plans. Excerpts:
Our Vengeri village was gripped in the environment of despair as 7 residents were suffering from life-threatening disease cancer, surroundings had plastic waste all around, farming was loss making venture as it was done scientifically with the use of chemical fertilizers and pesticides and villagers were relocating to cities. We wanted a change for the happiness of our people and village thus we called our residents and held a joint discussion. It was decided not to burn or throw away plastics, stop use of chemically produced agri inputs and conserve our natural resources. It had been a step-by-step process leading to consistent attainment of healthy air, food, water and soil.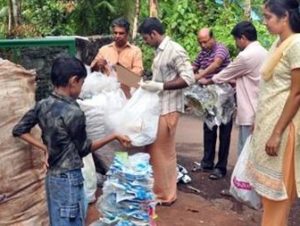 Out of total 60 acre village area, in approximately 30 acre we are doing farming. The size of the farms owned by individual farmers certainly varies but they all are stringently engaged in chemical-free farming practices.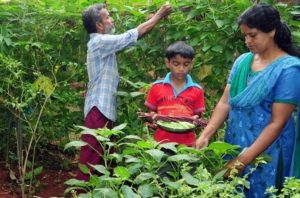 In 2006 we immediately stopped use of chemicals in our farms so we did face the problem of less production and also there was a doubt/confusion in everyone's mind as how we are going to implement the changes efficiently and effectively. Nonetheless together we sailed through the tough times. To increase the biomass in our fields we brought desi cows, desi seeds, conserved rainwater and decomposed all the bio-waste into manure.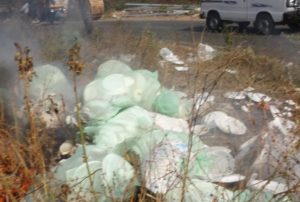 We grow crops that are native to our region. Few to name are desi paddy; pulses; pepper spice; fruits namely coconut, banana (plantain), passion fruit, mango, jackfruit, papaya, guava; vegetables such as spinach, chillies, curry leaves, mint, tomatoes, brinjal, ladies finger; tuber crops like yam, colocasia, ginger, turmeric, pumpkin, bitter gourd, ash gourd etc.
We have 100 % sustainability in terms of food security with all these native crops. However, we do buy only few select items that cannot be grown in our village due to unfavorable climatic conditions such as carrot, potatoes, beetroots etc.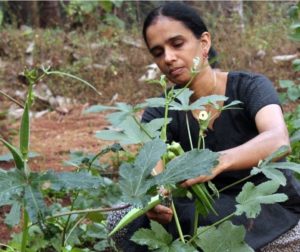 In organic farming only indigenous seeds are used and not hybrids or genetically modified seeds. Unfortunately we didn't have any collection of desi seeds and it was the major problem faced. To solve the issue we started collecting seeds from girls (daughters) who were married outside our village and also from the girls (daughter in-laws) who were married in our village. Slowly and gradually the collection increased and today we have surplus seeds in stock always.
Earlier there were no cows in the village so we decided to rear Kasargod dwarf desi cow breed for its quality richness in milk, dung and urine. Cows yield approximately 2 liters/day that is sold at Rs. 100/liter. The cow dung and urine are used for making organic fertilizers like panchagavya, amruthapani, jeevamrutham, palkaya mixture etc. As we use desi cow dung it is packed with uncountable microbes that naturally fixes the nitrogen and nourishes the soil.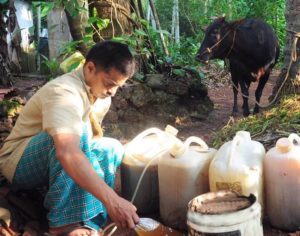 Apart from these cow based manure we also use slurry from biogas plant, fish amino acid, organic compost, vermi compost etc. To keep the farm safe from pest and disease attacks bio-organic pesticides are prepared in the village such as garlic spray, egg shell spray etc. We also grow flower plants along with main crops so that pest and insects gets attracted towards the flower and the main crop is safe.
To manage waste, every house segregates waste into bio-degradable and non-degradable. The non-degradable waste like plastic is collected in the bags that are sent for recycling at Karnataka Plant. We also try our level best to minimize the use of plastics. Bio-waste is decomposed in the most suitable way such as livestock dung in biogas plant while kitchen waste into compost pit. Other modes used for decomposing bio-waste are pipe compost, vermi compost, biobins, etc. We have one biogas plants for every 4 houses. Approximately there are 30 plants in the village. Some houses have pipe composts, small biobins, kitchenbins, compost pits etc. The manure obtained is then used in farming.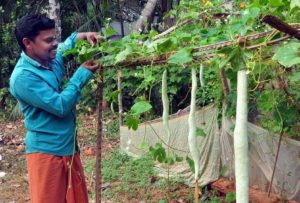 Earlier we faced severe drought in our village. We are located slightly on the hilly area hence all the water used to flow away. Water in our 5 wells was completely dried. To retain the rainwater we then started harvesting water in the soil itself by paving the land with pebbles without concrete, rain pits etc. In addition we also started recharging well water. We installed architecturally correct irrigation system to ensure proficient use of water.
As value addition is the way to improve the farm revenues we began processing the agricultural commodities into pickles, jam, squash, turmeric powder, chili powder, other grains powder, jack fruit chips, halwa, ice cream etc. To sell the produce we established Niravu Farmers Producer company with assistance from NABARD to provide a common platform to all the farmers to sell their farm produces and value added products. Only 10% is deducted from the sales amount of every product for meeting the company expenses and rest 90% amount is directly remitted in respective farmers' account twice in a month with an interval of 15 days. This initiative is helping farmers in getting new market for their product. The annual turnover of our company is Rs 5.22 crores.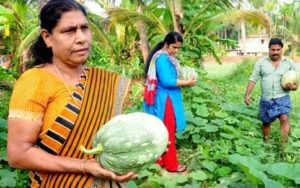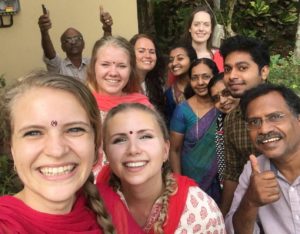 We have recently ventured into agri tourism. We have received guests from Norway, U.K., Canada, Germany, France, Italy. We share our farming practices and traditional living style with them.
In time to come we want to extend our activities all over India. We are elated with the progress made so far and the credit goes to all the resident of the village. In the year 2006 our village had 101 homes but now we have 128 homes. This slight increase in the number testifies reverse migration has begun and surely would escalate in future.
Contact details-
Niravu Organic Village
Parambil Bazar-Kannadikkal Rd, Netaji Nagar Colony, Vengeri, Kozhikode, Kerala 673009
Phone: 09447276177
Email: reemareemz13@gmail.com, babuvengeri@gmail.com
Web: http://www.niravu.com/