Switches to palm cultivation for stable income and less maintenance
"Less monitoring, no fear of theft, disease and pest resistant, assured crop and regular monthly income are unique features of palm cultivation. Earlier than palm we were focused on coconut and sapota. These two crops demand more attention for production and marketing. On the contrary palm cultivation is more stable and hassle free to manage," highlights Mr. Niranjan V Parangi, progressive farmer. His 14.5acre palm plantation is located at Hosaritti village, Haveri district, Karnataka. "We also have 12 acre coconut and sapota plantation but it is given on lease," he adds.
"We have Tenera variety of palm in our plantation. In this variety male and female flowers are grown in the same plant," he shares. Primarily palm crop was chosen over coconut and sapota because of less labour requirement and regular monthly income. "As palm neither gets affected by any major disease nor suffers from pest attacks there is not much work in the farm apart from irrigation and feeding the soil with manure. It too can be managed automatically now. In addition palm is not stolen at it is thorny and heavy unlike coconut and sapota. Palm fruits do not have any other use apart from extraction of oil.
Moreover in case of any problem regarding health of trees then Karnataka palm growers association are easily approachable for assistance. Further they regularly visit the growers and help them in best possible way. This association is linked with government," he elaborates.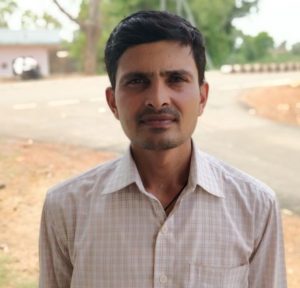 Once the saplings are transplanted the first harvest is obtained after 4years that then continues for 40 years. Saplings were transplanted in triangular method pits of 60cmx60cmx60cm dimension. 60metres distance is maintained between plant-plant. In one acre approximately 52-58 plants are accommodated. Saplings were sourced from Simhapuri Agri Tech, Harihara. "To promote palm cultivation amongst farmers government has agreement with the company thus we got the saplings free of cost. Also the horticulture department makes regular visits to our plantation and gives required guidance," he informs.
Water is the only key requirement for palm trees. It needs 200 litres water in an interval of 5days. Any land is fine for growing palm and as it is supported by most of soils except saline, alkaline, coastal sandy and water logging. The trees yield fruits once in a month. "As the fruits are harvested and sold every month we get the stable income every month for the entire year. In winters the yield will be usually more because of cold temperature. Giving adequate water is important for increasing the yield. Further we try to improve the yield by pruning the branches once or twice in a year. Also we feed the soil and trees with organic fertilizer thus our production cost is very less," he asserts.
Zero budget natural farming is practiced in the farm. As palm trees are disease and pest resistant farming inputs used are farm yard manure, neem fertilizer and green manure. When asked about practicing zero budget natural farming, he says, "It is efforts of my father. He was a committed agriculturist. When he learnt about organic and natural farming he instantly started practicing it. In the process of conversion he realized farm maintenance is less when compared to conventional farming. Zero budget natural farming is labour intensive in the initial years but later the farm becomes self-reliant."
Speaking about intercropping palm with other crops Mr. Parangi clarifies, "First 3-4 years we can go for intercrops but it is labor intensive. We had cultivated groundnuts and sweet corn. However later as the palm trees grow intercropping is not possible because of shade."
Fruits of palm tree have good market value. One bunch of palm fruits weighs 20kgs. It is sold as a whole fruit. Oil is extracted from pulp as well as seeds. In Mr. Parangi' s farm palm fruits are sold to one company for more than a decade. "Palm cultivation is simple routine work of taking care of the trees, harvesting fruits and selling the produce to Simhapuri Agri Tech, Harihara. We have tie up with them since the beginning thus everything happens on time. We will harvest the fruits and they will pick up the produce from the farm gate," he states. Annually yield per plant is 150-200kgs and yield per acre is 10 ton.
Price of palm fruit is fixed jointly by company and Directorate of Horticulture. "Presently company pays Rs. 7.75/kg for every harvest and Government pays additional Rs. 2/kg annually as a support price to encourage farmers to continue palm cultivation," he reveals. Payment is made through online transfer. Every year cost of production would be Rs. 10,000-15,000/acre while profits earned would be approximately Rs. 80,000-85,0000/acre. "Overall it is a secured agriculture crop."
Mr. Parangi holds B.Com and was working in Bangalore until May 2017 in cyber media. He took up farming after demise of his father. "I have relocated to my village to look after the palm plantation," he states.
In time to come he shall continue the present operations. "My father took the right decision at right time of doing palm cultivation and practicing zero budget farming. Now the soil health is improving and our farm revenues are satisfactory. Agriculture requires series of experimentation with various crops, once clicked then farm becomes independent and revenues are consistent," he signs off.
Contact Details:
Mr. Niranjan V Parangi
S/o V. K. Parangi, Bazar Main Road, Hosaritti PO, Haveri Taluk and District – 581 213, Karnataka
Phone: +91 97393 41639