Consistently working since 17 years to shape better future for agriculture in India. Located at Pabhoi village, Biswanath district, Assam
Series of self-funded research `experiments to develop organic vegetable seeds, conservation and production of more than 100 indigenous rice varieties, rearing and breeding Assam's native fish breeds, creating employment and entrepreneurial opportunities in villages, duck farming, hands-on training workshops for farmers are the diverse activities Mr. Neelam Dutta has been engaged in from 17 years at his farm Pabhoi Green.
"I did all the research and experiments in horticulture on my own. In our country we do not get any financial sponsorship from the government or any institution for these agriculture specific researches. Nevertheless, as I felt it was necessary for the future of agriculture in India I took bank loan at very high interest to do these experiments," he shares on insistence. Indeed it was challenging task to develop organic vegetable seeds because it is highly capital intensive yet Mr. Dutta conducted the research experiments. "We have to employ many people, 60% of my farm is used for research activity thereby the farm revenues were reduced and last year I sold seeds for Rs. 10-12 thousand while investment is Rs. 10-12 lakh." His tireless efforts of two years led to successful production of 250 different vegetables seeds like 14 varieties of tomatoes, 6 kinds of lettuce, aubergine (brinjal) and so on. The farm is located at Pabhoi village, Biswanath district, Assam.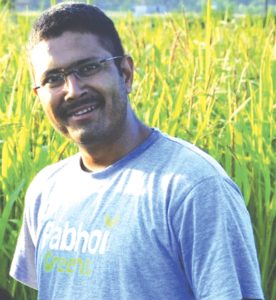 Pabhoi Greens, also known as Lakshmi Agriculture Multipurpose Project (LAMP) is 12 hectare farm with an additional farming acreage in 14 hectare taken on lease. Mr. Dutta is engaged in farming since 2001 after the demise of his father, Lt. Dr. Hemen Dutta. "My father was passionate about farming therefore he left his secured Government job and turned into full time farmer. To take his legacy forward I took up farming as full time profession. I am managing the farm along with my Mother," he adds.
In 2003 Pabhoi Greens was turned into an organic farm. "I believe in living life close to the nature and felt the need for ecological sustenance to take care of the environment so discontinued the use of chemicals completely in 2003. As the use of chemicals was stopped at one go there was a sharp decline in the productivity yet we survived because we have many verticals of agriculture in our farm such as fish, vegetables, ducks, paddy and dairy farming. With this experience I strongly recommend to make the switch to organic from chemicals in a planned way instead of making the changes in just one go. Secondly having an integrated farm is a must for every farmer irrespective of the farm size," he highlights.
"When I turned my farm into organic, I couldn't find any organic/indigenous seeds for vegetables and even today there are no organic vegetable seeds suppliers in India who can guarantee the quality. Although we have many farmers working towards conserving the desi seeds for other crops but none for vegetables thus I opted to study on vegetables seeds breeding in 2016 at ETH University Zurich, Switzerland. Impressed with my work I got the technical tie-up from Sativa Bio Seeds, Switzerland to develop organic vegetable seeds in India. After two years of intense experiments now I am developing organic vegetable seeds for sales," Mr. Dutta describes the drive to begin the research on vegetables seeds followed by commercial production.
The vegetable seeds developed assure production as these are in alliance with Indian soil and climate. It is one time purchase for the farmers as it can then be saved from first harvest for subsequent seasons. It can be grown in any part of the country.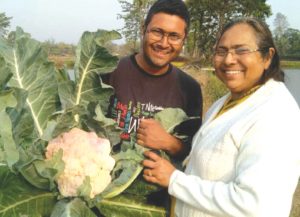 Speaking about the unique features of 100 native rice varieties conserved at the farm, he elucidates, "We do lot of experiments to select the distinctive varieties of rice specifically those that can cope with climate change easily without disturbing the yield. In our rice collection we only keep those varieties that give good production to the farmer. In this collection, 70% rice varieties are mix of aromatic and medicinal rice while 30% seeds are developed by universities from cross-breeding two desi rice varieties to develop high-yielding rice variety. We do not work with hybrid or GMO at all." Apart from these rice variants, aromatic black rice is also produced in the farm.
Rice and fish, the staple food of Assam are cultivated together at the farm. "We do paddy cum fish farming. Native fish varieties are grown with paddy. These are Indian minor carps namely Bata, Gonias, Kalbasu and Pangasius," he informs. Indian major carps such as rohu, catla and mirgal and Chinese carps such as common carps, silver carp and grass carp are also reared at the farm.
Indigenous breeds of cows and bulls are integral part of the farm too. "Milk of cow is secondary while its dung and urine are main products for us. Cow urine is used for making bio-pesticides and it is also sold for medicinal purpose. Bulls are used extensively for farming activities as use of machinery is minimum in our farm. Cow dung is used for making manure," he says.
When asked about additional manures used in the farm to boost the crop yield, Mr. Dutta explains, "We strictly follow 7 years of crop rotation policy that ensures soil nourishment. Next we grow many green manure crops and vermicompost to improve soil fertility. We produce around 300 metric tonnes vermin every year. Azolla is used for rice cultivation as it fixes the nitrogen in the soil and boosts soil's moisture retention capability. It is also feed to cows, ducks and fish."
Enthusiastic and progressive farmers are given hands-on training at the farm. Last year Mr. Dutta trained around 4000 farmers on organic farming from India as well as other countries. Farmers are provided best quality planting material at reasonable price. "By selling our intention is not to make money but enable farmer to get good production," he asserts. Organic seedlings and saplings for flowers, shrubs and vegetables are sold at seasonal nursery at the farm. "We keep honey boxes for pollination. Last year we could sell 40 liter honey. Similarly paddy straw oyster mushroom has good potential. As these two are inter-related with organic farming we are encouraging the farmers to take up apiculture and mushroom farming as it would give them additional income."
Paddy is processed in-house in small processing unit having capacity 2 quintal/day. By products of paddy processing is fed to fish, duck and cow. Aromatic and black rice produced is sold directly to end consumer and few select restaurants. "Farmers in our network who are growing rice organically are even connected with these buyers for the direct sales. I just introduce the farmer to the buyer and rest there is monetary transaction involved," he affirms.
Approximately 200 kg fish/week is sold in wholesale market as direct sale is time intensive. "In fishery our main focus is to breed fish to develop fingerlings and fry to be sold to other farmers. We are the only farm in North East India to breed different varieties fish seedling. We stress on single breeding species. We produce 850 lakhs spawns and 60 lakhs seedling annually," he states.
Immediate plan at Pabhoi Green is to develop 3 lakh organic vegetable seeds and sell it across India. Soon 6000 packets will be ready for sale. "With these 250 varieties of seeds our main intention is to give diversity in food nutrition with colour, taste, flavor and nutritional value. We have also created first ever farmers cooperative in Assam called as 'Pabhoi Organic Farmers Cooperative Society'. Presently we are 30 like-minded organic farmers. Soon we all shall be selling our produce under one umbrella 'Pabhoi'. Besides I am focusing on vertical farming as land area is reducing and population is increasing. It is the need of the hour. Our long term plan is to emerge as a company that people can trust for its value. Self-respect and dignity is extremely important to us. Further there are no benchmarks in agriculture and we want to do business with ethics," concludes Mr. Dutta.
Contact details:
Pabhoi Greens
Pabhoi, Biswanath, Assam
Phone: +91 98643 66162
Email: neelamdutta@hotmail.com
Web: http://www.pabhoigreens.in/