An agricultural crop management app provides up-to-date information on farm production and market information for free. Subscribed by 50,000 farmers in just 3 months
"Effective communication is the need of the hour in Indian agriculture as it can fill the gaps in the entire system. The expertise and solutions to the problems in farming upheld with the agricultural officer/scientists hardly reach to the farmer. There is a huge gap between the actual on-field situations and government supported activities! To fill in these gaps we developed the app and offered it to the farmers for free! Also, it is designed primarily to serve small and marginal farmers," says Mr. Naveen Kumar V, founder and CEO – NaPanta.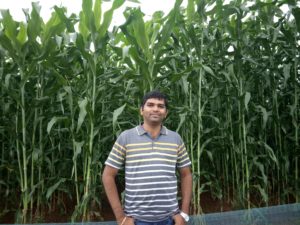 NaPanta is an agricultural crop management mobile application. By using NaPanta, a farmer can access real time information pertaining to daily market prices of 3500+ agri markets and 3-year price trend of 300+ agri-commodities with a simple mobile internet connection. The best aspect is that the mobile application can be accessed without internet for those who have limited access to communication infrastructure. In this mode, the app provides crop and pest management techniques for over 100 crops. All the information provided is legitimate and free for the farmers. NaPanta is incubated at AIP-ICRISAT and CIE@IIIT, Hyderabad, Telangana.
"We could reach 50,000 farmers in just three months. And the number is increasing every day!" he adds. "We also encourage the farmers to track personalized information about crop management techniques, pesticides, insecticides, 5-day weather forecast, soil testing laboratories, crop insurance, cold storage and related agri-dealer information in a specific location chosen by a farmer." This free mobile application allows the farmers (users) to track their expenses in an organized manner across purchase of seeds, fertilizers, pesticides and farm related equipment. Mobile App is developed in two languages, the default language is Telugu and another one is in English.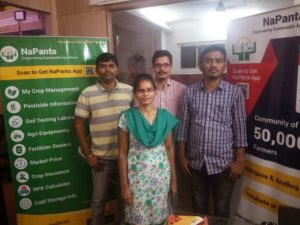 20-30% of farmers' time is wasted in collecting information from different physical sources. "When we talk about the farmers with small land holding (less than 5 acres), for every element of farming they need to go a different place like to find genuine seeds, crop protection solutions, details on cultivation etc. In spite of all the running around, they get very little information that too is not surely correct. If the pest attacks their farm, by the time they collect the details and purchase the pesticide they would have wasted 3-4 days and pest would ruin their crop. So we have provided the complete details along with the related images on crop cultivation and protection. It is precise information with the well-defined solution. This saves farmers' time and the results are positive," asserts Mr. Naveen. All the data in the app has complied in alliance with the guidelines of CIBRC (Central Insecticides Board & Registration Committee) guidelines. Similarly, the market price of agricultural commodities in various mandis available in India is from agmarket.nic.in
When asked if the information offered in the app is provided for free then how revenues are generated, he responds, "Presently it is a self-funded startup but soon we shall be collecting the payment from the farming equipment listings on our app. Besides by 2020 agriculture will have the boom in India. So we will also plan to sell farmers' produce directly to end user through our app. Yet the information accessible to the farmers will always remain free. We shall earn through the trade that takes place ensuring farmers are neither exploited nor cheated in any case."
Mr. Naveen worked with ICICI and HDFC bank after completing MBA (marketing). However, nine years later in 2014, he quit his job for his startup 'ApnaLoanBazaar', a retail loan online aggregation platform. "In December 2016 we diversified our attention to agriculture sector moved by the suicide of a cotton growing farmer in a village near to us. The farmer was duped by the seed provider who supplied him fake cotton seeds for a mere profit of Rs. 300. On probing further, found farmers are hardworking but gullible and innocent. They lack the correct information about market prices and farming inputs like seed, fertilizers, machinery, and types of equipment. Besides, there is no one to give them the guidance! Employees of MNCs and dealers make faulty promises and cheat the farmers taking advantage of their innocence. Therefore to fill in these missing information gaps in the agriculture we developed the app that is a complete guide on farming for more than 100 crops and the market price of 300+ agri commodities," he describes the drive behind developing an agricultural crop management app.
In time to come, Mr. Naveen and his team aspire to connect with the farmers across India but only after the content are re-designed as per the particular state. "By just changing the language I can go pan India but I want to ensure the information provided through my app is 100% useful to the farmers of the particular state. Therefore we are working on content management of the app suitable for different states. Also, we are in process of offering the natural and organic solutions," he shares.
"Farmer is no more interested in theory and verbal comprehension! He is interested in facts and factual attained by other farmers in their field. Give him the information and guidance he wants and then there will be a boom in Indian agriculture for sure," Mr. Naveen signs off with affirmation.
Contact details:
NaPanta
G12, H.No: 6-3-652, Druvatara Apartments, Somajiguda, Hyderabad, Telangana – 500004.
Contact: ✆ 040 65555578
Email: naveen.v@napanta.com