Please tell us about your background.
I am a Horticulture post graduate from Tamil Nadu Agricultural University. I completed my post-graduation in 2000 and since then I am working as a Horticulture Consultant. One of the main advantages I have had is that my father was also a horticulturist. I am, hence, graced with his experience as well. This has helped me a lot with my initial days of consultations and continues to show its charm even today.
Now, I'm focusing on farm compliance, therapeutic horticulture, native landscape evaluation for agricultural lands, and mediation and arbitration in agriculture.
I have with me a team of people. For mediation and arbitration, I have a legal team in place – a Company Secretary and a Chartered Accountant.
Together with my team, I offer turnkey solutions to all farm related issues – from farm compliance to marketing. We facilitate FPOs in marketing and offer services to agri-corporates as well as the farming community.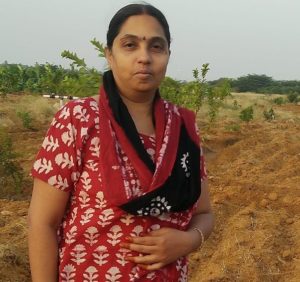 In your view how has globalisation impacted agriculture?
Globalisation very much exists in agriculture and like any other industry, agriculture also deals with the pros and cons of it all.
Looking through the lens of the Indian farming community, we have a scintillating system right now. Establishment of FPOs etc is verdict of the fact that we are also marching towards globalisation.
In a way, globalisation affects farmers. But, it also leaves a positive impact on farmers to take up challenges that globalisation poses. This way they are also thrust towards doing better and making a better living for themselves. So, it is about how you take it. If taken positively, globalisation offers a plethora of opportunities.
We are very high on rural marketing, which will help our farmers to a large extent. We can have a win-win situation within the agricultural scenario, government and farming community subset. There should exist a very good network within these communities. These systems should be talking to each other, very often.
If we work alongside, globalisation will eventually be a boon for the Indian farming community.
Can you site some specific instances where you feel globalization has impacted the agricultural industry in South India?
In the past years, I have observed a few things. We are investing on agricultural land in Africa and Australia. Some of the Indian companies/people/corporates are investing in foreign lands. We get products from there as well.
We go there as an investor with our technology. That is the most important thing. We take our organic farming technology to Israel, etc. So, our technology is being transmitted to many parts of the world. That is one thing.
The FPOs that get formed, after around 5 years of being in existence, they also gradually move towards the export market. Once an FPO gets formed, it takes 5 years for them to get established. So, all its benefits go into the export industry. They get all the export-related licenses and the produce goes mainly to the Middle East besides Japan, US or UK.
So, investing in land in other parts of the world and exporting our premium products even to the remote islands, in addition to the fact that our consultants are also in search of foreign lands, are the effects of agricultural globalisation.
So, enquiries are coming in seeking our expertise from other countries?
Yes, people from tropical lands prefer seeking advice from our consultants.
This caters to a positive note. We will grow along with the rest of the world. That is my opinion.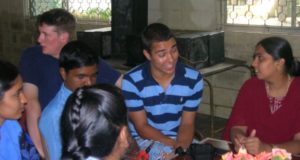 What changes can we bring about in this industry to make things better? How can we do things differently?
Good question. There is a lot we can do.
1. Stabilize Marketing Strategies
First of all, we have to stabilize our marketing strategies. Farmers are good at production. If you can reach out to farmers on capacity building programmes, they show great improvement.
Their main point of struggle is when it comes to marketing and price fixing. Other manufacturing sectors fix their own prices. But the agricultural industry doesn't get the flexibility to do this, especially farmers.
In the last two years, though, there have been a lot of trial and error mechanisms in play, and there have been bodies instrumental in offering market facilitation service to the farmers. What they do is they don't fix the price but ask farmers or FPOs to fix the MRP. There is a survey/research etc. behind fixing these prices. They train people to fix prices, too. They come up with MRPs and barcodes.
They are also taught about GST compliance, etc. The government also takes steps towards setting up centres in every block of every district. This can be done for providing daily provisions.
This initiative can regulate the market and a lot of discrepancy in cost will reduce. The difference in price today is mainly due to logistic charge differences.
2. Work Towards Reduction of Logistic Rates
If we can reduce the logistics wherever possible, producers also make profit and so does it lessen the burden on the consumers, without compromise on product quality.
We have to have a strong framework around marketing and all parties – government, FPOs, public, NGOs, corporates etc. – all that is involved. It should be a comprehensive system.
3. Stabilize Our Supply Chain
Another thing we have to stabilize is our supply chain depending upon the size of the material. All this has to be done block-wise, district-wise and state-wise so that transportation is made easy even between states because different states excel in different products.
Our internal trade has to be stabilised before we venture into exports as a whole.
What are some of the recent activities/processes you have been involved in? What arbitration services do you offer?
I have been involved in two government projects:
1. Landscaping
2. FPO Marketing System
Besides these, I offer regular consultation towards developing plots ranging from 5 acres – 100 acres.
We advise the involved parties in a unique manner. We design the cropping pattern so that they get an income every month from at least any one part of the farm. We are pushing for native landscaping. That is, landscaping with native plant materials.
I also give regular training – training in all these aspects of my expertise. Tomorrow, I have an intern joining, for instance, from Anna University's Engineering and Irrigation Management department. We impart regular training programs – mainly catering to creating awareness on the different aspects of farming.
We evaluate agricultural lands for plants and individual clients. We also deal with code-based evaluations.
Arbitration is a general term given to all commercial transactions.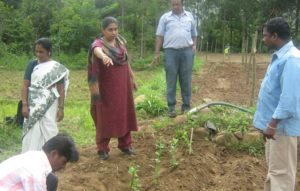 Isn't arbitration an activity that focuses on mediation between disputing bodies to come to a consensus before going to court?
There is a difference between a mediator and an arbitrator. Both of them feature under the common roof called Alternate Dispute Resolution Mechanism.
Wherever contracts are involved – dealership/distributorship etc., there should be a clause for dispute resolution. The disputing parties can either opt to go to court or choose to seek arbitration services. It is governed by the Indian Arbitration Act.
We had an old Act in 1940. Additionally, we got the Indian Arbitration and Reconciliation Act in 1996, which got amended in 2013.
My team conducts arbitration and dispute resolution based on these acts. This arbitration is universally accepted – that is its beauty.
If we have an agreement with another person for contract farming, do we need to have it in writing as a clause stating that the dispute resolution will be through arbitration?
There are two ways to approach this:
1. The best thing is to have an agreement in place before entering into a business transaction.
2. Now if that is not the case and you are thinking of a dispute resolution once a conflict arises, then even in the midst of your business both parties can go for arbitration services if there is a mutual consensus for it.
At the final stage if a dispute erupts, we can go for a mediator or arbitrator. Having said that, both parties should consent. We can enter into an arbitration agreement and then initiate arbitration proceedings.
From my experience in this industry, I can confidently say that this is a very friendly approach to dispute resolution. It is maintained with high confidentiality so that your business doesn't get affected in any manner in the future. It doesn't eat into our time as well.
It is kept simple and fast.
This sounds really useful. Traditionally, if someone gets into a court case litigation, it takes ages to get resolved.
True.
Is this relevant for the old style agriculture disputes or is it only for business-related issues that you deal with?
To the best of my knowledge, tenancy does not come into arbitration. It depends, and varies from case to case if something can be arbitrated or not. For example, family court matters are not open for arbitration.
If the rental agreement has an arbitration clause in the initial stage itself, it can be resolved through arbitration.
What is the difference between mediation and arbitration?
Mediation is when the disputing parties come, and in their presence the mediator presents the weakness and strengths of both parties. This will lead to mediation. A solution will be given. It is up to the parties to accept it or not.
Arbitration, on the other hand, is where concerned parties should come with their papers and prove themselves. The decision made by the arbitrator is called award which is equivalent to a court judgement. The award is binding and the parties have to accept and comply as per stated award. It is very similar to a court decision. If the parties are not happy, they can file an execution committee in court and proceed thereon.
All this will be weighed in the Indian Arbitration and Reconciliation Act. Basically, they follow the Unchehara model. That model functions based on certain rules.
In agriculture, you can go with contract farming, landscaping, and corporate/FPO/community forming. Farmer-Producer companies have a binding system. Any disputable incident related to farming can be brought to the notice of the arbitration body.
If we can include a clause in the contract stating that in case of a dispute, the first approach will be to go for mediation, after which arbitration will be sought. If mediation fails there is no confusion when and if a dispute arises.
So, clauses play a great role in causing less burden during a dispute.
What is your role in agricultural mediation and arbitration?
For arbitration, the only qualification is that the arbitrator should be of sound mind, as per the Arbitration Act. For example, you are perhaps aware of the trade association for grains. They have a panel of arbitrators who are traders. There is no need to be of any other academic qualification other than possessing a sound mind. If the parties accept me, for instance, as an arbitrator, that is fine.
I take up two things. I help people in drafting agriculture agreements with arbitration clausestaking help of our legal team. That is one thing. We also vet these contracts.
Another thing is I can sit as an arbitrator and pass awards on the agriculture related disputes.
Have you sat on any of those panels?
I draft contracts regularly. I have been present as an agricultural expert in many occasions, in arbitration processes. For example, for a case where a lawyer and an engineer was sitting for an arbitration hearing, I have been called as an agri-expert if they need clarity on any agriculture-related topic, during the course of the dispute.
An engineer was once sitting as an arbitrator for a land dispute. That land had some vegetation and trees in there. So, they called me in as an expert. The opinion of the expert is also taken into consideration when they write the award.
As an agriculture graduate, there are 4 roles you can take up in the arbitration space:
1. Arbitrator counsel – We can appear for a party
2. Arbitration expert – We can go appear as an expert when called by the arbitrary tribunal
3. Support in drafting agreement
4. Sit as an arbitrator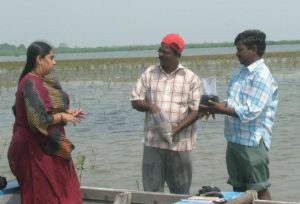 Is this arbitration/mediation a recent development or has it been there for a long time?
No, it has been there. Even in the Spices Board, Coffee Board etc., there are arbitration clauses in place. Over there, the director sits as an arbitrator.
There are people, like Mr. Manmohan Attar, who have sat as an arbitrator 20 years back on a seed dispute.
It is a role for an expert, plus works much quicker than going to court.
Which is your jurisdiction?
I can go sit as an arbitrator anywhere in India unless there is a clause in the contract that spells out any particular area for venue and jurisdiction. We can decide the venue, jurisdictions, and rules also when including the clause in the contract. We can even have clauses to go by Singapore arbitration rules in our contract.
We have our own institute there called KOVISE Foundation Conflict Resolution International. This is an arbitration institution where we have a certain set of rules. If the client is okay with our rules, we will include that arbitration, and it will be taken care of as per KFCRI in the arbitration clause. If everything has been written in the arbitration clause, once a dispute arises, it will automatically go as per procedure. That is it!
We can even opt for mediation, negotiation or arbitration.
One thing I have noticed is, our people always go wrong at the entry point of a business. They are in a hurry to take it up rather than build it to cater to different scenarios.
Once you take up a business, it calls for being cautious, and in the light of being cautious it is important to include such relevant clauses because you are dealing with different kind of people.
It calls for being patient in doing the paper work. Once this is done, the business will run long term.
A little bit of detailing can save a lot of hassle, in the long run.
There are many issues that crop up in an export business. Our main agricultural-related arbitrations are in the export category.
Does it tend to get complicated because it is across countries?
We have only two types of countries – common law countries and civil law countries. We have procedures in place for all this. The only thing is when they enter into these contracts they need to consult legal/agri/arbitration consultants who have the expertise. They will always advise on adding this clause to be on the safer side.
This saves a lot of stress and panic in case of a dispute, and businesses tends to flourish. If I have learned anything from my 15 years of agricultural experience, it is that a remarkable piece of advice to any agriculturist should be to have their clause for dispute in place. But the irony is that most people would have never heard of this.
As a part of the globalisation, there are many people venturing into the agricultural business, which makes obvious grounds for conflicts and disputes. So, the contract before venturing into the project needs to be given solid thought and consideration.
The role of an arbitrator is something even agricultural graduates can specialise in.
Agriculturists should be made aware of this facility and should spend time designing their papers before jumping into a venture to enjoy healthy business relationships.
Furthermore, to safeguard our land/property, this clause is of prime importance. Our FDI also plays a role as far as agricultural lands are concerned. In the interest of safeguarding our land, giving importance to sane agreements is a must.
Contact:
Mrs.Surya Narmada
Prop: KOVISE AGRO
G2 Plot No 108
Majestic Colony
Valasarawakkam
Chennai 600087
Mobile: 9840213912
Email: koviseagro@gmail.com