Reaps higher profits with farm integration
"Every element in an integrated farm goes hand in hand without any extra effort from the farmer yet it attains success only if it is driven with passion. Integrated farming is the key to good and prosperous life of a farmer!" asserts Mrs. Sampoorna, from Kuntanahalli village, Doddaballapur taluk, Karnataka. She does integrated farming on 6.6 acre farmland. Millets, legumes and seasonal vegetables are grown in the farm. To nourish the soil and boost the plant growth she makes farming inputs within the farm through vermicompost and bio gas unit. Livestock is intrinsic part of horticulture therefore Mrs. Sampoorna rears cows, hens and sheep.
"Being from an agricultural family I was inclined toward farming since childhood. After marriage with the support of my husband I continued farming. My husband was always against use of chemicals in agriculture therefore integrated farming was most suitable for my farm. We kept adding one element after the other and in few years we had fully integrated farm that runs on 100% interdependence of all the segments," she describes the drive behind setting up an integrated farm.
Vegetables are grown as per season. Green leafy vegetables, tomatoes, brinjal, pumpkin, beans and chili are few of the vegetables grown in the farm. Mrs. Sampoorna favors to grow seasonal vegetables so that she can manage the farm available resources well. "In summer we grow pumpkin because it needs very less water. In rainy season we grow cowpeas and beans etc. As the soil in our farm has high water retention capacity and microbial acidity is also good in summer we grow more leafy vegetables and sell it at premium price. Most of the farmers will grow crops in rainy season so market is competitive but in summers only few of them do vegetable farming so we sell the produce at higher price and get good profits," she says.
Dairy unit has 5 cows, 2 jersey, 2 HF and one desi cow. Concentrates, green fodder and dry fodder is fed to the cows. Accept concentrate ingredients rest all are produced in-house. "We grow azolla at the farm," she shares. Milk produced is sold to dairy co-operative at Rs. 25-26/litre. "Government gives us Rs. 5 extra once in 2-3months. Selling price of milk also depends upon the fat content of our milk which is checked at the collection centre only." Rs. 15,000 is the income generated in 15 days my milk sales.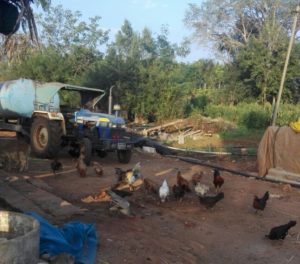 There are 6-7 sheep in the farm. Male sheep is sold once in six months and female are retained at the farm. 25 hens reared in the farm. Mostly of them are country breed, few are cross of country breeds and others are Giriraj hens. Hens are reared only for eggs not for chicken. Eggs are sold at Rs.10/piece from the farm gate.
Sorghum is lucrative crop for this female farmer. She earns minimum profit of Rs. 20,000 from 1.5 acre cultivation. Millets are intercropped with tuar dal and black eyed beans. All crops are alternated and in single row. Apart from the horticulture and animal rearing Mrs. Sampoorna has another feature of making mud bricks.
Speaking of using livestock dung for manure, she says, "We have a bio-gas plant. We put cow dung in the digester to produce bio gas used in our farm and house while slurry is mixed with cow urine and sprayed on the crops through drip system. Also we have separate tank for sheep and hen droppings. We dry it completely and use it as manure in summers." Cow dung is also used in vermicompost unit. "Green leaves, farm waste and cow dung is mixed and left for 8-10 days. Later we introduce worms. The worms produce manure. Approximately 30 kg vermin manure in produced very month. It is used in our farm and if in excess we sell it other farmers."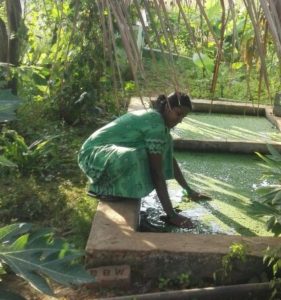 When asked about the pest management, she shares, "During 2016 monsoon all our crops including jowar were attacked by the pest. All other farmers in the region sprayed pesticides but we didn't use any of the chemical pesticides! Alternatively we used ash that is obtained while baking the bricks. We used this ash on our farmland having jowar, tuar dal and beans cultivation. When the pests eat the leaves having deposits of ash they die. So our crops were saved." Ash contains paddy husk and coal. Consequently the yield was good with this use of ash and cattle manure in the farm. Besides by using ash and cattle manure the soil didn't become hard instead water absorption capacity improved.
Water is a challenge because a part of Mrs. Sampoorna's farm is rain fed. "We buy water tanker in case of low rainfall and irrigate the farm through drip connected to the tanker. We spend money from our pocket in agriculture only to buy water as rest it is all managed within the farm," she affirms. Price fluctuation is another challenge faced. "Buyers are not ready to pay more for organic produce. So we sell the produce at government market price. We try not to waste anything that is grown in our farmland."
Mrs. Sampoorna concludes, "Integrated farming not increase our income but also made the farm self-sufficient. Now we want to expand to a bigger farmland and prosper!"
Contact Details:
Mrs. Sampoorna
C/o K N Mahesh, Kuntanahalli, Aralumallige post, DoddaballapurTaluk, Bangalore Rural District –
561 203, Karnataka
Phone: 9341082567