Arun Nagpal and his team have set out to create a socially impactful business in rural India.

Mrida – sanskrit word for soil – is a Delhi based start up currently experimenting with some very promising ideas to create a socially impactful business in rural India.
We have only heard of government and NGO led initiatives trying to make an impact in rural India. But here is a start up trying to evolve a business model at the base of the pyramid.
The team is headed by Arun Nagpal  an Engineer and an MBA from IIM Calcutta with over 30 years of diverse business experience.  The other members include – Manoj Khanna, Paras Loomba, Rajesh Sinha and Rahul Gupta – all of whom come with diverse business experience.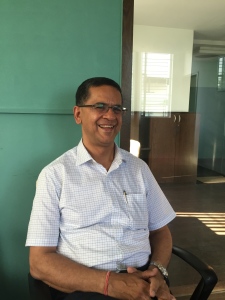 Arun Nagpal
The Mrida business itself consists of two entities Mrida Renergy & Development (P) Ltd and Mrida Greens & Organics (P) Ltd.
Mrida Renergy  sets up solar micro power grids in remote rural areas where there is presently still no electricity.  While Mrida Greens helps farmers in these remote areas by purchasing their traditional crops and finding  markets for their produce among socially conscious urban consumers.
Both business are inter connected –  Mrida Energy sets up solar grids in a remote rural area  where there was no electricity. Better illumination for extended periods provides an opportunity for education and for livelihoods/income generation. Women-folk for instance, can now work during the evenings and nights and engage in activities such as candle making, pulse grinding and basket weaving among others.  Then Mrida Green helps these people  market their produce  in urban India.
Recently a third  initiative called Khoj has been launched.  Mrida invites urban people to travel with Mrida staff  to  remote field locations where the solar grids are installed, stay there and experience first hand how these activities are making a difference to the lives of people.
This is the big picture behind what Arun Nagpal and his team have set out to create.
How did all this start?  Why of all ideas are they hell bent on doing this rural start up thing (yes, trying to build a business inside rural India is not for the faint hearted entrepreneur!) ? Are they trying to do too much –  perhaps bite more than they can actually chew ?
To find out I caught up with Arun Nagpal in Bangalore recently.  Edited and researched excepts of our conversation:
So Arun,  you quit your corporate job to become a rural entrepreneur . Why?
Arun:  My Dad was a horticulturist. He was in the agriculture department in Maharashtra. Some of my earliest memories are about traveling with him into remote villages. So those early memories have been there somewhere at the back of my mind always.
While I was in the corporate sector, in one of my assignments,  I got an opportunity to travel into the rural areas.  I got a feel of how rural India still lives so many years after Independence. It was then I got to understand issues like how something as basic as electricity is still not available for 1 out of 4 people in India – especially in rural areas of central and Northern India . It's really surprising how people still live like this  today.
I started to think. I have spent 30 years in the corporate sector. I was fairly lucky in life – I had the up bringing, education, got good jobs etc. So I thought why not try and combine everything that I have done in the last 30 years and create my own organisation that is financially viable  but at the same time it completely transforms people's lives. Nothing to beat something like this.
When did Mrida start?
October 2013 was when we got together. We registered into a private limited company in February 2014. We set up our first micro grid and agriculture intervention in Almora, Uttarakhand in June 2014. As of now we have these interventions happening in Rajasthan, Uttar Pradesh, Uttaranchal and in Jammu and Kashmir. In some cases there is a grid, in some cases there is agriculture. Ideally we like to combine both power generation and agriculture – since we are dealing with agrarian economy unless we are deal with agriculture we cannot make a full impact on the lives of these people.
Why focus on the solar grid ? Why does this appear to be the  centre piece of your business model? 
It is important because 1 out of every 4 Indians are living without electricity. Over 1.2 billion people globally, including 550 million in Africa and 300 million in India alone, lack access to electricity and depend on kerosene for their lighting requirements. Kerosene not only provides poor illumination, but is highly toxic, hazardous, and environment unfriendly. It is not an economic source of energy either, being too expensive at market rates, or requiring Government subsidies for the rural poor. DC Solar Microgrids represent an economic and a sustainable alternative. So there is a huge opportunity in this.
The Mrida 240 Watt DC Microgrid can provide 2 energy efficient LED bulbs and a mobile charging point for upto 30 rural households. These grids can be set up within two to three days in the remotest of rural areas, and have the potential to virtually transform lives overnight. Once set up, the Microgrids are operated by Village Level Entrepreneurs or Village Development Committees who are trained to maintain the grids, and who also take the responsibility of collecting a monthly rental from each household. In turn, villagers are guided and motivated to use the energy access for education, livelihoods and income generation, with income levels that can easily exceed the amount paid for energy access in the first place. In the process, potential exists not only for social upliftment, but wealth creation as well.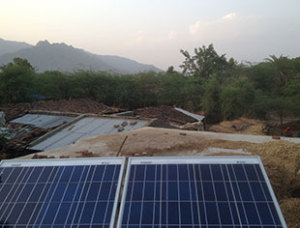 Mrida solar power grid at Panch Deval Village near Abu Road, Rajasthan
What are your achievements on the ground in the last one year?
We have a total of 9 initiatives on the ground so far. For example in Tahtajpur, Bareilly we have set up a power grid. Due to our efforts  Tahtajpur today has three 240 Watt DC Micro grids powering many of its households, with energy efficient LED bulbs and mobile charging facilities – lighting rural lives, facilitating education, allowing extended working hours for livelihood and income generation, and so on.
The first Mrida E-Hub – an innovative solar powered package of Education, Entertainment and E-Commerce facilities under one roof, was set up Tahtajpur. At its core are a LED nano-projector, multimedia technologies and software for education and entertainment. A laptop computer with an internet connection, and a colour printer complete the package. The E-Hub is housed in a room appropriately furnished with work benches, seating arrangements, and boards. It has LED Lights and fans, all powered by solar. The E-Hub is operated by a Village Level Entrepreneur, carefully selected and suitably trained by Mrida to run the entire setup as a business venture, which generates a livelihood and income for him, while providing facilities for advancement and upliftment of the rest of the village.
Likewise we have set up a power grid in Mayoli (Almora) in Uttarakhand. On May 15, 2014 Mrida Renergy completed the installation of its first 240W DC Solar Microgrid for Mayoli Farms in Uttarakhand. The grid is operated by an enthusiastic Village Level Entrepreneur who also runs a NGO named 'Himalayan Ethnic Botanic Garden Society'. This Solar Microgrid provides energy access – LED bulbs, common lighting, mobile charging and laptop charging facilities, for 4 rooms/lodging areas, and common facilities at the farm complex. Mrida has supported the setting up of the microgrid, markets Mayoli as a Impact Tourism destination, and integrates the output from Mayoli farms into its own agri products supply chain.
What is impact tourism?
When people from urban areas visit remote Mrida projects, travel becomes much more than simply visiting places, taking pictures and buying souvenirs. To begin with, it is 'responsible' or 'impact' tourism. It is fresh and invigorating, and can be an eye opener – an opportunity to experience first-hand, how individuals and communities can make use of minor interventions and simple technologies to quickly move towards a brighter and a more responsible way of life. Since people pay the village level entrepreneur for staying there, it helps him to pay us. Khoj currently offers journeys to its 'Impact Point' at Mayoli Farms near Binsar (Almora). Upcoming Impact Points include Village Sumda Chenmo – Leh (Ladakh) and village Ponty– Uttarkashi
The solar power grid set up in Mayoli (Almora, Uttarakhand) has now led to rural tourism 
How big is your team?
Currently we are still a small team. Including our manufacturing activity we have around 17 people working in our company – which includes the founders, promoters, accounts people and the people on the shop floor.
Where is your business located?
The head office is in Delhi. The manufacturing location – where we have a processing unit – is located in Umbergaon, Gujarat.
What manufacturing you do?
Mrida has invested in a full fledged herbal extraction facility in Umbergaon – Gujarat. The produce from the farmers after necessary value addition can be processed in this unit to produce extracts for sale as raw material or finished products in the market – products with the stamps of sustainable cultivation/procurement and traceability. Mrida Good Manufacturing Practice (GMP) certified Facility in Umbergaon, Gujarat is equipped with a round the clock CC TV facility to provide complete transparency to customers. It includes a comprehensive testing laboratory covering the distillation, extraction, drying and pulverizing processes, and in its current form, is capable of producing 300 to 500 Kg of high quality dry herbal extracts per day. We have the equipment to process plants and herbs. Currently we are purchasing aloe vera from the farmers and processing them.
Where do you sell this processed aloe vera?
Today it is being sold to some of the larger companies – like the cosmetic companies, pharmaceutical companies.The idea is in the trial stages we will do bulk sales – though the margins will be much lower – at least it keeps the factory running and keeps your cash flow going. But over a period of time we want to build our own brand – like the Mrida brand or a brand promoted by Mrida –  which will say to the urban people that if you want to participate in making a social impact then why don't you buy half kg of aloe vera grown by the remote farmers. We plan to tap into the social media to help people spread the word about Mrida products. So ultimately all this will come together.
How are you funded?
At this point we are self funded as an organization for the first two years. The idea is in the first two years we want to set up 50 such working models to show that all this can work. So far we have got nine working models. I think this will grow exponentially. The first two are the most difficult, then the next three become much faster and then next 10 become even faster. We are working on the concept of 50, 500 and 5000 working models. In the first two years we want to do 50, by that time we would have got enough visibility and mileage . Then we tap into the market for funding so that we can scale it up to the next level. So in the next two years that 50 will become 500 and the next two years after that the 500 will become 5000.
Are the 9 working models you currently have generating any revenue? How will your activities eventually make money?
Yes, they are all working on business models. Some of these are supported by us but every month we collect revenue. For example in our Abu Road, Rajasthan project every month the farmers pay money for the electricity from the solar grid. That money is collected by one of those people and put inside our bank account.  In the Almorah, Uttarakhand project every month the guy running it generates some revenue from people visiting the project and he pays us and EMI for the solar grid. These are examples of the village level entrepreneurial funded model.
Some of the initiatives we are doing like the Tahtajpur, Bareilly initiative is CSR funded. Mrida provides consulting and implementation of end-to-end solutions for integrated Corporate Social Responsibility (CSR) initiatives for leading corporates. The IL&FS MPowered Village at TahTajpur is the first such initiative undertaken on behalf of the Infrastructure Leasing & Financial Services Ltd. We generate our revenue from the CSR activity. But even if it is CSR nothing goes free.  They need to pay and the money keeps rotating.This is the CSR revenue model.
The third business model we are now building is the crowd funding model – so a group of people join together and make a contribution to set up an initiative. For example: you may like the work we are doing, you find it is credible so you might say in the memory of my grand parents I want to electrify two villages. Or a group of students in a class may get together and say we like to adopt a school in Tahtajpur and so we will collect the funds for that. This will become a third way to fund these projects.
How much does it cost to set up a solar grind in a village?
It costs about Rs 1,10,000. In dollar terms it is $1500 only. It is not a very large sum of money. Once we have a compelling story to tell , once we have been able to build a certain degree of credibility we should be able to raise the funds. I don't want to go into the market and raise funds until we have built something. Even though we have established these initial projects I think we still have a long way to go. Rather than me coming and saying would you like to invest. I would like you to get to know about our activities and then come and say I would like to invest.Even there what we are trying to do is to ask people not to donate money. If you come to us and say you like to sponsor the solar grind for a village, then we will ask the bank to take your money and keep it as a collateral and against this  loan the money to the village level entrepreneur to set up the solar power grind. So someone will take a loan, they will repay the loan since the solar grid they will be setting up is linked to livelihood and income generation schemes, then after 2-3 years the loan gets repaid and then your money is released from the bank. Then you have the option to take the money back or if you like what is happening you can put it back and electrify another village. So ideally we don't want any donations.
The interview was over, Arun called a cab via his iPhone app and got ready to leave. I walked him out of my office. As I bid good bye to him at the front door I couldn't but admire the man.  Not many have the guts to quit a comfortable  corporate job – after 28 years and being a CEO – to do something as lonely, difficult and even thank less as trying to change the lives of remote farmers. He still has a long way to travel to get all these ideas translated into a financially sustainable business. But for me Arun (and his team) are already heros for having dared.
Kartik Isvarmurti
Contact address 
Mrida Associates LLP F-213/D,
3rd Floor, Old MB Road, Lado Sarai,
New Delhi
Pin / Zip code – 110016
Phone – +91 11 4137 7477
Email – info@mridagroup.com
Website – www.mridagroup.com