Mr. Paridhi Raj, Founder of a start-up called Vivasaan, chose to look at things differently. He admits that his vision was hazy and he didn't have a concrete plan. But, one resolve he stuck to was that he wanted to do something on his own and he wanted to make a difference. It's amazing that he is on the path he chose and his vision gets clearer each day.
What do you do, where are you located and how do you contribute to the world of agriculture?
I am Paridhi Raj, aged 23. I own a start-up company called Vivasaan, based in Chennai. Our motto is to learn from nature and learn for nature.
We started off in collaboration with a few college students, some engineers and a couple of farmers. We are small in size but we are looking forward to bring in big changes to the running of farms and technologies utilized within farms.
We have expertise in assembling and customizing drones – aerial and ground robotic technologies. We are working towards implementing these technologies in farms. This technology does exist today but is extremely pricey, which makes it inaccessible for small-time farmers.
We are, hence, thinking of how we can make these technologies highly accessible to all farmers by coming up with a more economical product.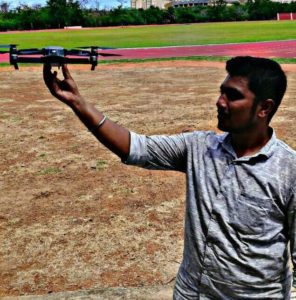 For how long have you been doing this?
Unofficially, we have been doing this for the last one year. We got our company registered only in December of last year.
What is your background? What were you doing prior to this?
Not really. My father is an ex-serviceman. He used to serve in the Indian Army. Hence, every three to four years there was a transfer in place. As a result, we have been moving around within the country.
These travels and stays at different places have given me a treasure of experiences from my childhood itself. After joining engineering, I understand that I may stand to get a job through which I may be able to take home an initial salary of Rs.10000 to 15000. On the flip side I understand that, these jobs doesn't even employ a lot of the knowledge we have acquired through our engineering course. That somehow doesn't excite me.
So, at the end of our final year, we started working on various projects.
Where did you do your engineering?
From Hindustan University, Chennai.
Did you work anywhere after your engineering?
Not really. We started working on our projects at the beginning of our final year itself. I am from a B Tech IT background. I have been an NCC cadet when I was in college. So we learned the basic aeronautical stuff from there. That's how I got interested. Then, I started doing online courses from YouTube.
What stopped you from searching for a job after your studies? What drove you to start up something on your own?
All students and engineers who pass out are actually confused. In the same way, I too was confused. I kept wondering what my path is.
I was an average student and did get placed in good IT companies. But some inner voice never let me take it up. I know that the salary given by them will also be good. But I wanted to do something more fulfilling – not just work for salary.
Most of your batch mates would have taken up conventional jobs, right?
Yes, mostly. Some are earning very well. I see that nowadays for most people only money matters.
I would like to know why this keen interest in the agricultural field?
I have always wanted to be an engineer. When I say engineer, I don't mean on paper or by way of a certificate. I mean, by virtue. In that perspective, I did a lot of introspection as to what I want to do with my life; what should I learn? From where do I start? After 4-10 years, I wouldn't know where I would be heading to or what I will be doing.
I was never into drones in the beginning. But, when I compared to many other things, I realised that drones is something I have some base about, so it was easier to set a foundation. So, we start doing customized drones and we, my team and I, became experts in customizing drones.
When we started off, our main problem was money. So, we kept researching on the cost – online and offline. We realised that it is extremely expensive. To make it cost effective, we buy the various parts and we assemble the drones. We trained ourselves seeking inputs from YouTube, it has got elaborate videos.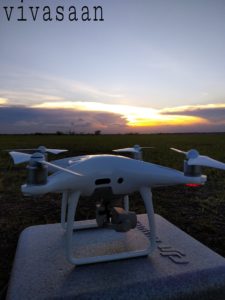 How many drones have you assembled so far?
It is going to be 2 years now, and so far we have assembled over 50 drones for different purposes.
And you were successful in selling all these drones too?
Most of the drones are for students. Instead of purchasing expensive ones, they take it from us. We also train people to assemble drones. We associated with schools and began taking classes for children.
Where are you located?
Chennai
Honestly, it was easy when we started off from school, we consciously took that decision to stick to schools because we were still learning and perhaps may not have had enough knowledge for questions that would pour out from college students.
Last year, in the May-June time frame, one person came and checked with us if we could assemble a drone for him which can stay under water surfaces.
From some time, I have been researching on developing drones that can spray pesticides. The technology part can be grasped from various online sources. But, honestly, I did not have much farming knowledge and that is the tricky part.
Farming is something we need to experience to understand it. So, now we are developing drones for aerial irrigation, and for sowing seeds. I have started working towards these.
Have you made a drone or is it in process now?
It depends on the customer requirement. Initially we didn't experiment. Now, after two years of experience, we have begun experimenting. We are now capable of developing multiple kinds of drones, not just for agriculture, but for very many uses.
As a team, we are very inspired by agriculture and so chose to invest time into contributing to the field in this manner. With the local farmers, in the adjoining areas of Chennai, like Kanchipuram etc., we are doing internships.
What are you doing there?
To develop effective drones, we need to closely watch the activity for which it is being made. So, the purpose of the internship is to get a closer look and experience the farming process. This hands on experience is proving to be very insightful, educative and fun.
Also, I realize that all these farmers do their calculations manually. Now that I understand farming a lot better, we have a lot of scope for developing drones.
I will relate one incident that happened on the farm. There was this farmer's daughter playing on the farm with her friends and her mother came out scolding her for not spending her time studying. This very incident triggered the idea in me to develop a drone that can manage cattle while it grazes in the field.
Like I told you earlier, I am learning from nature and for nature.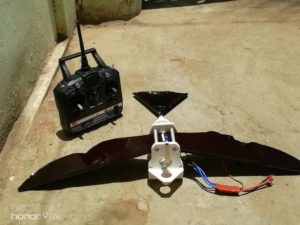 You are now inclined to agriculture because you feel drones can be of great help for farmers ?
Yes, we met some farmers nearby our college and we queried about the problems they are facing. They said their main issue is water problem – irrigating their plants. Another thing is man power. The amount of people you can employ on the fields is going down by the day. And the rate at which people offer to work for you is too high. In the villages, the approximate charge of hired labour is Rs.500-600 per day. For the land holder, this must be a large sum. In such a situation, the farmer would always refrain from hiring them and would prefer doing things by himself, which can get tiring and to some degree, inefficient, because of too many things to cater to.
So, we can help the farmers out by providing them drone helpers at an economical cost. We are also looking forward to developing automatic drones for organic farming.
Okay, now after having read this interview, can they approach you right away for agricultural drones?
Yes Sir. That is the intent.
CONTACT-
Mr.Paridhi Raj
Vivasaan
Alandur
Chennai – 600016
Tamil Nadu, India
Phone 9952700180
Email vivasaanforu@gmail.com