Passion drives to rear Indian bees at residence in Chennai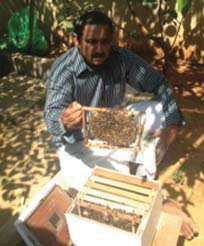 Mr. N. Swaminathan rears Indian honey bees at his residence in Chennai. By profession he is Management Consultant in a private company but his passion for honey bees since childhood had motivated him to rear Indian bees for past 20-30 years. He encourages others too to rear Indian Bees as they help in cross pollination.
It is safe to rear honey bees at home. People have wrong notion that it would harm human beings and cannot be maintained for domestic purpose.
Bee keeping increases agricultural production around area up to 5km radius. "During the normal flowering season it will go up to 3km, so in-between 3 to 4 km radius all the flowers and everything will give a good yield. The agricultural yield will be increased wherever you see the honey bees. There is increase in the yield of 20 % to 30% for all crops and some crops like sunflower, carmine and in coffee etc 50% to 60% increase is noticed", informs Mr. Swaminathan.
He further shares, " the colony reproduction takes place twice in a year. One is in the month of February – March and the second colony separation is in the month of August – September. During this season a new queen comes".
Indian bees are better for domestic purpose while Italian bees are suitable for commercial purposes as they produce huge amount of honey. In Indian states like Bihar and UP where area of cultivation for sunflower, sesame and other flowers is roughly around 100 to 200 acres, there Italian bee farming is practiced on large scale.
"There are plenty of government and private organizations which are providing guidance on bee farming like Central Bee Research Institute, Pune. People interested in bee
rearing for commercial purpose can contact these companies", advices Mr Swaminathan.
For more information, contact :  N Swaminathan, 4/1, pughazenti street, Muthulaxmi
Nagar, CHITLAPAKKAM, Chennai 600064, Mobile – 09442294351,
Email – n.swaminathan@me.com
Source : Agriculture & Industry Survey