An electronics engineer starts exotic vegetable farming after learning the multiple problems Indian agriculture
"There is no market where farmers can go and sell the produces and get a good value. So I started figuring the ways how we can bridge this gap," Mr. Jaywant Patil shares. "So I decided to do actual farming first, after getting convinced about the efficacy of organic farming practices." He owns 10acres of farmland near Ahmednagar highway in Wadegavhan village, Pune. He chose the location for 3 reasons namely water availability round the year, budget and distance from Pune.
Mr. Jaywant Patil completed his engineering in electronics and started working in an IT company based at Pune. "After working for couple of years, I started feeling vacuum and looked for something different," he says. He attended a workshop called Nirmann and turned into a weekend farmer.
He met Mr. Sanjay Patil at the workshop whom he was sensitized of Indian agriculture. "After discussion and meeting with Mr. Sanjay I was introduced to the multiple problems of Indian agriculture. I got convinced that one of major problem is in input cost of chemical farming," he recalls. He believes one of the ways to reduce input cost is making the input like fertilizers, pesticides and also the seeds on our own. "Main sources of farming information was meeting farmers, understanding their experiences and be in touch with all farmers, take advice from farmers who are experts in organic farming."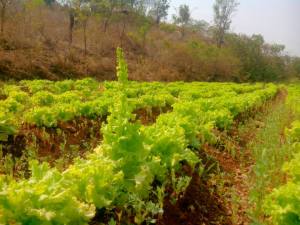 In an area of around 3-4acres, for the last 3 years he had been growing exotic vegetables like lettuce, broccoli, tomato, cauliflower, radish, fenugreek, coriander, sweet corn, carrot etc. "From this year I started cultivating on the hilly side of the land. I am planning fruit plants like guava, mango, jamboos, date palm and also drumstick," he shares.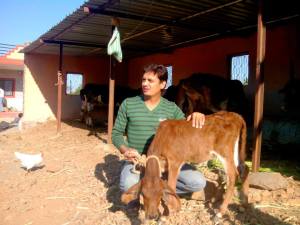 With the help of cow dung and cow urine he makes inputs like jeevaamruth, panchagavya and pesticides out of cow urine, like dashparni arka, agnisthra, brahmasthra and neemasthra. "On my farm I also use compost prepared from cow dung at the farm itself. Sometimes I also take vermicompost from farmers near my farm," he adds. Mr Patil owns 3 gir cows. "It is sufficient for 3-4acres of my farmland." Seed treatment is done with the help of beejaamrit and bio fertilizers like trichoderma, dashparni arka, PNP etc. Cow feed comprise of Corn, jowar, sampoorna grass (Indian variety of Napier grass).
Mr Patil opines intercropping as 'fundamental'. "You always take intercrop which helps the main crop." Some crops act as traps while some help provide nutrients for the main crop. "Mustard acts as trap in wheat cultivation, the insect which comes on wheat gets into mustard. In cauliflower, I plant entire border with corn so that white insect that comes for cauliflower comes on corn and the former gets protected naturally. I also grow fenugreek as it is good source of nitrogen, an important nutrient for the soil," Mr. Patil shares his experience. "I do not grow radish for commercial crop, but I cut the entire leaves of fully grown radish to cover the whole area of the main crop."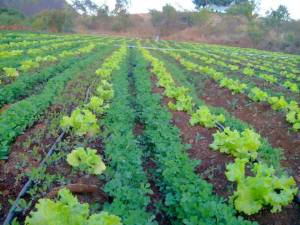 Drip irrigation method is employed at the farm. Water is obtained from 26 acre lake which is rain fed in the vicinity of the farm. "I also have a farm pond. In summer the pond act as a reservoir of water and help during water crisis," he shares.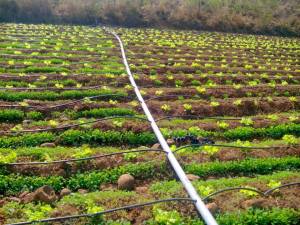 Last harvesting season yield of sweet corn cultivated along with fenugreek and radish in half acre was about 3 ton. It fetched about Rs 50,000-55000/- at the rate of Rs 25/kg. Input cost was around Rs 8000 including seeds. Cauliflower cultivated in an area of half acre fetched Rs 70,000 at the rate of Rs 22/kg. "I usually get the price because of the quality," Mr. Patil claims. The produce of the farm are sold through middlemen in Mumbai and Pune. "I am maintaining profit and loss data. It is maintained in excel sheet. It is important to know the expenses and cost."
Soil testing, "I got to know that soil in my farm was having less carbon content," he shares. As a remedial solution for 3 years jeevaamrut, panchagavya and compost was applied as a result the carbon content has improved a lot."I can say in organic farming, the fertility and health of the soil is maintained."Organic farming enriches the soil and also the microorganism helps the plants to get the nutrients. A couple is employed as labour for the farm. Additional labourers are hired on daily basis for Rs 150/day if required.
Putting his views on the earning potential in farming he says, "We cannot compare. I am quite sure that if somebody has good farmland around 5-10acres and they do farming with dedication and professionalism then they can earn more than what an average person in the IT field actually earns from monetary perspective."
Mr. Jaywant Patil plans to start a company soon to make selling easy for farmers. He plans to apply the current model to farmland of 100 acres through contract farming or partnership. Also he looks forward to market the produce online through web portal. In addition, "I am planning to start a goat farm to provide regular income for farmers that shall help them to manage financial issues due to weather uncertainties," he concludes.
Contact details-
Mr. Jaywant Patil
C/O Santosh Musale,
Flat No. 20, Building A-10,
Kumar Padmalaya, Near Medipoint Hospital,
Nagaras road, Aundh, Pune, Maharashtra, 411007
Mobile – 07620998111
Email – jay.avcoe@gmail.com