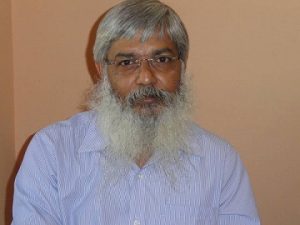 Mr. Goutam Roy is the Proprietor of  Bio-Farm Solutions in Dehradun, Uttarakhand.
Mr. Goutam Roy says fish is crucial to a nutritious diet in many parts of the world. It is recognized not only as some of the healthiest foods on the planet but also as some of the least impactful on the natural environment. For these reasons, they are vital for national and regional nutrition strategies and have a big part to play in eliminating hunger and malnutrition.
The fisheries and aquaculture sector significantly expanded in the past decades and total production, trade and consumption reached a record high( as per the report in 2018). So working in this field is ultimately beneficial to the farmers. Sustainable aquaculture development and effective fisheries management are critical to maintaining the above trends.
During this meeting,  Mr. Goutam Roy will discuss on:-
1. Pond/water preparation
2. Seed selection
3. Concept of Biofloc Technology and its actual need
4. Probiotic and its effective use
5. Feeding and its management
6. Soil and water quality management.