Adopts organic farming after burning hands in conventional farming. Transition difficult but rewarding and promising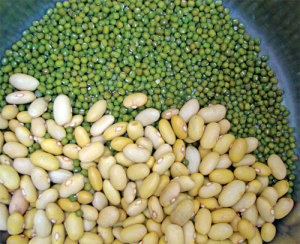 Mr. Daneshwar Gawande completed his B.Sc in agriculture in year 2010 and started growing soyabean, moong, channa, wheat and all vegetables. His farm is located in a village in Buldhana District in Maharashtra.
Initially started with conventional farming using chemicals, later he switched completely to organic farming. The reason being he was not satisfied with net returns and was having high debt. He shares, "first I was doing chemical farming by spraying chemicals like monocrotophos, quinolphos, fertilizers in ratio of 19:19, 0:52:34, 12:61:00 and so on.
I was spending too much on these chemicals but still the yield of the produce was not satisfactory and also the taste was not very good". Totally disheartened with the farming returns and high debt he took decision to sell his farm. However, fortunately one day he met Mr. Ajit Kulkarni, founder of Jai Prabha agro chemicals and shared his problems.
As suggested by Mr. Kulkarni, he started organic farming. The transition period from conventional to organic farming was very tough period as Mr. Gawande had to re-develop his field conditions. He further adds, "as I started using organic farming inputs my farm produce dropped drastically but I persisted to continue the natural farming method. I am now strictly into organic farming. Since two years I am getting good returns from my farm. For example the soyabean yield has increased almost by 40-45%." Mr. Gawande has repaid all his loans and is debt-free now.
Organic sugarcane, pigeon pea, tomatoes, cabbage, brinjal and other vegetables are new crops he is growing. All the produce is sold directly in neighboring market within 24 hours of harvesting. Price keeps changing but he ensures to maintain the quality. 12 labors are helping in maintaining the organic farm. "Weather conditions and water for irrigation are favourable for the farm in our region", he further adds.
Other farmers are drawing inspiration and trying to adopt organic farming seeing the success of Mr. Gawande. He proudly shares, "I belong to a non-agriculture based family so establishing the farm is totally my effort. My family has been supportive and is happy today with my success."
Our Correspondent
Contact Details-  Mr. Dhaneshwar Gawande
At post Sonati, Ta: Mehkar, Dist: Buldhana, Maharashtra
Email: dpgawande1989@gmail.com
Mobile: 9623298326
Source : Agriculture & Industry Survey