Increases cattle productivity through cross breeding. In process of implementing 100% farm automation.
Model Dairy Farm was started in 1979 at Kanpur, UP, "with a vision to increase the productivity of Indian (Bos Indicus) cattle through cross-breeding," says Mr. Prateek Viash, Vice President, Operations. The company involves itself in cattle breeding and dairy consultancy and provides related services. Rs. 5 Crores is the annual turnover of the company.
The breeds at the farm include Holstein Friesian, Jersey, Sahiwal, Red Sindhi, Rathi and Murrah Buffalo. Holstein Friesian yields up to 11000 liters of milk in lactation and half breed of Holstein and Jersey, produced by cross breeding using the indigenous breeds as mother stock, in F1 generation are excellent producers of milk and have great tolerance towards hot and humid weather conditions of the tropics.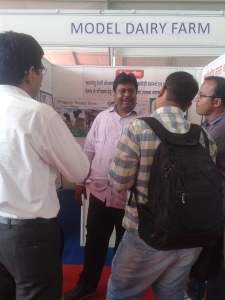 "The average lactation yield of cows in early 80s was in the range of 2000 – 3000 liters per lactation. Today the average lactation yield of Holstein herd at our farm is more than 6000 liters," says Mr. Viash. Only pregnant Heifers are sold at the farm. "We never sell late lactation or dry cows," adds Mr. Viash. All the milk sold by the company is produced at the farm, which is about 10 lakh liters. However Colostrum and milk to be fed to calves are not sold.
The fodder includes dry fodder, green fodder, silage, and concentrate with optional micronutrients as per the requirement. "Selection of green fodder depends on geographical location and environment, protein value on dry matter basis, cost and ease of cultivation, and tonnage per acre," says Mr. Viash. Hence Barseem, oats, and maize are most preferred green fodder in North India and alfa alfa is most preferred in Europe.
–
Why dairy farm fails?
Poor selection of cattle (breed, age, health etc.)
Absence of standard operating procedures
Absence or poor execution of breeding policy.
Bio-security
Non-adherence to proven and prescribed procedures
Dependence on either illiterates (laborers etc) or incorrect source of knowledge.
Absence of passion and integrity on the part of farm promoters / management.
Key Factor for New Set-Up
Resource assessment
Breed selection
Herd size
Technology orientation
Preparation of SOP (Standard Operating Procedure)
Sourcing of livestock from reliable source
Fodder planning & management
Man power planning
Breeding Policy and execution
Bio – Security policy
Milk marketing or processing
–
The company at present is in process of 100% automation by installing an 8×2 Herringbone parlor with herd management software, afifarm and afilab.
Usage of antibiotics and bactericidal drugs cannot be avoided as farmers would not like to take chance; however, "An ethical farmer would always try to follow the prescribed withdrawal practices and will not sell the milk from that animal for human consumption till residual effect of drug is nil," shares Mr. Viash. For non-fatal and milder infections, use of proven herbal or homeopathic medicines is encouraged.
"The main challenges faced by every dairy farmer are on account of animal health and breeding. Dairy farm failure is generally on account of poor execution of breeding practices," views Mr. Viash. Proper vaccination and parasitic control schedules should be followed. Advice of qualified veterinarian, medical representatives, internet bloggers, and text material related to dairy farming are advisable.
Consultancy services offered range from project report preparation and developing standard farm operating procedure to assist in marketing of livestock.
For all the aspiring entrepreneurs out there Mr. Viash encourages saying, "I don't have any agriculture background. It is not about formal educational background. The success in dairy farming depends upon passion towards this business, love for cattle, thirst for knowledge, risk taking ability, persistence, dedication and patience."
"We are in process of establishing an ITES support center for our clients, customers and dairy farmers at large at World Trade Center, Noida," shares Mr. Viash. The future plans of Model Dairy Farm includes the completion of ITES centre, launch of cattle feed brand by 2016, and establishment of a 1000 cow, system driven cattle breeding farm by 2020.
Contact details-
Model Dairy Firm
Naramau, G.T. Road
Kanpur – 209217
(U.P) India
Mob: 099362 86478, 099362 69361
Email: prateekvaish@yahoo.com /
Web: www.modeldairyfarm.com