Starts rabbit farming to something different than other farmers
"I started with rabbit farming 6 years back. It was then followed by sheep and goat farming after one year," recollects Mr. H M Raghavendra. "I felt dairy farming precisely gir cow breeding has become very common and I wanted to do something different! I was influenced and guided by Dr. Satish, a veterinary doctor on rabbit farming so I took it up." The breeds used generally for meat are New Zealand White, Dutch black and white, Soviet chinchilla and California White. Farm is located at Hulikere, Chickamagalur District, Karnataka.
It is an integrated farm having mango, coconut, silver oak, sapota, pepper, coffee, teak, drumsticks pomegranate, lemon plantation etc. It also has small set up for poultry and duck farming. "I have received District award for integrated farming," he proudly shares.
Rabbit farming was started after training and in a well-planned manner. Mr. Raghavendra first visited 5-6 operations rabbit farms and later got trained at Hesaraghatta, Bangalore. "Next I had learnt about rabbit's feed, started growing the same on my land and then started with farming," he says. Subsequently he bought 3 units, each consisting of 7F+3M rabbits, 10×4 cage, 6 months medicine, buy back agreement, CDs, books and feeding bowls. The cost was Rs. 12,800 per unit from Mr. Sudeendra Reddy, Davangere. "Additional Rs. 25 thousand was spent for constructing the shed," he shares. "In total Rs. 65,000 was invested in the first month. I started in the backyard of my house."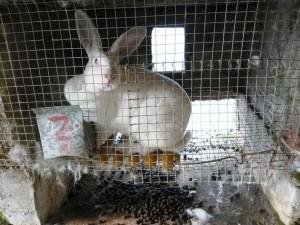 Feed for rabbits include fodder, green mulberry leaves, loofer leaves, waste vegetables, multi cutter grass and leafy vegetables. The rabbits are sold when they attain weight of about 1-2kg in about 3-3.5 months. The rabbits are sold at Rs. 220/kg. When asked about the demand of rabbit meat he says, "Rabbit meat has a good demand, we get lot of buyers. They intimate us beforehand the quantity they want so it is arranged accordingly." Rabbit meat has less cholesterol and healthy. "It is very clean unlike poultry. No medicine is given to the rabbit for weight gain," he explains on the quality of rabbit meat.
Rabbit's cage is at a height of 2ft supported with the legs. The cage is made up of mesh so the excreta of rabbits fall on the ground through the mesh. "I have not done concrete flooring instead it is a mud ground. Once in 2-3days we sweep the ground, dust bleaching powder and spray lime water to avoid stink," Mr. Raghavendra explains. "We regularly use their excreta as manure."
Speaking of rabbit breeding he responds, "No breeding as of now, I am doing farming exclusively for meat purpose. If I have to do breeding then I have to keep perfect record of F1, F2 generation to avoid inbreeding. Hygiene should be maintained very well." Ready to breed rabbits can deliver the kid in about 30 days after which it feeds milk for a month and then it is ready for breeding once again. In one breeding a female rabbit can deliver up-to 5-10 kids.
If an individual wants to start rabbit farming, Mr. Raghavendra shares, "He should know what the feed is and must make the arrangements for the same before starting farming. Training is must with respect to rearing and marketing."
Rearing rabbit, like every other animal husbandry have its own drawbacks. "We cannot expect constant profits in the business all the year round," he shares. Then there is shortage or unavailability of veterinary doctors, "Even doctors will not know the dosage of medicines in emergency."
Goat and sheep farming is a lucrative venture too. He started with 10F+1M herd size initially which now has grown to 50. "We cross local breed (female) with Australia variety Rambullet (male). I am crossing Rajasthan goat with Sirohi for breeding and meat purpose," he informs.
Mr. Raghavendra wants to scale duck farming as well but, "As there is no proper guidance in marketing of ducks I am unable to do on large scale," he adds.
Sharing his future plans he concludes, "I plan to set up a training center to train farmers on rabbit farming at free of cost. I would focus on problems and solutions in farming."
Contact details:
Manjushri Rabbit and Goat Farm
Hulikere, KadurTaluk, Chickamagalur District – 577168, Karnataka
Mobile: 09611638303