Homeopathy doctor joins family business of coffee and pepper plantation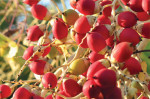 Malligehani Estate came into existence in 1980. It is located in Chikmagalur district of Karnataka. Coffee, pepper and silver oak are grown at the farm. Annually the farm produces an average of 1300 bags of Robusta parchment, 15000 kgs of pepper and about 7500 kgs of red arecanut. Mr. Neethan Aranha owns the farm along with his father.
Mr. Neethan Aranha joined his father in managing the plantation after finishing his medicine in Homeopathy and since then is in the field of agriculture for the last 10 years.
Coffee Plantation
Coffee Canephora or Robusta coffee is cultivated in 100 acres. The tree is maintained at height of 5 feet to produce multiple secondary and tertiary branches that yield once a year. The cultivation practices include soil testing and adding of required amendments like lime, and fertilizer.
Fertilizers used are both organic and inorganic. Organic fertilizers are prepared in farm from wastes like coffee and areca husk along with poultry, sheep and cattle dung. Inorganic fertilizers like urea, diammonium phosphate, muriate of potassium, etc., are used as indicated by the soil test. Appropriate measures are followed to prevent and curb pest build up, irrigation and share maintenance. The plants are regularly pruned to have air movement and facilitate the growth of fresh branches. 25 people work entire year while during harvesting time number increases to 100.
Pepper Plantation
Coffee plants require certain degree of shade which is provided by around 80 to 100 shade trees on an average per acre. Pepper being a vine is grown on these shade trees. "We grow a variety of pepper called Paniyur 2 which is a good yielding variety. Quick wilt is a disease that affects the pepper vine causing large scale death of pepper vines. This is one of the biggest challenges we face," avers Mr. Aranha.
Kerala and Chickmagalur pepper comes close in quality. "The actual competition comes more from Vietnam which produces a lot more pepper than India. There is no tackling of competition. If supply gets ahead of demand prices go down and if there is more demand than supply prices tend to move up," adds Mr. Aranha.
Market
Coffee being an internationally traded commodity, the price fluctuates on a daily basis based on trade at London and New York. "The movement of the rupee against the dollar and the pound also influences local prices. The production of coffee in countries like Brazil, Vietnam and Columbia has a direct bearing on the demand for coffee. India we have many players like direct exporters to local buyers who buy the coffee and sell it to roasters," shares Mr. Aranha.
He adds, "Pepper is mostly marketed through local buyers. An improvement in the penetration of online forums like the NCDEX along with direct delivery to the buyers would go a long way to improve the marketability of pepper."
Our Correspondent
Contact Details-Malligehani Estate, Gratia Plena
Upper Bendore, Mangalore Mobile: 94495 91632
Email: aranhaneethan@yahoo.com / neethanaranha@gmail.com
Source : Agriculture & Industry Survey