First Indian seed company to introduce hybrid seeds. Presently working to produce insect resistance products. Based at Jalna, Maharashtra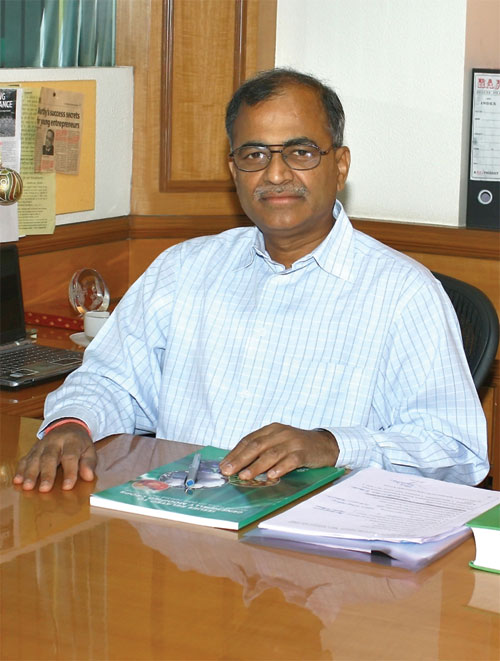 MAHYCO – Maharashtra Hybrid Seeds Company is one of the first seed companies in India, started in 1964 by Dr. B.R.Barwale, chairman of Mahyco. Dr. Barwale was conferred with the prestigious World Food Prize award and Padma Bhushan for his contribution to Indian agriculture. The company is a pioneer in the hybrid seed business. Mahyco was the first Indian company to introduce hybrid seeds for Cotton, Wheat, Sorghum, Jowar, Bajra, Maize and Sunflower.
Mahyco has been working along with the country's mission to increase food productivity and it is focused on plant breeding and biotechnology. Now the company's technology is referred to as a global benchmark and is respected worldwide as a pioneer of high quality hybrid / open pollinated seeds and for its strict adherence to quality.
The company has 4 major research facilities apart for the R & D center at Jalna district, Maharashtra. Mahyco which has always focused on R & D, is using molecular markers in the breeding approach to reduce the time required in product development from 7-8 years to 3-4 years.
Today, Mahyco employs over 1000 employees at 54 locations across India. With 15 production centers, 23 sales offices, about 2,500 dealers all over the country and more than 10,00,000 cultivators growing seeds for Mahyco, the company has a strong presence across the country. Mahyco is actively involved in the research, development, production, processing and marketing of 115 products in 30 crop species, including cereals, oilseeds, fiber crops and vegetables. It also has to its credit 21 notified research varieties.
Mr. Raju Barwale, Managing Director, Mahyco.
Mr. Raju Barwale is the Managing Director of Mahyco and has been associated with the company for over two decades in several capacities. Under his leadership, the company has taken several new challenges and scaled its existing capabilities.
Among Mr. Barwale's contributions to help Mahyco grow and sustain in changing times has been his emphasis on developing the company's human resources capabilities.
He serves on the management boards of several companies, trusts and trade associations. In 1994, Dr. Barwale was appointed a member of the Oil and Fibre Seed Section Committee of I.S.F. Switzerland.
Born in Khamgaon, Maharashtra, Dr. Raju Barwale graduated in agriculture from GB Pant University of Agriculture and Technology, Pantnagar, Uttarakhand.
Mahyco is also working on Bt Rice and Bt Okra for producing insect resistance products. Both these crops are at very advance stages of development. Seeds are a critical input for cultivation and a good crop will only be harvested when one sow the right variety of seeds. Therefore it is important to consider certain important factors while buying them. Some of the key factors which need to be considered are:
• Quality of seeds with a good germination record from a reputed company.
• Technical support available.
• Better yield from the seed.
• Diseases and insect tolerance.
By crossing naturally high yielding plants, hybrids that provide higher productivity per unit of land can be developed. This allows farmers to produce more on the existing amount of land, not only increasing their profit but also helps preserve biodiversity by reducing the need for fresh agricultural land. Pesticides and insecticides represent a significant amount of the agricultural input cost for most farmers. By developing hybrid or genetically modified crops that are inherently more tolerant towards certain pests or diseases, the farmer can reduce the dependence on expensive agro-chemicals. An added advantage is that the reduction in pesticide application also helps reduce the environmental dependence of agricultural activities.
The company's Managing Director, Mr. Raju Barwale says in the coming 5-6 years the Indian seed industry will have a bright future which is growing at a rapid pace. In the next 40 years the world population is set to increase by more than 3 billion. Feeding this inflated population will put immense pressure on our available resources, namely soil and water. Since available land cannot increase to keep pace with the population, developing economies that have large populations, like India, need to increase productivity on existing cropland. To do this we would require strong agriculture policies, infrastructure, extension services as well as openness to leveraging progressive tools like plant biotechnology.
The ongoing research work by various industry players will help the industry to address various challenges facing the agriculture sector in near future.
Our Correspondent
For further information, contact  : Mr. Raju Barwale, Managing Director,  Maharashtra Hybrid Seeds Company, Dawalwadi, PO Box 76, Jalna (MS) 431203, Maharashtra, India. E-mail: info@mahyco.com Phone (Research): +91-2482-262471-75, 262001 (Marketing): +91-2482-233881. +91-2482-233881 , 233882 Fax: +91-2482-262002
Source : Agriculture & Industry Survey