Rears exclusively Sahiwal breed cows for A2 milk and securing the heritage of Punjab state
"I started dairy farming in 2014 with HF cows. However later I came to know about the medicinal properties and nutritional content of A2 milk! I was then determined to feed my family with only A2 milk so I thought why feed my customers with low-quality and not-so-healthy A1 milk? Thereby I decided to rear only Indian desi cows as it yields A2 milk. Amongst all the breeds, I found Sahiwal breed was originated in Punjab so it further encouraged me to replace the existing herd of 10 HF cows," shares Mr. Yadwinder Singh, owner, Libra Dairy Farm.  In 1.5 years he made his farm an exclusive Sahiwal breed farm.  At present the herd size is 20 including calves and cows.
Mr. Yadwinder Singh is passionate about his Sahiwal breed cows and finds it as an amazing milch breed of India. In his words, "This breed only gives back to its owner! I say so because it is adaptable to varied conditions, flexible to the fodder and resistant to diseases. I have reared exotic breeds in the past thus I am aware of difficulties faced with HF cows. On comparing Sahiwal with HF I find the former is much easier to look after and manage. Also more profits are earned with A2 milk sales than A1 milk. Above all the satisfaction for selling healthy milk is invaluable."
He insists on allowing the cows to move freely. "In my farm we have fenced the shed in a way that it has adequate open and covered area for the cows to move as it wants. There is a separate tank for clean drinking water and timely supply of fodder thus cows have everything around it. Thus my cows are relaxed all the time. We leave the entire herd un-tied for minimum 12 hours! I believe it improves the milk yield and the cattle are stress free," highlights Mr. Singh.
There is no specific fodder management followed by Mr. Singh nonetheless he prefers to feed the cows with balanced diet that comprises of grains, green fodder, dry fodder and other daily food items that takes care of vitamins, minerals, protein and carbohydrate requirements of cows. "In grains I give maize, bajra, corn and peanut husk. Berseem is given as dry as well as green fodder. Mineral and common salt are also given time to time along with wheat bran and mustard cake," he states. (Berseem is a forage plant and green-manure crop especially grown in the alkaline soils. It is called Egyptian Clover in English.)  All the fodder is grown in-house. Entire cultivation is done using the manure made from the dung and urine of the cows. "We feed our cows healthy so it gives healthy milk. The basic foundation is simple. There is no need to complicate it by using chemical based farming inputs or buying fodder from market!"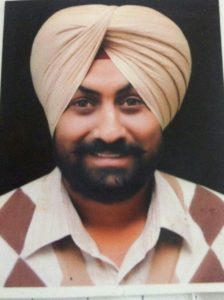 Sahiwal breed cows are diseases resistant yet these are vaccinated as preventive measure. "Also we do a regular health check-up although it seldom falls sick! So far only one cow has faced some problem and for the same it is given allopathic treatment. The milk of the sick cow will not be sold till it heals completely," he asserts.
There is no bull in the farm therefore cows are inseminated artificially. "We source the best quality semen from Punjab State Government certified and authorized center. Our state government is encouraging farmers to rear desi cows so AI process has become hassle free from all aspects," he says. Female calves are retained at the farm while male calves are either given away to other breeding centers or at local gaushala.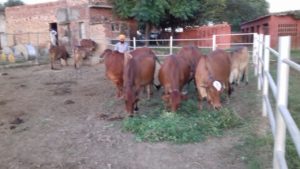 Milking is done twice in a day. Milk is sold at Rs. 70/litre. "We sell the milk raw and it is sold out completely. We are not able to fulfill the demand as awareness on A2 milk health benefit is increasing. Thereby selling is not tough," shares Mr. Singh. At the moment there are 25 direct buyers who regularly buy milk from Libra Dairy Farm.  "There is also high demand for ghee and milk sweet (barfi). Sometimes if we have excess milk then it used for making either ghee or barfi that is sold at Rs. 1500/litre and Rs. 500/kg respectively. Ghee and barfi is made only with milk of our Sahiwal cows. In barfi too we just add sugar and rest no other ingredient is used."
Replacing HF with Sahiwal breed cows turned out to be right decision for Mr. Singh as he is doing the affirmative farming that promises good health of his consumers as well as earning good income. "As I am located just 3 km away from the city I am able to get good price for milk and milk products. Dairy farmers who are based in the remote areas might find transportation a challenge but for me it is fine," he asserts. In time to come he wants to increase the herd size to meet the increasing demand.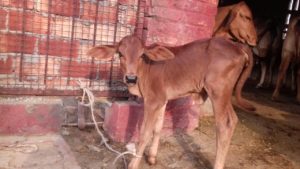 Mr. Yadwinder ensures the quality of milk is maintained and Sahiwal breed cow is secured. "It is important to safeguard our inheritance that also assures good health. Rearing this breed is easy and gainful even if it yields less quantity milk than HF but as the quality is superior! Based on my experiences with both the breeds I feel Sahiwal is any day the best milch breed of India," he concludes.
Contact details:
Libra Dairy Farm
Mr. Yadwinder Singh
VPO – Libra, Tehsil Khanna, District Ludhiana – 141401, Punjab
Phone – 098143 32999
Email – veerbhatti504@yahoo.in