Makes his Laporiya village water rich by building proficient water systems in cooperation with villagers
"24/7 access to water for farming, livestock and household, consistent ground water recharge, well maintained moisture level in the soil, right to live for every living organism and green cover all around are the unique features of my Laporiya village. It is the same village that was severely stuck under the dry spell (drought) till 1977 but today we have achieved water sufficiency and economic independence. It had been possible because we all residents of Laporiya village collectively built water bodies and designed unique systems for water conservation and natural resource management. Our village is the living example that affirmative transformation is possible if valuable resources are conserved and human beings work and live in harmony," asserts Mr. Laxman Singh, facilitator of change and founder, Gram Vikas Navyuvak Mandal Laporiya, Rajasthan.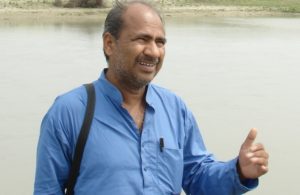 He started on this journey in 1977 at the tender age of 17 to make his village renowned in the world.
Little he knew then that his dream would become a reality as at present Laporiya village is recognized throughout the globe for its 'Chouka System' and other natural water harvesting techniques. Today his established 'Gram Vikas Navyuvak Mandal Laporiya (GVNML)' is working round the clock to develop and administer water bodies and natural resource management systems to ensure the village progresses towards prosperity every single day. Besides, once his village began recovering from the water scarcity issue Mr. Laxman Singh reached out to other villages for assisting them in attaining water-independence. To do so rural youth are trained to design and implement locale-specific blueprints for water systems that are managed and spread by local village communities.
At first with only two friends cum supporters he initiated the process of transformation by opening the school. "With no fees charged and completely self-funded our school started having students from all age-groups in the village. Then we proceeded to conserve whatever water we had by repairing the broken ponds and bunds. Slowly and gradually entire village volunteered in repair work as well as we collectively built new ponds and canals as long as 3 km to secure the rainwater. All our systems are designed in a way that the rainwater is diverted to seep below the ground and if in surplus it is collected for the external use," he adds. "With perseverance to solve the water scarcity problem we searched for practical solutions. Finally one by one we designed and developed unique water systems," he affirms.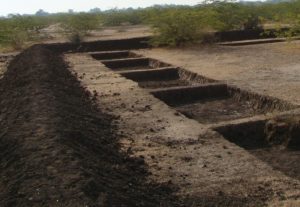 Chouka System
Chouka System, also called as square system was first built in 1979 on village owned land. Since then 1600 hectare common area in the village has choukas of various dimensions. "Basically this system consists of rectangular shallow pits (choukas) bordered with bunds that hold the rainwater till it is absorbed by the soil to recharge the ground water and excess is held back as surface water. 9 inch depth pits of same sizes are dug on the edges of land. The bunds separating the choukas are two feet high. Centre of the land, surrounded by the choukas is prime area for free grazing for the livestocks. Here we grow 30 different types of green fodder for our cows, buffaloes, sheep, goats and other farm animals," explains Mr. Laxman Singh. The choukas ensure to refill ground aquifers and also serve as drinking troughs for the village livestock. The excess water if any is diverted safely without erosion and without loss of precious top soil to low lying water tanks (nadis), or ponds for future use as surface or ground water.
Ponds
Villagers have together resurrected three ponds. The water of these three ponds is used for specific purposes. "We have named these ponds as per its usage in the joint village meeting. Phool Sagar (flower pond) is used for watering flower plants, Dev Sagar (pond for the gods) for religious rituals and Anna Sagar (food pond) for irrigating farmlands. Every year we pay homage to these ponds in village celebrations," he elucidates.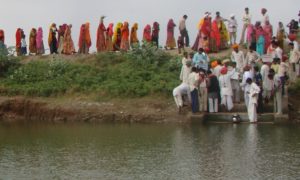 Canals and Anicuts
Many canals and anicuts are built across the village to manage the water flow and improve the moisture level in the soil. The canals can store overflow water from the chouka system. "With these canals and anicuts our soil has high water retention capability. As a result crops cultivated in our farmlands requires less water for example wheat commonly needs 6 times irrigation but we irrigate only 3-4 times," he highlights.
Livestock
To improve the breeds of cows in the village, 80 bulls of gir breed were sourced from Gujarat for breeding. The bulls are looked after by Gwal Committee appointed by the villagers through election. The committee also takes care of the common grazing land. "We brought the gir bulls because we wanted to improvise our cattle thereby have best quality of milk produced in our farm. Our everyday milk collection is 2400 litre including buffalo milk. Milk price per litre vary as per the fat content. On an average every household earns Rs. 15-50 thousand per month from milk supply," states Mr. Laxman Singh.
Open Aviary
"Every living organism has right to live so we allow all to live freely in open aviary referred as Khula Chidiyaghar. It is 80 hectare barricaded area where human activity is prohibited. This place is home to 130 plus birds and numerous wild forest trees," he shares. In this way farmlands are free from pests as these birds take care of pest naturally.
With water conservation systems in place horticulture and animal rearing thrives in the village. "In Kharif season we have bumper crop of moong and other crops grown are jowar, wheat, maize and seasonal vegetables. In Rabi season we have high yield of channa that grows without irrigation, only with soil moisture it grows well," he shares. All the produce is sold to the traders as of now while plans are to develop some marketing model to enhance the revenues.
Mr. Laxman Singh concludes, "The village has been developed very well where life is comfortable and peaceful. Most important it has become self-independent and no one finds life as burden! We receive many visitors from different parts of the country and world to learn our water conservation and natural resource management techniques. We are more than happy to share our techniques because we want everyone to live a fulfilling and dignified life!"
Contact details:
Gram Vikas Navyuvak Mandal Laporiya
Laporiya, Dudu, Jaipur, Rajasthan 303008, India
Phone: (+91) 09784355071
Email: gvnml@gvnml.org, jagveer@gvnml.org, jagveer19@gmail.com
Web: http://gvnml.org/