Producers of organic vegetables. Located in hills of Nilgiris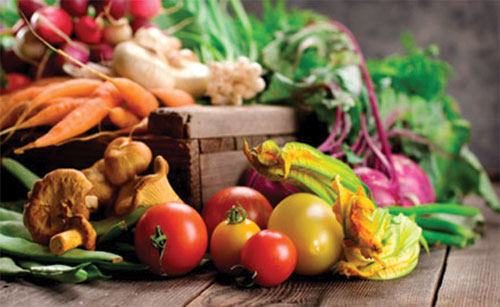 Lawrencedale Estates and Farms Pvt Ltd was founded in 2008 and run by the core group of five professionals from different fields. The company's Founder Director Mr. Vijayaraghavan P., comes from property development background. The other founding members are Mr. R. Manoharan from the farming community, Mr.K.P. Nair from the IT background, Mr. R. Balakrishnan and Mr. L.K. Narayanan from the financial background.
Lawrencedale Estates and Farms Pvt Ltd is a farming company located in the hills of Nilgiris, which is situated at an altitude of 900 to 2636 metres above MSL. The Niligiris district is basically a Horticulture district. The British were keenly interested in Horticulture. They introduced many vegetables which had its origin in Europe. These vegetables are suitable for European cuisine and became very popular in India.
Organic Vegetables
The company deals in Organic farming, Research farming, Agro processing, Marketing and Farm tourism. It promotes community based farming systems and also extends hand to the needy and the poor. The company produces Potatoes, Carrots, Beetroots, Radishes, Cabbages, Purple Cabbages, Brussels sprouts, Turnips, Beans, Peas, Cauliflowers, Lettuces, Leeks, Artichoke, Herbs, Spices, Strawberry, Pear, Plum and Tea. The company grows Carrots approximately 20 tonnes per acre per crop/ two crops in a year. 7.5 tonnes of exotic vegetables per crop / 3 crops per year.
Farming Methods
The company invested Rs.5 crores with 30 acres of land directly owned and 50 acres under community farming. Multiple crops and mix of traditional and modern farming techniques are the plus points of the company. It uses Micro sprinkler irrigation system. Apart from other organic fertilizers available in the market the company uses farm yard manure and organic manures like panchakavia & dasakavia.
The company uses hi-tech washing systems to wash vegetables like carrots, potatoes, beetroots etc. It also strives to grow new varieties of vegetables under research farming unit.
Community Based Farming
The company works with local farmers by helping them sustain and improve their farming methods and production, get better values for their produce and improve their livelihood. Lawrencedale creates awareness about the dangers of using chemicals in the conventional farming methods and highlights the farming community about organic farming. The company at present is not exporting their produce but it is in the pipeline in the near future.
Research Farm
Agriculture is one the most cost effective ways to improve environment. Knowing this the company has got its own Research and Demonstration farm facility. The company employs 10 skilled and 25 unskilled staff.
Future Plans
The company has not yet started farm tourism activity, but plans are there to start by the second quarter of 2013. It has got plans to expand farming activity and likes to own 50 acres of own land and 100 acres of community farming by 2014. The company has got its own marketing strategy and sells their products under the brand names Ooty Fresh Organics/Ooty Fresh.
The company also extends its hands to the needy poor and neglected people and provides them with shelter/ food/ education and opportunity to become self reliant. The company contributes a percentage of their income for the purpose.
The company's Founder Director P. Vijayaraghavan says that agricultural sector in India is an unorganized sector especially in farming. There is good future for the organized farming with proper understanding of the technology and market demand. One must understands the farming practices, study the market demand, latest technology before implementing it.
Mr. P.Vijayaraghavan studied Automobile engineering. As he did't get the job he got into construction and property development activity. Later on he got interested in farming and other related activities while traveling in and around Nilgiris and thus he came into this field.
Our Correspondent
For more information, contact : Mr.Vijayaraghavan P, Founder Director
Lawrencedale Estates and Farms     9A, Higgins Road, OOTY, THE NILGIRIS, TAMILNADU, PIN 643001    Tel : 094430 20020 Email : vijay@lawrencedale.com    Web : www.lawrencedale.com
Source : Agriculture & Industry Survey