Provides resources to small and marginal farmer to become sustainable. Also runs eco-tourism farm and children's home.
Kudumbam was founded in 1982 and Kolunji Ecological Farm cum Training Centre in 1990 by Mr. Oswald Quintal and Dr. Nammalvar. Kolunji Ecological Farm is an NGO program of Kudumbam. The organization's main office is located in Tiruchirapalli (Trichy) with 16 employees. Kolunji Ecological farm land is about 30 acres. Initially it was funded by Swallows, Sweden till 2010 after which the income from farm and training was the main source.
Kolunji organizes paid courses for NGO and farmers across India and neighboring countries where as free courses are offered to local farmers with support from NABARD, Swallows and Future Earth from Sweden. In a radius of 15 kms, Kolunji has supported about 500 farmers to receive organic certification under ICS from INDOCERT, Kerala. In 11 villages 11 community sacred grooves spread over 400 acres have been reforested. It has also helped in revival of minor millets and pulses in the neighborhood. The NGO also facilitates FFS (Farmers field school). The LEISA Network (Kudumbam LEISA Network) in Tamil Nadu has 82 NGOs who are associated with the farmers in 400 villages.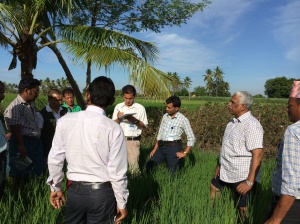 The NGO also works for the upliftment of small and marginal farmers by providing training of 3/5/7/15 days. It also borrows from Indian Overseas Bank and on-lend to organic farmers. Farmers who adopt traditional practices are identified and provided the assistance. They are grouped into 5 Member Neighborhood Support Team (NST). The leader of the NSTs form panchayat level Federation and the Federation identifies the farmers for training. The training focus is on reviving traditional seeds, enhancing soil moistures, crop diversity, inter crop farming, organic certification, collective processing and marketing. "For food and accommodation we charge Rs. 300/- per person per day," informs Mr. Ostwald Quintal, Director.
After the Training, the farmers are supported to organize themselves in groups and associate themselves with organic farmers in the neighborhood. "Once in 6 months we organize meetings at Chennai where our organic farmers meet the owners of organic shops for selling their farm produce," shares Mr Quintal. Other assistance is in the form of information as to where quality seeds and seedling are available. The NGO encourages the cultivation of traditional rice varieties and varagu, millets and pulses, and vegetables. "We normally advise to cultivate 3 to 5 varieties and to intercrop pulse varieties that are host plants to predators," he shares.
The organization also has a children's home for orphans, children of widows and single woman. "On the farm, we facilitate Women's Collective in Organic Farming, where they work 3 hours in Kolunji farm and 3 hours they work in the organic farm allotted to them," says Mr. Quintal.
Kolungi also has an eco-tourism project to provide space for tourists and students from colleges/agricultural colleges from Tamil Nadu and India, students from International-Sweden and France. Farm maintains two bedded cottages, 2 training halls with LED projectors etc for the guests. "Transport to field and translator is arranged on request, internet and computer facilities are available 24 hours," he adds.
Mr. Ostwald shares the future plans of the NGO, "To enhance the capacities of organic farmers training capabilities." To strengthen the organic producer's company in traditional seeds, minor millets and vegetables cultivation is also some of the vision of the company.
Contact details-
Kudumbam
No: 113/118 Sundarraj Nagar, Subramaniyapuram, Trichy 620020, Tamil Nadu, India
Mob: 098424 49125
Email: ozeyquin@gmail.com
Web: http://www.kudumbamorganisation.wordpress.com/