Official opening of demonstration project of Koppert biological systems at Bangalore, India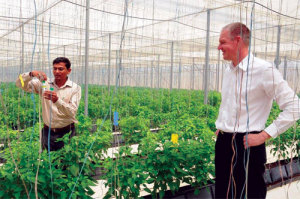 Koppert Biological Systems enters Indian market with establishment of Koppert India. Company takes its first step to tap immense potential and opportunities of growth in India with its first demonstration trial held at the farm of Namdhari in Bidadi, Bangalore on 17th April. The demonstration of biological crop protection solutions went on under protected conditions. It was an initiative of Koppert and Namdhari and it received financial support from the Dutch government.
In the presence of the Dutch and Indian government, information on biological crop protection was presented along with the advantages it offers. Biological crop protection contributes to food safety and food security as residues are reduced, the quality of products improves, and the yield increases. The result is the better marketing of the end products. Event received positive response from the farming community.
Dr. Shivakumar, Senior Production Manager Namdhari Fresh, Robert Pathuis, Director Koppert B.V, Yassin Lahiani, Area Manager, Koppert B.V, Udayanarayana Bhat, General Manager Koppert India and Uday Singh, Chairman, Namdhari Fresh were present at Namdhari Farm in Bidadi, Bangalore along with other important personage from respective organizations. Koppert India takes the responsibility to improve food security and safety, public health, and biodiversity within agriculture and horticulture for people of India. The expectation is that biological crop protection below ground and above ground will become available for the whole of India over the coming years. Namdhari Fresh is a leading Indian fresh produce exporter in Bangalore.
Koppert is the international market leader in the field of biological crop protection and natural pollination. Koppert has a reputation internationally for reliability, innovation and quality. Koppert's principal place of business is active from 1967 and located in the Netherlands.
Koppert also has several subsidiaries for sales and/or production all over the world. Koppert India's operating base is Bangalore, the capital of the state of Karnataka. Here, the climate conditions are favourable for horticulture, and the number of greenhouse projects is increasing rapidly. The sales focus will be primarily on natural enemies and microbiological products for greenhouse cultivation of vegetables and flowers.
For more information contact – Koppert India # 38, 8th Main, 8th Cross, 2nd Block, Jayanagar, Bangalore – 560011, Tel. +91 (0)824 2222502 Mob. +91 (0)897 1635160 Email: ubhat@koppert.in
Website: www.koppert.com
Source : Agriculture & Industry Survey