Develops minituber potato seeds for fields in Punjab and other Indian states. Also produces G9 banana saplings
KF Biotech was established in Bangalore, Karnataka in September 2004. "It is backward integration to Kapur Farms, Punjab, engaged in seed potato business since 1960. KF Biotech was set-up to improve seed potato quality through tissue culture raised minituber production in-house," shares Dr. S. Chauhan, VP. The company offers early generation potato seeds, minituber potato seeds and banana transplants.
When asked promoters of company are based in Punjab then why KF Biotech was set up in Bangalore, Dr. Chauhan says, "It is because of moderate climatic conditions round the year that helps in reducing operational cost of AC lab as compared to Punjab. Secondly the plant has low temperature stress for hardening."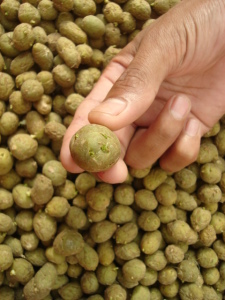 The basic seed potato (G0) production facility is situated at Bangalore while multiplication facility is positioned at Jalandhar, Punjab.
The company practices Innovative Multiplication Technology for developing the potato seeds. "Minituber/G0 multiplication rate per unit area and time is high. Once one starts with more tuber-number he will get more quantity in subsequent generations," clarifies Dr. Chauhan and adds, "Minituber potato size ranges from 11-15 mm whereas early generation (G1, G2, and G3) seeds are normal tuber and their size range from 28-55 mm."
Speaking of production of potato seeds Dr. Chauhan shares, "We introduce clean materials in tissue culture forms from authentic source mainly Central Potato Research Institute (CPRI), Shimla." After that multiplication is done aseptically and grown under controlled condition. Later the stock is re-tested for freedom of viruses and viriods after which the plant is hardened and planted under well-equipped greenhouses for production of minitubers. It takes about 3 years to develop seed potato.
"We usually sell G3 stage seed potato," shares Dr. Chauhan. G0, G1, and G2 are used as pipeline products for in-house production of G3. G0 is sold to the institutions/companies on their specific requirement.
"Ours is quality seed having good vigor and health. It is the first choice of farmers across the country," claims Dr. Chauhan. The potato varieties in use are K Jyoti, K Pukhraj, K Chandrammukhi, K Badshah etc. developed from CPRI, Shimla.
Along with potato seeds development, KF Biotech is also into multiplying banana tissue culture plants. The variety of banana developed is Grand Nain. The mother culture of banana Grand Nain is imported from Ginosar Agro, Israel, an authentic lab.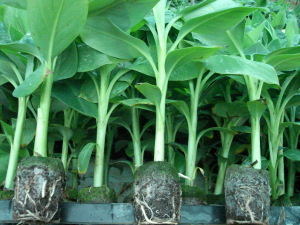 The annual production ranges up to 30000 metric tons for potato seeds and 4 million transplants for banana. Potatoes are packed in gunny bags of 50 kgs. The products are delivered through commission agents. "We do offer agronomy services to our farmers on need basis," informs Dr. Chauhan.
The products are sold mainly in Gujarat, West Bengal, Karnataka, Punjab, UP, Maharashtra etc. The company also has its own cold storages, located at Jalandhar, Punjab and Chickbalapur, Karnataka.
Future plans, "Expansion of existing production facility and global presence is what we aim at," shares Dr. Chauhan.
Dr. S. Chauhan holds M.Sc (Agri) and Ph.d degrees.
Contact details-
KF Biotech Pvt Ltd
Theniyur Village, Sulibele Hobli
Hoskote Taluk, Bangalore Rural
Karnataka, India 562 921
Mob: 99805 46000
Ph: 080 27957390
Email: info@kfbiotech.com , kfbiotech.in@gmail.com
Web: http://kfbiotech.com/