Kerala based farmer society encourages organic farming. Members growing pepper, cardamom, rubber, tea and coconut in purely organic way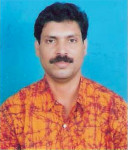 Karshakamithram was established in 1993 in Kattappana, Kerala by a group of farmers as an organic manure marketing society. Initially all farmers (members) used to supply tea leaf to Tata Tea collectively while later they concentrated on different kind of organic input marketing in Kerala. As of date Karshakamithram holds around 15% of organic inputs in Kerala with tie-up of different manufacturing companies. Mr. Thomas Joseph is Marketing Manager.
He shares, "our farmer members are having a lot of cultivation in cardamom, pepper, rubber, coconut etc. It was very difficult initially to shift them to organic farming due to slow output compared to chemical fertilizer, non-availability of quality organic manure, etc." Things changed with time, as a result nowadays many farmers have turned to organic farming as they get good price for organic products and different organic manures are available to them at reasonable price.
Annually, members of Karshakamithram are selling some 10000 kg of organic cardamom, 25000 kg of organic tea and 10000 kg of organic pepper yearly. Farmers are now getter better price for their organic produce. They sell all their produce to agents who then export to international countries.
Rubber Plantation
Karshakamithram members are having approximately 1000 acres of rubber plant altogether. Mr. Joseph says, "They sell the dried form of rubber cream (rubber milk collected from the skin of rubber tree) known as rubber sheet to the local market vendors." He further adds, "rubber plantation is a profitable business however investment in rubber reaps returns from 6 years onwards."
Super Eggmeal
Super egg meal is the hatchery byproduct such as un-hatched eggs, dead, handicapped and under-sized chicks which are sterilized and powdered. It is having all kinds of nutrients like NPK, huge amount of calcium, and all kinds of micro and sub nutrients which stimulate plant growth.
Karshakamithram has contract with leading hatcheries to make supper eggmeal for them. Mr. Joseph informs, "this product was started in the mid '90s in an experimental way and was established by the year of 2008 in the Indian markets. The concept behind super eggmeal is to find out new organic inputs which match up to chemical fertilizer in the area of harvest with reasonable price and without any hazardous side effects. Egg meal is available only with us so far. The farmers who used it are very much excited."
It can be used for all crops. It increases the yield to a considerable quantity and enhances the quality of the soil in nutrients and structure. It balances the PH factor of the soil by reducing the acidity.
Future Plans
"We plan to use new technologies in organic farming like fertigation and green house farming," avers Mr. Joseph.
Our Correspondent
Contact Details : Karshakamithram
Kattappan, Idukki – 685508  Kerala
Mobile: 98466 06640
Email: thomas.preeya@gmail.com
Source : Agriculture & Industry Survey