Safeguards native varieties crops from extinction and provides planting material. Improves farm revenues with value addition and livestock rearing
"Ours is an ancestral farm known for quality rich pepper, nutmeg, coconut and areca nut. With time when hybrid varieties began replacing nation's traditional treasure, we continued to grow and conserve indigenous varieties of these crops. 90% of the crops cultivated in our farm are desi varieties. These have been with us for past many years. As a result we could safeguard the native varieties from extinction. Additionally we grow multiple crops and rear native breed of farm animals. As a result our farm is pest free and survives the hazardous effects of climate change. Further to enhance farm revenues we produce and sell value added products and planting material of these desi varieties to the people who walk-in as visitors but walk-out as loyal customers," Mr. Ciby George Kallingal shares in nutshell the farm operations of his family owned Kallingal Plantation and Nursery. He manages it along with his wife Mrs. Swapna Ciby. The farm is located at Pattikad, Thirssur district, Kerala.
There are more than 30 varieties of pepper grown in the farm such as Penniyur 1-8 , Karimunda, Neelamundi, Arkulamundi, etc; 12 varieties Kallingal 1-12 of nutmeg, 8 varieties of coconut like Malaysian green dwarf, Kuttiyadi, DxT(NCD), Chowghat orange, green and yellow dwarf etc; 6 varieties of areca nut namely Kasaragod, Mangala, Sumangala, Mohitnagar etc. Mr. Ciby holds Plant Genome Saviour for all these four crop varieties.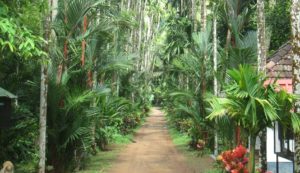 With 1300+ mother plants of nutmeg and coconut palms as well as 3000+ arecanut palms and black pepper vines, Mr. Ciby started selling the planting material of these crops to other farmers. At Kallingal nursery budded nutmeg plants, grafts and seedlings of coconut, pepper and areca nut are sold at reasonable price.
Kallingal Plantation and Nursery is 25 acre integrated farm. Apart from the four main crops, seasonal vegetables and fruits are also grown namely mangoes, rose apples, jackfruit, rambutan, oranges, lime, guava and list goes on. "It is important to grow intercrops and have animal husbandry because it largely helps to attain the bio-diversity in the farm. Our entire farm is nurtured with the waste from trees and animal husbandry. This enables us to attain self-sufficiency to the best possible extent. We do use select chemicals inputs as required but the use is extremely limited," persists Mr. Ciby.
Livestock reared at the farm are 10+1 Kasaragod dwarf native cows + bull, 3 Marwadi white horses, rabbits, turkey, fish, layer chicks, ornamental hens, quail, goat etc. "Animals are reared for passion and source of agri input. We make compost from the dung of all the animals while bio-pesticides from cow urine. We certainly do not breed the livestock for commercial sales. However, sometimes we do sell the animals to other farmers. Milking of cows is done for personal use yet if in excess it is value added into ghee and sold to the farm visitors," shares Mr. Ciby. Every animal in the farm is allowed free movement and left for free grazing.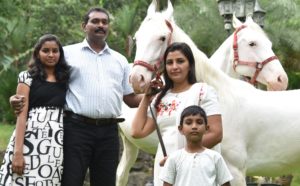 Referring farm animals as an integral part of the operations, Mrs. Swapna elaborates, "As we let cows and horses to graze freely there are no weeds in the fields hence labour cost is reduced. Nutmeg harvesting is very difficult otherwise but as we not have weeds it is little easy." Further fodder for native breeds of farm animals is also not a concern as it feeds comfortably on farm waste. "Areca nut leaves are broken down into pellets and fed to the horses. Cows graze weeds and wild herbs grown naturally in the farm."
Droppings (dung) of all the animals are collected in one common pit to be decomposed along with Pseudomonas, trichoderma and turned into manure. "Along with desi cows' urine and dung we are also using horse dung. It is fibrous, packed with vital nutrients precisely nitrogen, phosphorus, potassium and decomposes in just 4-6 weeks,' he says.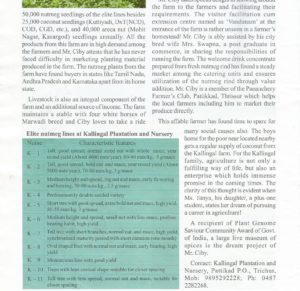 The farm has 25,000+ Gliricidia trees on the boundary and within the plantation too. The leaves of the trees are excellent for green manure. "We get nitrogen-fixing green leaf manure from these trees. We have bio-gas unit in the farm. We use its slurry and in-house prepared vermicompost manure. As a result water retention capability of our farmland soil is good," highlights Mrs. Swapna.
Soil testing is done regularly as per the schedule in every segment of the farm. "We do it so to understand the soil well. We enrich our soil accordingly. To control the soil pH we do liming every year," she shares. With these farm made agri inputs and indigenous crops varieties Kallingal Plantation and Nursery is 85% pest free and resistant to climate change.
Farm revenues are primarily contributed by four main crops however the additional income is generated by sale of value added products, planting material, seasonal vegetables, and fruits. Crop harvesting takes place round the year in the farm. Nutmeg is harvested entire year however the yield varies depending on the climate change. Pepper is harvested from January – February while areca nut twice in a year.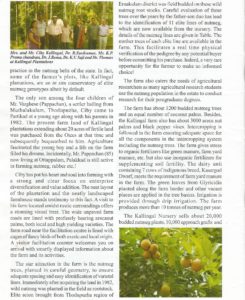 Entire farm produce is sold from the farm gate to the traders. "We have a long association with these traders so finding the buyer is not a problem but price fluctuation is a major hassle. It is unfortunate that a third person fixes the price of agricultural commodities and we farmers are supposed to abide by it. Even the word 'organic' is only a fancy in retail market but in the bulk sales it is not considered as it should be! Nonetheless, to cope with this issue, we hold the produce to get the better price. For example – areca nut price usually appreciates during Diwali so we hold the produce and sell as the price appreciates. Similarly for all other products we do some research on market prices and then take the decision on sales," he explains.
Being an integrated farm, there are many commodities produced in small quantities hence, "We prefer to value add and then sell. We are value adding our farm produces from past 4 years. We make products such as mango pulp, mango pickle, turmeric powder, tamarind, cloves, white pepper, cardamom, and so on. Our star product is pure cow ghee sold at Rs. 3000/litre. We also make products from nutmeg such as wine, squash, jelly, jam etc." shares Mrs. Swapna. These products are sold to the farm visitors who are mainly agricultural officials, students and farmers. "All our products are sold easily." Farmers and college students visiting the farm are helped in every way possible. They are given technology and knowledge share on budding, grafting and layering of the spice crops, management of coconut trees, soil analysis and so on.
Mr. Ciby insists, "Learning in agriculture is never ending process. We still continue to plant trees as and where possible and our learning continues and will continue forever. Irrespective of education in agriculture, field experience is the best learning tool."
They conclude, "People are going away from agriculture but sooner or later they have to make come back! Life of a farmer is excellent and it can be prospective provided farmer takes the initiative to learn and apply the knowledge on the fields and think like a businessman just as in any other profession. Every farmer should feel proud to be a farmer from within then only he can demand and get the respect from others. Being with nature is best privilege anyone can have and farmer has this privilege. So work in the soil sincerely and enthusiastically and soon farming profession would get its due recognition."
Contact details:
Kallingal Plantation and Nursery
Mr. Ciby George Kallingal
Pattikad P.O. Thirssur District , 680652 Kerala
Mobile – 09895292228
Email: cibykallingal@gmail.com
Web: http://www.kallingalplantation.com/