Growers and suppliers of safed musli. Also provides planting material with buy-back guarantee
"Medicinal plants cultivation is boon for the farmers. We earn around Rs. 2-3 lakh/acre through this amazing wild crop. It has steady market demand and selling price. When we list the conventional crops cultivated in one column and its selling price on next column we can see none of the crop like vegetables, wheat, soyabean etc is sold at price above Rs. 100/kg where as safed musli is sold at Rs. 1100-1220/kg. Grown on the same land for same time period, safed musli certainly is 10 times more profitable than other horticulture crops. Farmer must now decide on his own on crop selection," affirms Mr. Ram Charan Patidar, co-founder, Kaliya Musli Farm.
Mr. Ram Charan Patidar manages the family run 'Kaliya Musli Farm' along with his brother Mr. Shyam Patidar. The farm spreads in 25 acre and is located in Dehariya Sahu village, Dewas, Madhya Pradesh. Prior to the year 2003 Patidar brothers used to cultivate routine crops grown in the region like potato, onion, wheat etc, however later with safed musli farm revenues escalated by 10 folds. "In 2003 I read an article on safed musli and was spellbound to see its selling price. I decided to try one crop on experiment basis. The results attained were astonishing as I could sell entire produce and earned profits like never before. Then onwards we focused on safed musli and learnt everything about it in detail like production, processing and selling," he adds. As safed musli was earlier collected only from forest Mr. Ram Charan learnt a lot about it from tribal community and senior farmers.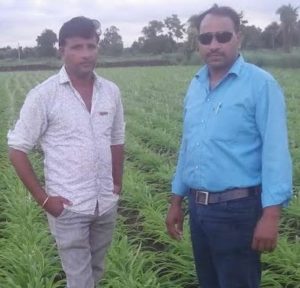 Safed musli is a tuber crop grown once in year during monsoon. "We prepare the land after May 15. The land is deeply ploughed, feed with extracts of neem and millettia pinnata (called karanj in Hindi) and then tuber (root) is sown after 10th June when the monsoon begins," shares Mr. Shyam Patidar, co-founder, Kaliya Musli Farm. The plantation method is quite similar to potato plantation. The tubers are sown keeping 6 inch distance between plant-plant and 24 inch distance between row-row. The crop responds well to the organic farming practice but can be grown using chemical agri inputs as well. Within a month from the tuber sowing, 90% germination takes place.
Mostly safed musli is a disease resistant crop but can be attacked by worms (called illi in Hindi). To control the same fungicides and pesticides need to be sprayed. "We largely use bio-solutions. Besides we take preventive measures by spraying herbal solutions after 1.5 months after sowing," he states.
The crop grows well and requires medium water. In case of scanty rain the plantation can be managed with irrigation. Weeding must be done once in a month. It is harvested in the month of November.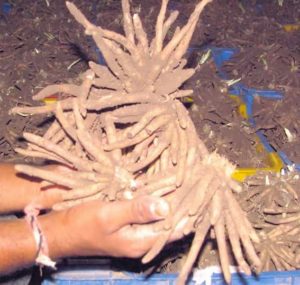 Post harvest crop rotation is mandatory to have a good production in next cycle of safed musli. "We commonly grow vegetables namely potato, onion and garlic. It nourishes the soil well," informs Mr. Ram Charan and adds, "There is no need for intercropping as safed musli is sold at higher price and is less prone to pest attack."
In one acre farm 3.5 qunital tubers are sown that yield 26 quintal. "On an average from 1 quintal tuber 8 quintal safed musli is obtained. The biggest market for this crop is Khairabadi, New Delhi. We sell our farm produce to Indore based traders. They pick entire produce from our farm gate with immediate payment," he shares. Farmers can earn higher profits if processing is done in-house. The harvested roots of safed musli need to be peeled before selling. It can be done manually as well as through machine.
When asked safed musli is labour intensive crop, Mr. Ram Charan clarifies, "It is little labour intensive but still worth considering as the profits earned from this crop is high. It can be peel manually provided the technique is right. We have to spread the harvested roots on the ground, cover it meticulously with jute and leave it for 12-13 days. Later the roots get easily peeled manually. It is not difficult at all!"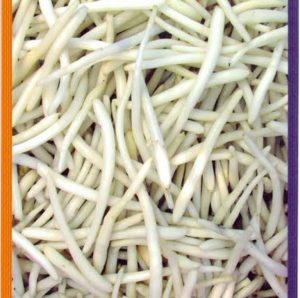 Kaliya Musli Farm was only one farm in 2003 in Dewas belt to grow musli but seeing the success many farmers have started growing this medicinal crop. "In 2009 we started farmers' group engaged in safed musli cultivation. Today the group has 300 farmer-members. We supply planting material to all of them along with farming guidelines. Post harvest if the farmers are able to sell their produce independently then well and good else they sell it through us. We always ensure all the farmers in our group sell their farm produce at the right price and earn good profits," asserts Mr. Ram Charan. 90% of safed musli produce of the farm now is sold as planting material at Rs. 350/kg.
In time to come Patidar brothers would continue the present operations and want to add more farmers in their group. "Our main crop will be safed musli always as of now. However we want to explore a little on coleus crop too. It was earlier in high demand but then the market collapsed completely. Consequently the planting material of coleus is not available. We believe its demand would return with huge price so we want to be prepared for that time. Rest safed musli has stable price and market demand thus farmers must try this crop and bring remarkable change in their incomes," they sign off.
Contact details:
Kaliya Musli Farm
Dehariya Sahu, Tehsil Hatpipliya, Dewas, Madhya Pradesh 455221
Phone: 099260 54093
Email: rckaliya93@gmail.com
Web: http://kaliyamuslifarm.com/