Unable to collect fixed deposits, banker establishes demonstration farm to help other farmers to earn well
"Being a banker, I had to give business growth to my bank, Himachal Pradesh Gramin Bank. When posted at Arsoo, an apple growing area in Himachal, I could not collect many fixed deposits. Reason was simple – apple growers were not getting regular crop in their orchards," says Mr. Vikram Rawat, Founder, Kalasan Nursery Farm and adds, "I started studying on internet that our way of apple production is traditional and we were 50 years behind the developed countries. Their yield is 10-15 times more than ours despite most suitable climate here. The main reason was no using of apple rootstock. Hence I started mobilizing small farmer groups to adopt rootstocks, but failed." Later Mr. Rawat shared his thoughts with his wife Mrs. Rajani who encouraged him to establish an apple orchard, a demonstration farm for apple growers.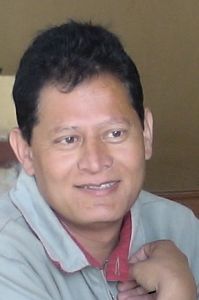 A small positive initiative leads to further expansion. Rawat couple at first thought only to grow apples but they started with apples, cherries, pears, almonds, apricot and plums farming. Now they are also engaged into vegetable production, not only seasonal but exotic vegetables of sixteen items like bell peppers, zucchini, asparagus, parsley, celery, fennel and four different type of lettuce, broccoli, Chinese cabbage, pok choi etc. Kalasan Nursery Farm (KNF), being a demonstration farm, includes many other farming related vital features. "We have water storage capacity of 3 Lakhs liters stored from rain water harvesting system. We also have a few dairy cattle with Indian and foreign breed, vermicompost unit, small tissue culture lab, and a small cold store for apple saplings," says Mr. Rawat. They promote high density farming technique in modern apple orchard.
In 2002, when Mr. Rawat started this venture he just knew he wanted apple rootstocks and had no other details. Hence he opted for technical consultancy from Winrock International USA. The company sent Mr. John M Aselage to help whilst there was none in government sector to help because of negative attitude for high density plantation and use of rootstocks. Mr. Aselage keeps visiting KNF once in every two years even now.

Disease resistant apple rootstocks are propagated in two ways – namely tissue culture and stool layering. However, at KNF they are mostly using stool layering technique because, "I realized tissue culture saplings in apple are not suitable. It is not used anywhere in the world. Hence our main thrust is to propagate through stool layering technique," informs Mr. Rawat. Talking about the unique features of KNF developed rootstock, he says, "These are clonal rootstocks. These are very productive, of good quality and regular bearer."
It takes two years for a rootstock to become a mother stock and start giving saplings. KNF has 10000 mother stocks and 4500 have come into production. At KNF they are developing three categories – dwarf, semi, and vigorous of which dwarf are M9 and M26, semi M7 and MM 106 and vigorous are MM111 and M793. "These are different genetically. And their characters are well-known. One may be very productive but carry some problems while the other is very disease resistant. So, all of them have different characteristics," he explains and adds, "We supply dwarf rootstocks for high density farming and also feathered trees. "
The rootstocks grow well in Himachal Pradesh, Kashmir and hills of Uttrakhand as apples need chill weather of below 7 degree Celsius for 500 to 1400 hours. Day night temperature variation is required to get good quality fruit.
When asked why they favor high density farming, Mr. Rawat says, "Actually traditional farming has long gestation period. It fetches results after fifteen years. High density means early crop production thus keeping the growers interested in farming. Due to this less moratorium period now young generations are taking up this high density farming."
Sharing the details on number of apple clonal rootstocks required for one acre he says, "In one acre, 1000-1400 of high density, 600-1000 medium density and 200-600 low density." Fruiting depends on the rootstocks. Dwarf rootstocks start yielding within 3-4 years, semi dwarf takes 4-5 years, while vigorous rootstocks start fruiting after six years.
The rootstock responds well to all farming inputs. "Chemical or organic is personal choice of grower," he says, "I feel balanced use of chemicals according to the requirement by soil is best. So proper soil analysis should be done to know the deficiencies in soil. However, organic inputs are always best for soil."
Annually 25000 rootstocks are sold at the farm to apple growers from all over Himachal, Uttrakhand, and even Kashmir. Word of mouth publicity brings buyers to the farm. "We have not used any media for promotion except Facebook page and a website. As we are the first farm to use high density technique, people come to visit and observe the difference," shares Mr. Rawat.
As mentioned, KNF has also its own apple orchard where 6000 trees were planted in high density method six years back. It is now expecting the first harvest and foresees to get into commercial production from 2016 onwards. Rest of the other farm produce is sold in Delhi.
KNF uses different methods for producing vermicompost and organizing camps for popularization of kalasan method of producing quality and economically cheap vermi compost. Kalasan method of vermicompost advises to spread the dairy dung waste like a bed and cover it with grass. It does not need any concrete structure or roof. Mr. Rawat says, "As this method does not involve any finance, it became farmers' friendly and the visitors found it very simple and less time consuming. Then for demonstration we also make compost in a three feet wide one feet deep trench, which is also less expensive and any farmer can do it without using any input."
To provide apple growers in Himachal an international level consultancy and planting material is the future plan of Mr. Rawat.
Sincere efforts of more than 10 years have paid off for Rawat couple as every year thousands of farmers from all over apple growing areas visit KNF. "My motive for KNF establishment seems to get fulfilled. I am happy that people have also started the replication of our farm. Our farm is well-known for adoption of modern and farmers' friendly technology that increases quantity and quality of apples," he says.
Mr. Rawat shares the credit with his wife and parents for their support. He signs off saying, "I am still working in the bank. I plan the things and my wife who is well-educated with a post graduation in Economics looks after the work all the day. So basically it is a team work. I could not have achieved all this without her and my parents who support in all activities."
Contact details-
Kalasan Nursery Farm
P.O. Marothi, Teh. Karsog,
Distt. Mandi – 175046
Himachal Pradesh (India)
Ph: 91-94184 55027
Mob: 94180 45027
Email: rawatknf@yahoo.co.in
Web: http://www.knfarm.in/index.html