Quits hotel industry to get back to agriculture. Located in Nattinchira, Kerala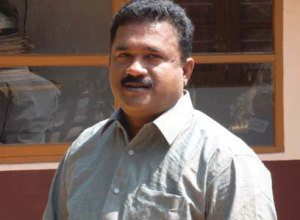 Kaippully Agriculture Farm located in Thrissur district in Kerala is owned by Mr. Sasi Kumar. The total farm area of 68.5 acres is used for growing coffee, paddy, areca and coconut with pepper as inter crop.
Presently they are cultivating ginger and turmeric. They also sell seeds and planting material directly to farmers and also in market. Against customers' orders they produce all types of planting materials.
Mr Sasi Kumar, is a graduate from Calicut University and holds Diploma in Hotel Management. Having a strong passion for agriculture, he resigned his job as hotel manager for 10 years and became full time farmer. His family has been in agriculture for more than 250 years. When asked about motivation behind taking up farming he told, "family background and love for agriculture because it is the backbone of our nation".
They are rearing cattle to produce more amount of organic manure. Mr. Sasi informs, "now all farmers are facing the hike of prices of chemical fertilizers." In his opinion these days none of the farmer is able to get right price for their efforts because of cheating attitude of middle men.
He considers technology as prime key to farming. "Without technology and high yielding varieties of seeds we can't do farming now." He also feels although Government offers some subsidies and schemes but the farmer does not has time to avail these as procedures are long and cumbersome.
Our Correspondent
For more information contact : Kaippully Agriculture Farm, Kaippully House, Nattinchira, Chelakode P.O, Thrissur District Kerala India 680587 Phone: 04884250275
Mobile: 094471 51594 Email: sasichelakara@gmail.com
Source : Agriculture & Industry Survey