Earns add-on income by rearing stingless bees. Sells honey and bee boxes
"It is effortless to rear stingless bee! Honey collection is simple method too as there is no need to clean the honey. Being rich in medicinal properties it gets sold off immediately," says Mr. K. Udayan. He rears stingless bee at Karaduka village, Kasaragod district, Kerala. It is been four years he is rearing, sells bee box with colonies and supplies honey to direct consumers. He finds meliponiculture as lucrative venture.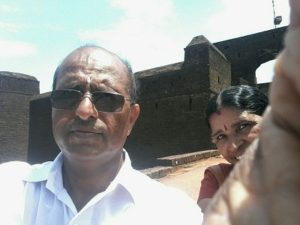 Mr. Udayan is engaged in meliponiculture as part time because he is working at Kerala State Road Transport Corporation. "I read about it in newspaper and found it interesting. With an interest to learn more I contacted CPRI and went for training. As it didn't require any technical skills or capital investment, I started practicing it straight away," he adds.
Stingless bees are collected from forest without paying any money. The forest department allows collecting the bees as in one rain all the bees get killed. Therefore it is better to collect from forest. In his one visit to forest Mr. Udayan is able to collect 10-15 colonies. "We go to the forest at 9-9.30 am and observe entry and exit of bee in a single hole of the dead bamboo tree. Then cut the bamboo by 1 meter to block the exit. Wait till 6 pm for the worker bees to return back home and finally bring the bamboo home. Then the bees are transferred to the boxes. The bamboo may contain one queen bee and 5-6 queen eggs," he shares.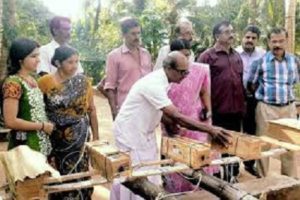 Usually bee box is used for rearing bees. One bee box is sold at Rs. 1250. It consists of one colony having one queen bee and approximately 3 000 worker bees. It takes one month to set the colony in the bee box. "I have made 600 boxes till now," he says. Colonies are important in bee keeping else all the bees will be scattered away. Each queen egg after hatching takes some worker bees along to live separately. "In December, the bees get separated from each other and make a new home (different bamboo). It takes atleast a week for the bees to search the place and then shifts workers, bees wax and etc. It needs a dark space to make the colony. Once the colony is made that particular queen bee always remains in it till the death," he elaborates.
Speaking about queen bee eggs he explains, "Queen bee lays queen bee as well as worker bee eggs. The queen bee egg (10mm) is bigger than the worker bee egg (3mm). The newly born worker bees feed on bee pollen while the baby queen bee is fed with royal jelly by adult worker bees. The later do not eat any other thing such as nectar or pollen but only royal jelly." In any bee colony all the work is done by worker bees while queen only lays eggs. The life span on queen bee is 5years while worker bees live for 2 months. Queen lays 3-5 queen bee eggs in one year while 200-300 worker bee eggs/day.
In order to ensure good health of stingless bees, Mr. Udayan gives diluted honey to bees from June to February month. "To do so I dilute 100 gram honey in 200ml water and spray on the sponge kept on the stand. I cover the sponge with big box having a small opening to allow only stingless bee to enter. It is necessary to give additional food because for my 300 colonies, the nectar of the flowers is insufficient," he says. Stingless bees are delicate thus cannot survive heavy rain but likes good sunlight.
When asked about pollination, "It is much higher in stingless bee than the sting bees. I got 40% extra yield in coconuts, arecanut, vegetables, beetle leaves etc. I also noticed increase in the size of the coconuts too."
In addition to preparing colonies and selling in a bee box, Mr. Udayan manages 300 boxes for honey production. "It is exclusive for honey. I do not sell these boxes. Maximum 500 gram honey is produced in one box per year," he states. There is no need for processing honey but it needs to be filtered. "I filter the honey with a cotton cloth into tumbler. It takes 4-8 hours for filtration. The honey obtained is thick, clear and pure. If in the honey beeswax is mixed then its shelf life is increased three times," highlights Mr. Udayan. He sells 50-60kgs of honey annually that is sold approximately at Rs. 3 lakh. Honey is sold to the direct consumers. "My network of buyers is growing steadily therefore selling is not tough for me. I don't have to worry about stocking the unsold honey as it gets sold off completely."
In time to come Mr. Udayan wants to scale his operations and encourage others to keep atleast two boxes. "Stingless bee is safe for all so rearing is easy. However a new person requires the first hand information on general know-how. To provide the same I conduct training workshops. I provide hands-on training. I am contended to supplement income with meliponiculture. It will always improve the livelihood of the bee-keeper," he concludes.
Contact Details:
Mr. K. Udayan
Panoor Kochi House, Karaduka PO, Via Muliyar, Kasaragod District, Kerala – 671 542
Phone: 08547994801