Specializes in producing plant propagation solutions. Based at Bangalore, Karnataka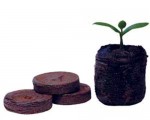 Jiffy Products International based in Bangalore is the all-India distributors of Jiffy International. The company started selling its products in commercial scale in 2010. "We market the Jiffy products under the brand name Floral Designs," says Mr. Rajendra Kumar, proprietor.
Jiffy Products International BV is a multinational company which specializes in producing plant propagation solutions. Jiffy has a global distribution network with production locations worldwide including Norway, Denmark, Netherland, Spain, Japan, Sri Lanka, USA and Canada.
Jiffy offers a range of propagation media for the horticultural industry. "Jiffy products are designed for use with the automation systems found in greenhouse environment. Jiffy pots, Jiffy pellets, and Jiffy preforma plugs, besides others are highly suitable to work in combination with automatic handling and transplanting equipment," says Mr. Kumar.
Jiffy-7C Coco Pith Pellets
One of the main products in Jiffy's product portfolio is the Jiffy-7C. It is a substrate for horticulture crops being propagated under stressing conditions or for crops requiring a high level of air porosity in the substrate. Many different types of crops are well suited to this medium as high volumes of water can be applied to keep cuttings / plants turgid, without the danger of water logging.
The features of Jiffy-7C:
1. The fast expansion of the Jiffy-7C translates into fast and easy sticking of cuttings.
2. Being enclosed in a minimal netting, allows optimal root development and root penetration at the same time providing adequate strength to support the root ball during handling, shipping, and transplanting.
3. A specially designed wetting agent allows fast and uniform re-wetting of the substrate if it becomes over-dry
4. Supplied in a dried compressed form allows the grower to store unused plugs until the next crop cycle without wastage.
5. The plugs are easily re-hydrated ready to use, by hand or during the normal irrigation cycle.
Market Response
The company mainly targets professional growers who produce young plants and government institutions such as forestry department.
Mr. Kumar maintains, "We are adding new clients and finding usage in new crops. We started off with tissue culture banana but now we have users from different crop growers like papaya, water melon, moringa, capsicum, cucumber, roses, gerbera, pelargonium, philodendron, syngonium, alocasia, ficus, crotons, aglaonema, dracaena, and cordyline." The major markets for the company are Karnataka, Maharashtra, and Gujarat.
Quality Assurance
Jiffy products are all RHP certified. RHP Foundation is the leading center of expertise on substrates and soil-improving materials in Europe, and is granted to traders, producers and importers of peat / coco peat substrates and potting soil mixes.
Future Growth Prospects
Mr. Kumar foresees great growth prospects for Jiffy coco pith pellets. "There has been steady growth over the last two years. In 2010 5 ml Jiffy pellets were sold. In 2011, 9 ml pellets were sold. In 2012, we will end up with 12 ml pellets. Our target for 2013 is 20 ml pellets. By 2015, Jiffy will achieve 50 ml pellets," he maintains. Mr. Kumar is B.Sc (Agriculture) from TNAU, Coimbatore, and M.B.A from Cochin University of Science and Technology.
Our Correspondent
For more information, contact : Jiffy Products International, Floral Design, 31, 14th Cross, Kanaka Nagar , R.T.Nagar, Bangalore M- 91-9341260980
Email – dutchflr@hotmail.com Website – www.jiffypots.com
Source : Agriculture & Industry Survey