Provides agriculture engineering consultancy services to farmers. Based at Nashik, Maharashtra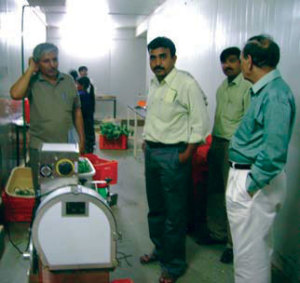 Jaihind Agro Services was established 25 years ago. The firm is situated in Nashik in  Maharashtra state. Mr. Hire Dnyaneshwar Pundalik is the founder of the firm and also he is a consultant. The firm's consultancy services was started in 2002. Jaihind Agro Services offers consultancy on agriculture engineering.
In India, Government policies are responsible for poor agriculture development. A small country like Israel is far ahead in agriculture. If anybody shows interest in farming, Israel government comes forward and helps them with infrastructure development, water facility etc.
It also helps the farmers with labour and marketing too. On the contrary, in India, farmers struggle to get water for irrigation, they depend on rain water, river, lakes, borewells, etc. But when the options dry out, they again have to struggle for water and other facilities. Secondly, Indian government is not giving any kind of infrastructure to the farmers. Farmers does get some help but it is not sufficient. So, the development of agriculture depends on National policies and National interest. If that is there, then India would definitely be in the top position in the world in the agriculture field.
Mr. Dnyaneshwar Pundalik shares his experience, "if a farmer comes to us for a pipeline design, we save him minimum 20 percent on cost. We guide them only to buy the materials in correct measurement and quantity as required by them. Therefore a farmer actually saves the money in all these ways, so he can actually afford to pay our consultancy charges from the saved money.''
The company has started Sahyadri Farmers Producer Company Ltd., where it takes care of initial infrastructure development. The company has a tie-up with an export house for marketing.
Mr. Dnyaneshwar says "a farmer does not have an idea about the value of his land. In Agriculture Engineering it is covered. People from General Engineering background may tell that they will develop the land, but instead of developing it, they degrade the land. So, our main focus is to develop the land properly, and save farmer's money. We also give consultation about the various scientific methods which help to develop the land with minimum expenditure. Second major resource for a farmer is water.
So we have various designs of wells and other resources and designs of pipeline, micro irrigation, regular irrigation etc., all these designs are very important. We provide all the services to farmers. If somebody wants designs for plantation, we give proper structural designs as required.
Then as per the requirements, we give consultancy service to make greenhouse, cold storage, pre-cooling, etc. We have with us an agricultural machinery wing where we can help a farmer with the right kind of machine which would be useful for him. Generally, if a farmer directly walks into a store to buy a tractor, people ask them to buy blindly tractors of 100 hp, 50 hp, etc., whereas his requirement might be only for 25 hp. So we consider farmer's requirements and then guide him to buy the appropriate machinery.''
"Moreover, during that time nobody were providing agro engineering services to farmers. These farmers do not have proper access to all new technologies in agricultural field. So, I started to take the initiative in our Nashik region,'' adds Mr. Dnyaneshwar.
Our Correspondent
For further information, contact- Mr. Hire Dnyaneshwar Pundalik,
Jaihind Agro Services, A-656, Market Yard Shopping Complex. 2nd Floor, Opp.Panchavati Police Station, Dindiri Road, Panchavati, Nashik – 422 005, Maharashtra.
Mobile – 09423119753 Phone : +(91)-(253)-2510940 Email: hiraydp@jaihindagroengg.com
Website – http://jaihindagroengg.com/index.html
Source : Agriculture & Industry Survey