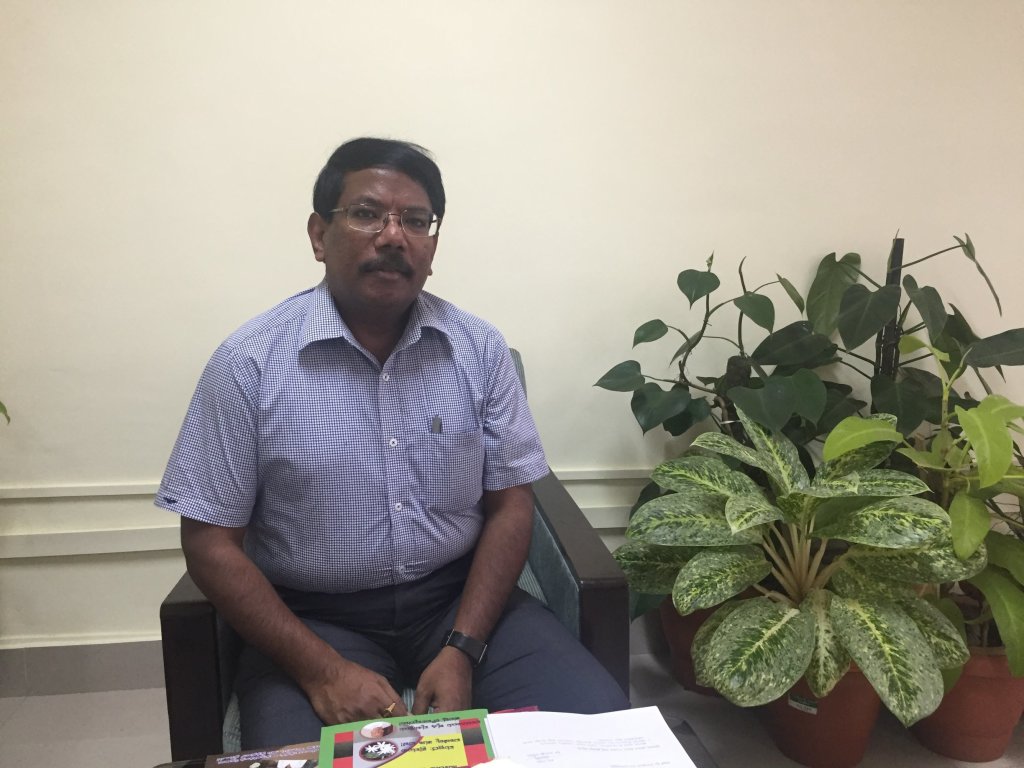 Mr. N. Manjunatha Prasad, IAS, Secretary to Government, Agriculture Department, Government of Karnataka.
"Government has come up with a new scheme Krishi Bhagya. It is a unique scheme available only in Karnataka. Rs 500 crores allocated for this."
What you feel are the big challenges in Karnataka agriculture today?
In Karnataka about 70% of total area under cultivation is dryland farming and only 30% is under irrigation. In fact after Rajasthan, the second state which has more area under dryland farming is Karnataka. So that being the case, we had successive two drought years/seasons. This year in the kharif season out of 176 talukas about 137 talukas faced drought. Again in the rabi crop that is mainly grown in northern Karnataka 12 districts the rainfall was deficit by 55% hence about 62 talukas were declared as drought areas. Looking at these figures, the biggest challenges is that how it can be ensured that in such a vast area good yield from the farms can be achieved specially when the area is crippled due to the climate change uncertainties and inadequate rains. We are trying to see what can be done!
What are some of the main achievements of the present government towards farmers?
Again looking at this 70% of area being dry land farming, Government has come up with a new scheme "Krishi Bhagya". It is a unique scheme available only in Karnataka and not introduced by any other state government. Every year approximately Rs. 500 crores is being spent on Krishi Bhagya scheme itself. Last year we had Rs. 500 crores and this year also we received Rs. 500 crores. It is mainly targeted towards the dryland agriculture where we encourage the farmers to have a farm pond in their fields. Size of farm pond depends upon the farm acreage, it could vary from 36 ft x 36ft x 10 ft and can go upto 60 ft x 60 ft x 10 ft. In addition we assist farmers to have the lining on these farm ponds using geo membrane sheet otherwise the collected water in the pond gets penetrated in the ground instead of being pumped into the fields for irrigation.
Next, as there are issues of electricity all the time so we are giving the diesel pump sets to farmers. Through these pumps irrigation is done through drip or the sprinklers. For drip and sprinkler installation we give about 90% assistance whereas other components we give 80% assistance, in some components we give 50%. Another component is greenhouse or a polyhouse. We give financial assistance varying from 50-90%. These are four important areas focused and resolved under Krishi Bhagya scheme. It is one big program we are doing.
Second other important program we are working on is technology access. These days getting manual labour is difficult for the farmers and the rates are also very high hence we are assisting farmers with farm mechanisation. In Karnataka state nearly about 39 lakh holdings is with small and marginal famers. We can't expect these farmers to own a tractor or some machinery. So to enable all these farmers access to mechanized farm equipments for their operations, we are opening custom hiring centres. For each custom hiring centre the total investment is approximately Rs. 75lakhs. The government gives an aid of Rs. 50 lakhs to any NGO/manufacturing industry/anybody who comes forward. They have to run these centres for minimum of six years. Hiring charges of farm machinery is fixed by the committee headed by the CEO, Jilla Panchayat in presence of individual/NGO running the centre, farmers, farmer representative and elected representatives. It is ensured person maintaining and operating the custom hiring centre is not put into loss. In this way such centres are being set up. So far we have around 185 centres.
Till last year it was restricted that centres shall be run only by non-governmental or non-charitable organisations but now we found that many charitable or non-NGOs are not coming forward to take up the responsibility to manage the centres. We also observed lot of expertise and resources are also required. Therefore this year onwards we have opened it to the industries also. Consequently many industries, manufacturers of farm equipments are coming forward with their technology and equipments at these centres. Few of the equipments that they don't manufacture are taken from other companies. In this way the centres are being set up. This is the second priority of the government.
One more thing what we have started is giving soil health cards to the farmers. Though we were little late in doing this because initially we thought that entire thing we will outsource and get things done from outside. With outsourcing agencies there were some complications because the rates were very high, second time somebody who quoted didn't get the tender now it is being done by the department itself. We have engaged about 4300 farm facilitators and the entire department. We are using the remote sensing satellite technology whatever the maps are developed along with the digitized cadastral maps to form the grids and we have given 1500 tabs to all of our farm facilitators. They are going to the fields and using the tabs and collecting the soil samples that are tested in our 29 labs in the district. Then the soil health cards are generated and given to the respective farmers. We intend to give about 20 lakh soil health cards in the next two years. We are working on it vigorously.
In addition to that one more priority area is micro irrigation. Nearly this year we are spending about Rs. 300 crores on micro irrigation. In case of micro irrigation, both drip and sprinklers are given to the farmers. Farmers are coming in a big way. Infact we don't have that much of resources to satisfy the demand from all the farmers in one go. Though the central government gives assistance only upto 22.5% subsidy whereas our state government with an objective of ensuring all these farmers get the facilities we are giving subsidy of nearly 90%. Hence more resources from the state government, nearly Rs. 300 crores are being spent for this particular project. Our aim is that farmers use the technology and productivity increases. Also the cost of production comes down so that more area can come under cultivation. This is another program we are doing.
Besides we also supply certified seeds, genuinely labelled seeds to the farmers during all the season. To do so we spend close to Rs. 150 crores on seed distribution. It is vital because quality seed is very important. We also have a close watch on organic farming practices. Presently in the state 55,000 hectares is under organic farming. It is fully certified. Another 1,10,000 hectares is under certification. We give lots of incentive to the farmers to take up organic farming. And now we have created 14 regional federations, we want to make one state federation so that from this year we can give more incentives to the federation to have lot of common facilities for the farmers. These are the facilities we are giving for organic farmers. Then there are number of other schemes that are being centrally sponsored schemes for farmers' welfare on fields.
Watershed development also comes under agriculture department wherein this year we are spending about Rs. 300 crores. Through watershed development we are trying to minimize non cultivable lands plus improve the ground water recharge. We are treating these areas with the traditional watershed methods. We have four agriculture universities under our department. These universities are engaged in research activities, knowledge transfer and extension activities. Rs. 700 crores are spent on on these four universities. These are run by the government funding, basically for research, teaching and extension.
What has been the total spending of this government towards agriculture sector, has it been increasing or decreasing?
Every year our budget is about Rs 3000 crores for agriculture. When we say agriculture it includes other vertical too. For example recently the central government mentioned lot of funds are allocated for agriculture, but along with agriculture/farming it also overlaps with animal husbandry, co-operation, rural development to some extent, horticulture, and sericulture. So I am talking purely about agriculture that includes production of food grains, cereals, oilseeds and some cash crops. I am not talking about sericulture or animal husbandry or rural credit that doesn't come under my preview. Excluding all these, the allocation for agriculture department is about Rs. 3000 crores mainly for those programs which I explained.
We have only one program for increasing the investment in agriculture, Rashtriya Krishi Vikas Yojana (RKVY). On this program agriculture department works as the nodal department wherein the central government gives funds and the state governments gives matching grants. Agriculture department is the nodal department through which the funds are given to different departments. We coordinate between the other departments.
When we think of agriculture in Karnataka  the issue of farmers suicides come up. I want to know your view on this issue?
Farmers' suicides! Entire state has witnessed two successive crop failures that have led to the overall distress that is visible. Yet whichever case comes we blindly don't declare it as a suicide. There is a committee at the sub-division level that looks into this. After an in-depth insight in the cases, if genuine they mark it as suicide else not.
To deal with suicide cases, it needs to be understood that whether agriculture is an occupation, if it is profitable or not, ultimately it revolves around that question. Whether we are able to give our farmers adequate credit! Sometimes even though production and productivity is good they don't get proper prices and it is whole lot of complex problem which needs a conceptualised effort by all agriculture and many other departments. So overall after two successive crop failures, in reality the situations are bad! We are trying to address the issue may be in the coming budget.
As the agriculture secretary, what you would like to say so far for the new initiative you took?
When I took over Prime Minister's most favourite program, 'issuing the soil health cards' was done differently with the help of IT technology in which our state excels. There are 30,000 villages in the state. All our village maps' along with cadastral maps are digitalised. We are using remote sensing satellite, we used bhoomi data used with the help of NIC and came up with a new model. The new model has been appreciated by the Central Government of India and they want that the same model should be repeated at national level. That we started only 2-3months back, that is the one thing which we are doing well and of course the Krishi Bhagya.
Last year the entire year for some reasons expenditure was very poor and this year we have done it very well so we are trying to do our best but I have been here only for six months. All these six months I had been with full of satisfactions and especially we have excellent minister Shri Krishna Byre Gowda, fully committed for the welfare of farmers. I worked for 22 years in IAS, and one such nice person whom I haven't met across. I worked in West Bengal for 12 years with Pranab Mukherjee, the President of India, I was district collector in this district then. I was private secretary to Mamata Banerjee. I have worked all these years and found him to be one of the best ministers. We like to do good things that can bring in substantial change in farmers' life. Farmers' problems are complex but that doesn't mean that there are no solutions to those issues/problems. We are trying to do our best and we will see to it that our plans help the farmers and make their lives some more comfortable.
In conversation with Kartik Isvarmurti, Managing Editor, AgricultureInformation.com 
Contact details:
N. Manjunatha Prasad, IAS,
Secretary to Government
Government of Karnataka
M.S Building, Bengaluru 560001
Tel: 080-22250284, 22032595