Consultancy services offered for organic farming. Invites franchisees for expansion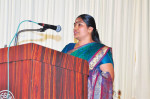 Insight Quality Consultancy Services was established in the year 1999 in Cochin. Mrs. Girija A.M is the founder of the company. The annual turnover is almost Rs. 1 Crore. Consultancy services in implementation of organic cultivation to various farms are provided by the firm. They help agriculture, floriculture and horticulture farmers in standardizing their farming activities through EUROPGAP.
"Our target customers are farmers, processing units and individuals who are interested in setting up units/farms/warehouses/cold storages" shares Mrs. Girija. They also provide financial consultancy, project report preparation for submission in the bank and help in cost effective waste water treatment and water recycling. The firm helps farmers to sell their products in a value added segment to help them gain more profits. Their client list includes more than 100 clients. Mrs. Girija believes the firm has been successfully running because of customer support.
The firm aims at expanding all over India. Inviting franchisees from all over India is how they plan to do the same. They are currently looking out for entrepreneurs who are interested in extending services of IQCS on a profit sharing basis.
"Individuals and those who are running consultancy services in other fields with an office, telephone and internet connection and willing to travel can apply" adds Mrs. Girija. To become a franchisee the applicant is expected to sign an MOU with the company. The company will support the franchise by providing materials, knowledge and marketing support. The company representative will guide the franchise organization until they are self-reliant.
Mrs. Girija is a post graduate and lead auditor in various standards. She holds six sigma black belt certifications. She has 21 years of experience including 14 years of consultancy experience.
Our Correspondent
Contact : Insight Quality Consultancy
Services, 62/5621, "Prabhat", First Floor, T.D. Road, Ernakualm, Pin: 682011, Kerala, India Mob: 97440 73456 Email: girijakochi@gmail.com Web: www.iqcsindia.org
Source : Agriculture & Industry Survey