Rears and breeds rabbits. Recommends it for good profits
Protein deficiency in India is on rise and it can be met with rabbit meet. As rabbits can be reared in small area and requires less fodder it is comparatively hassle free than other livestock farming feels Mr. Thiruvenkatam. S. He is engaged in rearing and breeding of rabbits. His farm, INR Rabbit Farms is located at Bangalore, Karnataka. He speaks with us about rabbit breeds, fodder, breeding and future plans etc. Excerpts:
In our country mostly cross-breed varieties of rabbits are raised namely New Zealand White, Russian Giant, Grey Giant, Soviet Chinchilla and Indian Black etc. These breeds are adaptable to the climatic conditions and good for a commercial farm. We have developed the farm in one acre and 10 gunta area having the capacity to raise 500 rabbits. We raise female rabbits for breeding while males for meat but 15% are used for breeding.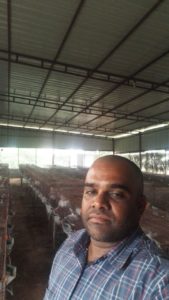 We sell female rabbits at Rs. 900-1000/piece while the male is sold for Rs. 450/kg. We also sell the start-up kit at Rs. 9000-10,000/kit having 7 females and 3 male rabbits. We have one more kit that is sold at Rs. 13,500/kit, it consists of cages and feeder along with rabbits.
Breeding is always a crucial task and demands lot of care. Learners of this business must take up breeding only after 2-3 cycles of rearing rabbits. It provides the required experience of understanding the nature of female and male rabbits. Late to which farmer should take up breeding. The rabbit breeder needs to be cautious to ensure the breeding stock of is of different clan as in-breeding is against the law of genetics and must be strictly avoided. Also once female rabbit becomes over weight then the capacity to reproduce is reduced.
Breeders are also supposed to maintain post kindling care and kindling care. We keep dry hay during delivery because dry hay has high protein content. Once bunnies are born we actually separate them from mother. We keep them in separate boxes for 15-20days. We make bedding out of hay and fur of the mother which is plucked near delivery in the boxes. Separating bunnies is good for Mother rabbit as it allows all of them to have same milk from Mother. There may be chances of some bunnies are strong and some are weak. Mother rabbit may not have the patience of more than 5-10mins for feeding. Once the time is over, the mother will start running away. In such a case all bunnies may not have drank milk equally and some might have been left hungry. It increases the chances mortality! Therefore we monitor the growth of bunnies very carefully.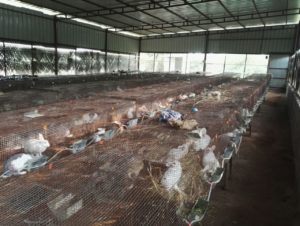 A clean farm is a healthy farm. We keep the cages, floor and surroundings clean. Once in every six month we burn the cage in fire for disinfection and sterilization. The mud floor is swept daily and once in a week lime powder is applied. Every day the left over feed is removed before the next feed is given to the rabbits.
We feed mix of greens and dry fodder to the rabbits. In greens we grow napier CO7 and lucerne. In dry feed we give wheat husk, corn grains, green gram and tur dal grains. Dry feed is bought from the market. We feed rabbits thrice in a day, 7-8 am roughly around 200 gram green fodder, around 2 pm dry feed in the ratio 40:30:30:10 and 7 pm in evening again 140-200 gram green fodder is given. Along with the fodder we also give mineral salt and regular salt on daily basis. Fodder quantity varies depending upon the size of the rabbit, pregnant or lactation period. Clean drinking water is also essential for the rabbits. We have fixed up an automatic feeder (nipple) through which they can drink water as required.
Commonly rabbits do not face any major diseases but are prone to infections like kajji roga (skin infection affects ears etc), cold (running nose) and diarrhea. As they are in a close cage they also get infected due to stress and strain because the closed enclosure restricts their physical activities. We give Ivermectin for kajji roga once a month on regular basis. To boost their internal body growth we give liver tonics like liv-52, calcium-osteovit. Bunnies are given suspension of albendazole once in a month and ivermectin once in a month till 3 months.
Rabbit farming is having bright future because rabbit meat has the capability to fulfill the protein deficiency in our country. Besides this business is attracting many youth as it is lucrative. In order to make rabbit farming industry more organized we are in the process of establishing a formal FPO (Farmer's Producers Organization). It shall be named as Karnataka State Rabbit Farmers and Breeders Welfare Association. Presently there are 800 farmers in our network across Karnataka who shall be members of this association. This association will put a full stop to in-breeding of rabbits, provide complete training to first-time rabbit farmers, offer buy-back for rabbits etc. It shall be one-stop for rabbit farming.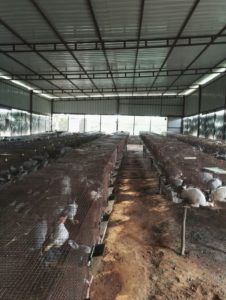 Other than the FPO set-up we are trying to increase the awareness on benefits of consuming rabbit meat. Many non-vegetarians are not know about its' health benefits. Being in Bangalore we want to popularize and increase the demand. With FPO getting functional in next 2-3 months we are sure to supply in alliance with demand of rabbit meat. Rabbit farming is certainly a prospective business!
Mr. Thiruvenkatam. S holds degree in engineering and has worked for more 17 years in marketing domain. However attracted towards agriculture he started rabbit farm and owns an agro-forestry farm in Andhra Pradesh. He is promoting both vigorously.
(As told to Mamatha S R)
Contact Details:
INR Rabbit Farms
No. 4, 6th Cross, Vinayaka Nagar, Choodenpura PO, Near Kodipalya, Kengeri, Bangalore – 560 060
Phone: +91 98455 44894
Email: thirusvenkat@gmail.com