Develops scientific and high yield pomegranate farms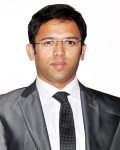 Hosachiguru Farms is actively involved in pomegranate farms development. Headquartered in Bangalore, it aspires to build an institution that generates 'Green ROI'. To cultivate land productively and sustainably to generate attractive returns to the green-conscious stake holders is their motto.
Hosachiguru started developing high yielding, scientific cultivated pomegranate farms about three years ago. Their pomegranate and sandalwood farms are located in Rayadurga in Anantapur district of Andhra Pradesh. Estimated value of their investment is $ 1million. Current value of their nurseries and plantations amount to about $4 million. Hosachiguru follows a five step process for a scientific, environment friendly, bottom line driven commercial farming of pomegranate and other horticulture products.
These steps include right crop, right land, right technique, minimisation of uncertainty and maximum utilisation of potential. They pick land with high potential, usually less than 20Km from tier 2 cities. This land is then developed into a scientific, commercially attractive and high yield farm.
Proprietary technique called "Power Grow" – with a mix of sandalwood and pomegranate is used for the same. Power Grow was developed by Hosachiguru after more than 5 years of scientific experimentation. "Power Grow essentially involves a well-established scientific process tailored to plant type, that aims to optimize plant development by carefully managing light, water and nutrient input" shares Mr. Srinath Setty, director of marketing and sales.
Hosachiguru's customers include professionals from cities with a farming streak in them, people looking for passive income and the ones who want to contribute to the environment. These customers buy developed pomegranate farms from Hosachiguru. Once the land is registered in the customers' names, Hosachiguru manages the farms for 15 years. Their services include farm management, fertilizer, pesticide management, pruning, replacing any mortality, harvest, technical assistance and rainwater harvesting. "We are getting excellent response from our target customers.
We have successfully completed two projects, about 100 acres in total, and will be launching our next projects very soon" adds Mr. Setty. They reach out to their target customers through their website, email campaign, print media. This company also conducts workshops for focused audience.
Hosachiguru is currently in the process of setting up cold storage and downstream processing in arils separation and packing units. They are also working with certain high tech Israel and US companies that have the best pomegranate processing units. Speaking of the increasing demand for pomegranate, Mr. Setty says, "pomegranate has become the 18th most popular fruit in the world. The statistics indicate that in the next few years, it will be in the top 10 list of most favorite/popular fruits in the world.
A countless number of products now contain the fruit, which is obviously immensely versatile." Apart from its consumption, pomegranate is widely being used in products such as shaving gel, shampoo, lip guard and soaps. However timely inputs of water, pesticide and fertilizers are important in raising a pomegranate farm. Mr. Setty only sees high growth in pomegranates' demand in future making its development a profitable business.
Hosachiguru management team is represented by Hemanth P, Director, CEO, Strategy and Investment, Srinath Setty, Director, Marketing and Sales, Sriram, Director Farm Operations.
Our Correspondent
Contact details : Hosachiguru Farms
#315, Ganjam, 2nd Floor, 14th Cross, 2nd Block, Jayanagar, Bangalore, Karnataka 560011, Phone: +080 6488 0000
Mob: 9164880000
Email: Srinath@hosachiguru.com
Web: http://www.hosachiguru.com/
Source : Agriculture & Industry Survey