Brings together fellow farmers to grow grapes for secured sales and attaining distinct identity of village
Unity is strength in farming. "We don't go out in search of buyers instead buyers come to us asking for grapes. This is the power we have achieved from farmers' unity in our Pargaon Sudrik village, Ahmednagar district, Maharashtra. We collectively decided to grow best quality grapes and market our produce jointly so that fruit traders can get huge quantity too. The journey began in 2001 and now after 17 years the grape growing area has increased to 150 thousand acres in the village. As a result our village has earned the distinctive recognition amongst the fruit traders and retailers thus we receive many customers from across the country to buy our produce from farm gate making cash payment," affirms Mr. Hirve Dattatray Sakharam (Mauli).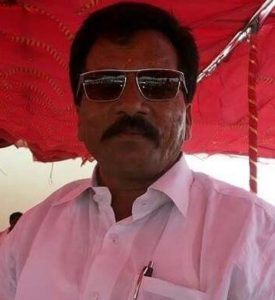 His grape orchard spreads in 8 acres. Black grape, Sonaka variety is cultivated in 1.5 acres while three varieties of white grapes is grown in 6.5 acres namely Diamond, Sonaka and Manik Chaman. Prior to 2001 Mr. H. Sakharam was growing pomegranate and traditional crops like wheat, pulses and vegetables. Later with an aim to increase the farm revenues he decided to do something different! "Every farmer in the village was struggling in some way or the other. So I thought why not to work collectively! We eight friends made an informal group to take farming related decisions. We all wanted crop change in our farms for earning more money. After travelling extensively in the state, we decided on grape cultivation following the meticulous analysis of water and soil properties suitable for grapes as well as support of climatic conditions. We used to work individually on our own farms but were doing the same things. We jointly did marketing of grapes to attract the buyers. Slowly and gradually more farmers joined in and started growing grapes. Members increased in the group and village was recognized in the market. We still mutually find solutions to the problems in farming, learn and adopt new technologies and assist one another in best possible way," he elaborates.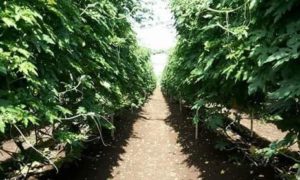 Initially grapes produced were exported through a middleman to European countries for first 4-5 years. Next it was exported to gulf countries for 5-6 years. Post 2010 more farmers in the village were growing grapes and a good demand developed for grapes in domestic market so exports was discontinued. Mr. Sakharam finds selling grapes in domestic market more profitable than exports! "Marketing and selling grapes in European and gulf markets is more expensive than selling in India. The selling price of grapes in retail in European and gulf countries could be more but summing up the export cost (certification, license), packaging, delivery charges along with trade bargain, the profits earned by the farmers in exports is less than selling grapes in India. Also we were cheated by the middleman. He used to mix our produce with low-quality grapes and sell in the market. He used to sell at Rs. 60/kg but paid us only Rs. 25/kg. We were losing our reputation too! During the meetings our concerns were never heard so we decided to stop exports," he explains. Further rules and regulation are stringent in exports so it is more stressful. On the contrary selling in India is hassle free.
As exports discontinued Mr. Sakharam and his group members had to make the change in the plantation too. "We farmers have to produce what the consumers demand. Indians like yellowish coloured grapes with 24+ brix (sugar level) whereas Europeans are fond of green colour grapes and need only 16 brix. Pointed grapes are sold in India while the round grapes are more popular in European market. As we started focusing on Indian market so we grew pointed grapes," he adds. Black grapes are harvested and sold in December-January while white (green) grapes in March-April.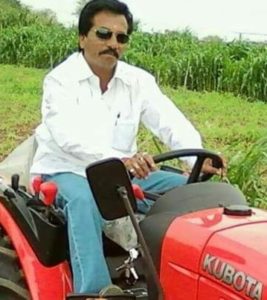 Presently grapes in the entire village orchards are sold from the farm gate to the buyers from metros. "During harvesting period 6-7 ton grapes are harvested and sold every day in my orchard. I take on-spot cash payment. On an average 16 ton/acre is grape production. Revenue earned is Rs. 7 – 8 lakh/acre, production cost is Rs. 1.5-2 lakh/acre thus net profit earned is close to Rs. 6 lakh/acre/annum. This year I sold black grapes to Hyderabad based trader while green grapes to a buyer from Madhya Pradesh," he reveals.
Selling grapes in domestic market has no worries on packaging. "Grapes are harvested, stacked carefully in crates, and dispatched in the delivery vans unlike in exports where we used to pack the grapes in corrugated boxes," he states.
When asked about the capital investment required for establishing the new plantation, Mr. Sakharam says, "The initial cost is Rs. 4.5-5 lakh/acre. Later every year production cost including agri inputs, water, labour and other miscellaneous expenses is Rs. 1.5-2 lakh/acre. In one acre 1005 saplings/grafts are planted keeping the distance of 8 * 5 feet (row-row distance 8 feet while plant-plant distance 5 feet). First harvest is obtained in 18 months and then after good quality grape production continues for next 14 years. Later to which there is drop in quality but the grape vines continue to fruit! However for sure after 20 years the plants need to be changed. In my own orchard, one section is 17 years old and is due for change." Grape saplings/grafts are easily available all over Maharashtra. Commonly Rs. 4.5-5/plant is the cost incurred.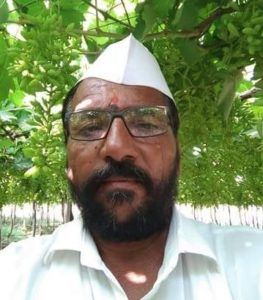 Water shortage troubles the farmers. Mr. Sakharam replies, "Yes! Water scarcity is a problem so every farmer in our village has water storage tank in his farm. We keep the tank full and use water judiciously as required."
He concludes, "Farming is lucrative only when farmer thinks and acts like a businessman. Farming is not only love for soil and passion for growing food but it is the profession so we farmers in Pargaon Sudrik village work with an aim to earn money. We grow best quality grapes so want best price for the same. We discontinued exports because it was not paying us well! Now we keep a watch on market, study demand and supply of grapes and accordingly negotiate the price with the traders/buyers. We grow grapes as per consumers' taste and choice. When we were selling in Europe we used to produce round grapes and now we sell in India so we grow long and pointed grapes. We produce what sells, earn good profits and stay united. Consequently not only individual farmer but our entire village is progressing!"
Contact details:
Mr. Hirve Dattatray Sakharam (Mauli)
AT Post Pargaon Sudrik Village, Tahsil Shrigonda, Ahmednagar District – 413 702 Maharashtra
Phone: 09403565699