Finance professionals turns into farmers with betel leaf cultivation in poly house
"Bangla Meeta Patta (betel leaf) found and grown exclusively in Midnapur, West Bengal fetches good price and once planted yields for more than 30 years! We saw a prospective future in this crop. Next in order to grow organically and create climatic conditions close to Midnapur, farming in poly house was the apt choice. So we went ahead with the cultivation and now we are reaping good profits. Our next milestone is exporting betel leaf," shares Mr. Sawant Singh. Along with his two friends, Mr. Hari Khandelwal and Mr. Gaurav Bute, Mr. Sawant Singh established Hind Agro at Indore, Madhya Pradesh in 2014. Three friends cum partners were earlier working at ICICI Prudential but after being introduced to hi-tech farming by one of their clients they diversified from finance to agriculture.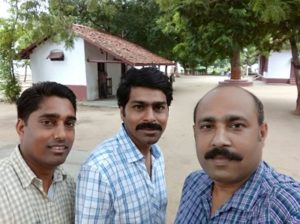 Manufacturing and installation of polyhouse, seed trading and polyhouse farming are the main business activities of Hind Agro. Betel leaf project is the common dream project of three partners. Mr. Sawant Singh speaks with us about benefits of farming in polyhouse, growing betel leaf over vegetables and betel leaf cultivation process. Excerpts:
In polyhouse the vegetative growth of the crop is good because of abundance of carbon-dioxide. We can control humidity, temperature and rain. Water requirement is less as we use drip and evaporation is less. Use of chemically produced pesticide and fungicide is bare minimum too. Keeping all these aspects in consideration certainly quality and quantity of farm produces in polyhouse is best as compared with open cultivation.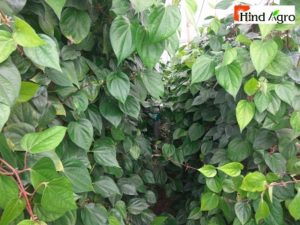 We set up manually managed polyhousei n 11,000 sq feet area with the investment of Rs. 7.5 lakh. We use soil media for cultivation. In the beginning we grew capsicum and cucumber. The quality of produce was excellent but labour issues and price fluctuations forced us to look for another crop. We then grew cabbage. Although cabbage flower was small but leaves were good size having 1-1.5meter diameter. Once again we faced the same problems. Also in vegetable cultivation it is repeated plantation that is time intensive activity. Looking for the crop-change we finally selected betel leaf because of four reasons, (1) Once planted it yields leaves for 30-35years. (2) It is 100% organic. (3) It is economically most liable crop. (4) The water and labour requirement is less.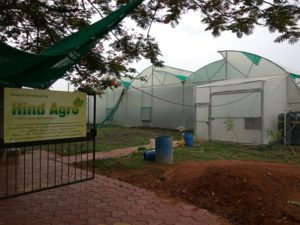 There are different varieties of betel leaf grown in our country but Bangla Meeta Patta caught our attention as it fetches the best price. It is grown only in Midnapur, West Bengal. We visited Midnapur to meet the farmers. To our surprise the farmers were reluctant to share the information! After immense persuasion they gave the desired details and agreed to lend us the betel leaf kalams (planting material). Then we got kalams from Midnapur and did a trial. We grew it organically and vines grew well. Quality of betel leaf inside the poly house is far better than open cultivation in terms of size, gloss (shinning), thickness and taste. In Delhi and Mumbai wholesale market there is good demand for high quality leaf. If quality of leaf is better, the price is also high. We were contended with the results attained and then planted betel leaf planting material in the entire polyhouse. Since past 3.5years we are earning good profits.
We bought kalams (one node and one leaf) from West Bengal for Rs. 10/kalam. Including transportation it cost us Rs. 2.3 lakh. In 11, 000 sq feet area we planted 15, 000 climbers. Plant-plant distance kept is 3-4cms.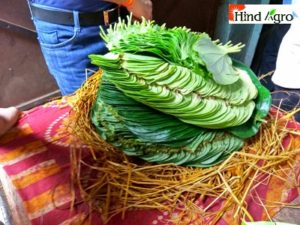 We planted the kalam such that the mother leaf is on the ground. We covered it with the straw to keep it moist till the plant sprouts. Water used was less but sufficient to keep it moist and retain colour of the leaf until the roots were developed. After the new sprouts/leaflets came we removed the grass (simple normal grass). Once 2-3 new leaves came we removed the older leaf (mother leaf) to allow the plant to grow independently. As betel plant is climber, the vines were tied after it grew 1 foot with GI wire and so on. Intercropping is not possible in betel leaf because plant-plant distance is very less.
Post six months from cultivation, we sprayed natural liquid formulation on the top soil and vines to boost the grown. To make this formulation, we soaked equal quantities of neem cake, mustard cake, mustard oil (to give warmth) and castor cake in water (50kg in 200 liter water)and allowed it to ferment. After it started stinking, we diluted with another 200litre water and sprayed it through fountains. We also spray diluted butter milk (50 liter mixed 200 liter water) to avoid fungus attack. These two liquids are sprayed alternatively in the interval of 15days.The first harvest comes after 8-10months. Later the leaves are harvested according to the orders/market price that is fortnightly, monthly or quarterly.
Cost of production in betel leaf is very less. In one acre it is Rs. 1.5 lakh/annum including labour and round the year organic treatment for plants, water etc. Betel leaves are sold in Indore and Delhi market. We also regularly supply to Agriculture University of Raipur. Usually it is sold at Rs. 1-1.5/leaf but last year we earned well as the leaf got sold at Rs. 2/leaf.
We are certified by Agriculture University of Raipur. They have compared our leaf with leaf grown from West Bengal. They have tested the oil content, colour, fragrance, taste, thickness and size. The oil content of our leaf is 1.5times more than Bangla leaf. All these parameters were better than the originally grown leaf from West Bengal. It is one of the biggest achievement and motivates us to proceed further.
We are now expanding our business. We have recently bought another 44, 000 sq feet (1acre) area to replicate the same model. Besides we are encouraging other farmers to grow betel leaves in polyhouse so that we can export after the quantity increases. Bangla Meeta Patta has good demand in gulf countries.
Diversifying to farming from finance was the good decision for us. Other than earning much more than our jobs we are elated with the entrepreneurship and it is immensely satisfying to see the plants grow. Farming is profitable provided one learns and understands the entire process thoroughly.
(As told to Mamatha S R)
Contact Details:
Hind Agro
30-A, Matushree Complex, Nagar Nigam Market, Near Agrasen Square, Indore – 452 001 Madhya Pradesh
Phone: 09977704147
Email: info@hindagroindore.in