Produces fruits, vegetables and oilseeds practicing organic farming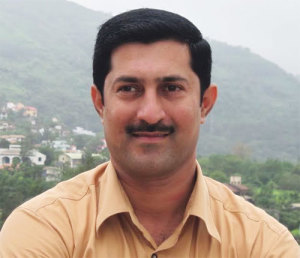 Green Farm Organic is a 21 acres farm. Mr. Firoz Hassan owns and manages the farm. Initially he used to take farming as a hobby but since 2008 he has taken it up as a profession. Mangoes, banana, and ice box watermelon are the main fruits grown in the farm along with oilseeds, namely sesame (til) and mustard.
The farm is located on the Banks of the Holy River Ganga in the Kunda Block of Pratapgarh District of Uttar Pradesh. It is around 70 km from Allahabad. The location is known as 2nd largest mango belt of Uttar Pradesh after Maliabad.
Using chemical fertilizers and pesticides to get high yield is a myth, states Mr. Hassan. He adds, "Organic farming is the basic culture of our agriculture industry. We adapted these chemicals later. Today people are very much aware of the serious diseases, and hence is the need to practice organic farming. However, it does not mean that every pesticide is harmful. A few crops grow better using chemicals." Some parts of Green Farm Organic are purely organic while the rest is the mix of chemical and organic. He further adds, "We need to focus on the crop's details first and then take the decision to go for chemical or organic farming."
Organic Manure (compost/slurry) with cow dung and ducks' droppings is prepared at the farm. Bio Plant growth promoters are also used through direct soil treatment, or foliar spray. Mr. Hassan keeps trying new things in organic farming practices. "With my experience and knowledge I prepared a Liquid Base Slurry Bio Fertilizer using dropping of goats, ducks, hens & pigeons as all of it contain more % of Nitrogen and Potash compared to the traditionally used cow dung or buffalo dung." He also shares, "Small ponds base mud, gram flour, and jaggery are also used for slurry compost. It gives good results in orchards as well as field application." In addition, for foliar application juice of one lemon is added in the tank as it enhances the effects/results of organic bio liquid fertilizer.
Entire farm produce is sold to traders in Allahabad and Lucknow who re-sell it at Azad Mandi in Delhi. There are no inquiries from international buyers. Mr. Hassan had never sold directly to the consumers so far but shall take up if given an opportunity to associate with someone. He shares, "I tried to contact the wholesale dealers of the market for my farm produce. But sometimes we have to deal through middleman for specific crops and vegetables."
In times to come, he plans to create more awareness among people regarding health benefits of organic crops and vegetables. Also he would like to make his district a hub for organic farming.
Mr. Firoz Hassan is a B. Sc graduate. Presently he is serving as a horticulturist and giving consultancy services to the farmer community in Uttar Pradesh. His expertise lies in organic farming, medicinal crop farming, clonal eucalyptus plantation, honey bee farming, and poultry (especially duck farming).
Our Correspondent
Contact details: Green Farm Organic, 130/148, Shahganj, Leader Road,
Opp. Bank of Maharashtra, Allahabad-211003, Uttar Pradesh. Mob: +9559944441 & +9795495543
Email: firozhkhan@rediffmail.com
Source : Agriculture & Industry Survey