Influenced by Israel agriculture, ventures into growing fruits and vegetables in climate control greenhouses on over 100 acres family-owned land in Bhavnagar, Gujarat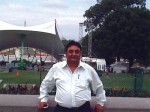 The Farmer
"It started as a hobby," says Mr. Rohit Sanghavi, director, Esteem Agro & Foods Pvt Ltd (EAFPL), established in 2011. Mr. Sanghavi was greatly influenced by the Israeli farming sector and ventured into growing fruits and vegetables on over 100 acres family-owned land in Bhavnagar, Gujarat. "We observed how this tiny little country has one of the highest per acre outputs despite having little water and land. Saurashtra has the same scenario. So if they can, why can't we?" says Mr. Sanghavi. He has over 40 years of experience in the engineering and diamond industries due to the Esteem Group's interests in these sectors.
Rising to Challenges
Initially the company faced several challenges due to the lack of awareness of new agricultural practices amongst the farmers. "Farmers did not understand why we were going for drip irrigation. They felt spending on drip was a waste even though the combined subsidies from center and state is 70% of the cost of drip," says Mr. Sanghavi.
The semi-arid climate of Gujarat was also a challenge. "Our humidity was very low and temperature very high. So we opted for climate control greenhouses. Here too, we found most agro equipment companies were unable to offer proper guidance," he says. They grow tomatoes in the greenhouse. "We grew 65 tons per acre of tomatoes in the off season. This year we are predicting 100 tons," he adds. Since the climate wasn't suitable for agriculture crops, they opted for horticulture crops like pomegranate and banana on 40 acres of land.
He further says, "Another challenge was the quality of water. To address that we use RO plants and have also constructed a rain water harvesting tank to collect the much purer rain water having very low TDS," adding, "Finally, labor continues to be a problem. For that we are constantly training staff." There are 10 supervisors, 5 managers, 1 agronomist and 35-40 labors working in the farm.
Going Scientific
The company implemented drip with automatic fertigation and used vermicompost for fertilizing. Mr. Sanghavi maintains, "We are using vibrators for pollination of tomato flowers; mulching to prevent weeding and water loss; and tensiometer to measure soil moisture. We calculate water requirements by using evapotranspirations formulae along with a pan evaporimeter."
The Change Agent
Mr. Sanghavi believes agricultural land should have a ceiling since people use it for land speculation and trading. "If companies are allowed to buy they will buy large amounts. These practices should be monitored. At the same time, land parcels are very small now, making mechanization difficult. We are stuck in a catch-22 situation. But this is good for the country and should stay as it is so that poor farmers are not forced to give up land," he reasons.
Suggestions for Policy Reform Changes
1. Set up monitoring committees of experienced field agronomists who monitor farms and use of scientific agriculture methods.
2. Try group drip installation from source. Connect drip pipes straight from river/dam/lake to farms so as to centralize water control and make drip mandatory. Give each farmer an account through Aadhar and supply water with appropriate pricing. This will reduce loss, improve water tables and efficiency.
3. Connect end consumers to farms through better involvement of APMC and using online distribution so farmers can get good prices and customers come to know what goes into making their food. This will reduce monopoly of APMC brokers, improve customer-farmer relations and improve quality assurance.
4. Implement policies that incentivize organic farming so that we can move away from GMO crops gradually.
5. Livestock must be accounted very accurately to know what our animal quality is. We have the potential to improve the milk yield but again the farmers have no idea about dairy nutrition management.
6. It must be monitored that areas designated to horticulture should not grow agricultural crops since the ecology of that region may crumble.
7. Agriculture education must include internships at farms. Many of the graduates have no practical knowledge.
Fruits of Labour
Esteem Agro clocks an annual turnover of Rs. 2 crores. At present they supply only to the local Bhavnagar market, but have plans to enter the exports market. "We sell the entire produce through reseller and APMC," says Mr. Sanghavi
Our Correspondent
For more information, contact :  Esteem Agro & Foods Pvt Ltd (EAFPL), 135 Udyog Bhavan, Sonavala Lane, Goregaon (E), Mumbai 400063, Maharashtra, India
T: +91-22-2686-7135 F: +91-22-2686-7189 M: +91-981-914-0348
E: esteem.agro@gmail.com  Website – http://www.esteem-agro.com/
Source : Agriculture & Industry Survey