Manufactures customized poly houses and shade houses. Located in Pune, Maharashtra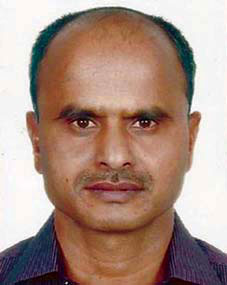 Govind Greenhouse Construction was established in 2007. The firm is located in Pune, Maharashtra state. Mr. U B. Gadekar is the owner and his family members are associated with it. The firm supplies a wide range of Green Houses and Net Houses. Govind Greenhouse offers fabrication and installation services for Green Houses and Net Houses.
Around 100 people are working in the firm and its annual turnover for the year 2010-11 was Rs. 1.40 crore (approx).
Govind Greenhouse plans to give five day training to the farmers and teach them how to use Green Houses and how to work in it. If the farmers are not trained and educated they won't be able to succeed in their field.
If a farmer finds success and money in it, he will show interest in his work and would also recommend his friends and family to use the latest technology.
Mr. U B. Gadekar is an agriculture graduate.
Mr. Gadekar says "my first objective is to give training to farmers which will increase their business. A farmer gets 60 percent subsidy — a maximum of Rs. 8.70 lakhs. In Maharashtra, 50 percent subsidy is given. We just submit the required papers and the farmer can claim the subsidy from the government. We supply our products in Maharashtra, Gujarat, Bihar, Haryana and Sikkim.''
Nowadays farmers understand the importance of protected cultivation. For making these Green Houses the firm buys steel from a local manufacturer. The height of a Green House is around 6.5 meter and gutter is around 4.5 meter.
The plastic material that is used to manufacture Green Houses are imported from Israel since 1998. Govind also construct customized varieties of Poly-Houses and Shade Houses.
The firm has developed a sprawling warehousing facility to store its products safely. Govind's professional and experienced packaging personnel make use of tamper proof material to deliver the Green Houses and Net Houses without any damage to the client's destination.
The firm's motto is to give better services to its esteemed customers.
Our Correspondent
For further Information contact- Govind Greenhouse Construction
Shubham Complex, Shop No. 20, Talegaon – Chakan Road,
Talegaon Station, Tal. – Maval, Pune – 410507, Maharashtra.
Mobile: 08373904894, +(91)-9552595247, +(91)-9552595290, +(91)-9552595280.
Email: govindgreenhouse@gmail.com
Website – www.govindgreenhouse.com/
Source : Agriculture & Industry Survey