Horticulture clinic and resource center at Hyderabad, Andhra Pradesh, Provides hi-tech services to horticulture farms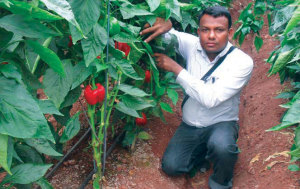 Global Horti Services was in corporated in 2010. It is located in Hyderabad, Andhra Pradesh. Mr. Ramakrishna Rayala is the founder and the principal horticulturist.
The annual turnover of the company is Rs. 25 lakhs (approx). Services provided by Global Horti Services are turnkey contract projects in papaya farming, technical guidance for crop production-polyhouse vegetables, agri- Horti project reports and training, nursery-quality plant material, Products-Certified organic farm inputs, Pomegranate organic farming and Turnkey orchard plantations.
Global Horti Services is a private horticulture clinic and horticulture resource center promoted by Ministry of Agriculture, Government of India, MANAGE, NABARD, Hyderabad and Participatory Rural Development Initiative Society, Hyderabad. Global Horti Services is a Hi-Tech Horticulture business Service provider for all types of horticulture-based farm business activities to the agro-based farmers, corporate companies, industrial people, commercial firms, produce exporters etc.,
Global Horti are consultants in horticulture farm business activities based on eco-friendly farming methods, Good Agricultural Practices (GAP) right from planting to marketing both in protected and open farming to meet the produce quality levels at global market. Global Horti Services promotes sustainable farm management practices with innovative and scientific methods to benefit the shared environment and promote fair relationships and a good quality of life for all involved.
Mr. Ramakrishna Rayala is a B.Sc (Horticulture), A. N. G. R Agriculture University, Hyderabad, M.Sc (Horticulture) University College, Dublin, Ireland, P.G. Diploma in Business Management, Dublin Business College, Ireland.
Mr. Ramakrishna has worked as an Extension Horticulture Officer (five years) , in the Department of Horticulture, Andhra Pradesh, To provide technical know-how for cultivation of all tropical fruit crops, vegetables, organic farming. He also worked as a Horticulturist (four years) in Ireland (Europe) and has gained experience in production and international marketing system of fruits and vegetables through the application of Global GAP, and FARM HACCP management practices.
Mr. Ramakrishna says "we cultivate organic vegetables and fruits. We are presently growing mango in 75 acres and vegetables in 46 acres near Hyderabad with our clients at an average production of 15-25 metric tons of vegetables per acre per crop. Presently we cater in Hyderabad city. In future our own outlets will be opened on co-operative lines with like-minded farmers. There is more concern for growing organic foods. Presently we are making a survey to supply Rs. 500 worth of organic food to 200 families every week with a group of 5-6 organic growers. Organic papaya and organic milk production are in the pipeline.''
"A lot of demand for agricultural commodities will be there when our farms get into international standards of quality and consistency in supply,'' adds Mr. Ramakrishna.
The company's vision is to be the leading horticulture consultancy by providing practical and sustainable eco – friendly horticulture business advice that creates focused management and investment opportunities, growing income, besides saving the biosphere and eco system.
Global Horti's mission is to drive the Indian farming community towards the international standards of fresh produce cultivation and marketing and to improve the product quality and consistency of the produce supply by the application of Good Agriculture Practices, organic farming principles detailing modern practices in crop production.
Our Correspondent
For more information, contact : Global Horti Services, G1, Sainikil Heritage, Madeenaguda, Miyapur, Hyderabad – 500 049. Andhra Pradesh. Mobile: 9010979044 Email: globalhortiservices@gmail.com
Source : Agriculture & Industry Survey