Invents solutions to resolve problems in farming and simplifies production process
Farmers are the most humble and gullible people on the planet. To grow food for others they face numerous problems such as depleting ground water, loss in crop yield, higher production cost, crop protection from animals and birds etc. Being the son of a farmer Mr. Girish Badragond could understand and relate to these problems in farming hence soon after completing formal education till SSLC from the year 1996 onwards he has been concentrating on invention solutions for agriculture. He is based at Korwar village, Vijayapura district, Karnataka. He gives a walk-through to his inventions in agriculture. Excerpts:
There are five rivers in my Vijayapura district yet farmers face water scarcity. The issue is same in many parts of the country where farmers are worried because groundwater level is going down by 10-15 feet every year. Groundwater is precious for agriculture and farmers. To irrigate their farmland farmers will blindly or just based on guess dig the borewell, invest in expensive water pump sets and pipes etc. The end result is waste of money and no water! This is an alarming situation! To address these acute problems we need accurate scientific instruments thus I invent solutions that surely simplifies agriculture. My first invention, low cost borewell scanner was developed while solving the groundwater related problem in my own farm in 2004. Since then I have been innovating solutions to address various problems in agriculture.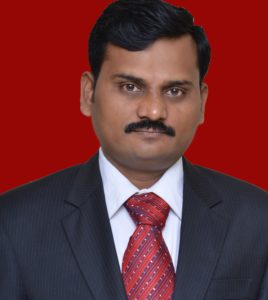 Borewell Scanner
I was growing horticulture crops in my 6 acre farm. To irrigate my farm I dug a borewell but there was not water! Disappointed with no water as well as waste of money I wanted to know the reason behind it hence started studying the underground water structure. My curiosity increased every day to know more about the flow of groundwater hence I used many sensors and cameras. With intense study and series of attempts finally I could develop low-cost borewell scanner in 2004.
The low cost borewell scanner is an automated capsule shaped bore scanner device that detects the groundwater availability, water pressure and water temperature. In addition it also measures the inflow and outflow rate as well as informs about the direction of groundwater. Along with groundwater availability and depth detection it is also helpful in irrigation device selection, groundwater recharge planning, watershed management process and reduction in water depletion.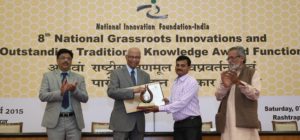 The scanner is equipped with high definition camera, digital compass, temperature and pressure sensor, flow and depth detector, GPS device, data lagging and LCD screen to display the assessment. The performance of my first innovation, borewell scanner is extremely precise. Many times, it happened that at the time the bore well is dug there is no water but within 24 hours 1-1.5 inch water comes and farmer is able to use the groundwater. The borewell dug at the location detected by this borewell scanner gives water all the year round. This invention is completely in alliance with and comprehends science of groundwater movement hence the results are accurate.
Smart Irrigation Control Systems
Water given by approximation is neither good for soil nor plants. Further it leads to wastage of money and energy. It happens so because power availability in rural areas is limited to maximum 6 hours and mostly supplied in 2 phases, morning and night. Operating the irrigation control devices at night is difficult thus farmers use auto starters. The auto starters start the motors once the power is restored and keep it running till the power is interrupted leading to excessive wastage of energy and water. Moreover, water requirement of crops depend on various parameters such as humidity, soil moisture, temperature, crop type etc. To enable plant have right amount of water at right time without any loss to farmer I developed Smart Irrigation Control System.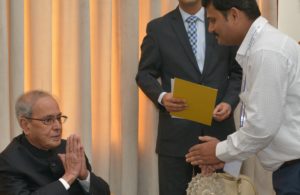 Smart irrigation control system comprises of 3 variants namely sequential timer for auto ON/OFF purpose, sensor based and time-based irrigation control systems. The system ensures that exact amount of water required by the plants is irrigated at different time intervals thereby reducing water and energy wastage. It is a customized product. It is supported by NABARD.
There are 2 types of sensor, surface mount and top mount. Working data of both sensors reaches the farmers' mobile through an app. Farmer is informed of every irrigation action taken on his farm through this system. Increased crop productivity, optimum consumption of energy and water, reduced labour expenses and reduced motor damage due to power fluctuations are the assured benefits of using this system.
Bird Repeller
Birds are one of the major problems for horticulture farmers growing fruits like pomegranates, grapes, guava etc. To scare the birds farmers use various devices such as scarecrows, hawk kites, dead birds etc. However the problem persists when the birds get accustomed to the devices. Scaring manually is difficult as it incurs additional cost and labor. To help farmers protect their fruit orchards I invented Bird Repeller.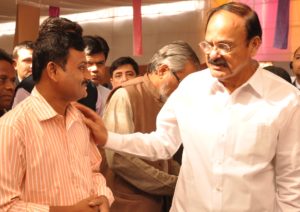 Bird Repeller is an electronic device programmed to scare target birds within 2-3 acre radius by producing loud sound. Different sounds are produced at random so that it becomes difficult for the birds to get accustomed to the sound. The time duration can be set for the day especially during morning and evenings when the birds come to the farms. Customized sounds for particular category of birds, power backup that lasts 2 days and compatible with solar power are the unique features of this device. It can also be used for scaring animals.
Solar Powered Plant Trimmer
In many plants, excessive branching reduces crop yield. It is more commonly seeds in tuar dal (Pigeon Pea). Cutting unwanted and excessive branches increases crop yield. Currently trimming is done manually which is laborious and time consuming. To simplify the trimming process, I developed Solar Powered Plant Trimmer. It is equipped with easily replaceable, locally (even in villages) available and very affordable cutters. It works even when it is cloudy. It increases yield up to 30% and can trim plants in 4 acre/ day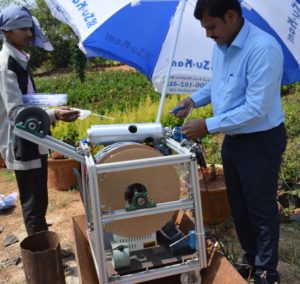 All my innovations in agriculture have received good response that has encouraged me to continue inventing new products. My immediate plan is to develop products to predict climate change and understand plant growth in 38 types of soil conditions found in our country. I am in process of developing some demo plats in Bagalkot, Vijayapura, and other districts in Karnataka.
I am focused on creating innovative solutions in precision farming that shall bring positive change in Indian agriculture in next 5 years. To do so I would be conducting workshops for farmers. I am committed for life on doing practical research and inventing solutions for growth of Indian agriculture and prosperity of farmers.
Contact details:
Mr. Girish Badragond
S/o, Gurupadappa Badragond, Village Korwar, Near Ganesh Temple, Sindagi Taluk, Vijayapura District – 586120, Karnataka
Phone: 09482608938, 07204513694
Email: ggbadragond@gmail.com