Integrates supply with demand, minimizes wastage and offers transparent transaction support to the farmers
"Indian agriculture sustenance and farmers income will improve only through supply chain efficiencies and not by calculative buying model from gullible farmers," says Mr. Maruti Chapke, CEO and founder, Fresh Produce Value Creation Services. At his company all the farmer's farm produce is bought irrespective of the quality grade. "Fresh fruits and vegetables have low shelf life and in that if only 'A' grade produce is bought from farmers then they find it extremely difficult to sell 'B' and 'C' grade produce. They would need to toil around the mandi to sell their 'B' and 'C' grade farm produce and sell for loss! Sometimes even the produce is wasted. So at my company we buy entire stock from the farmer, grade it and then sell to our B2B clients. We try our best to minimize the food waste." Company procures fresh fruits and vegetables from farmers and sells to its B2B clients – retailers, wholesalers, food processors, restaurants, exporters and institutional kitchens across Mumbai, Pune & Hyderabad. All the produce is sold under the brand name Go4fresh. It has 40 vegetables and 8 fruits in its product portfolio including exotic, regular and organic.
Company was started in the year 2013 with 23 farmers in the network producing vegetables and fruits conventionally using chemical based farming inputs. Today the farmers have increased to 600 out of which 65 farmers are purely organic and another 200 are in the conversion period. The business model ensures to give the best price to the farmers they deserve for producing vegetables and fruits. "The price we offer to farmers is always little higher than the market price. We fix selling price for their produce before cultivation," he asserts. If the market price of any commodity increases then the premium is shared with the farmers however in case of drop in price the loss is absorbed by the company!
The packaging of the produce clearly mentions if the product is organic, "It takes three years for the conversion from conventional to organic farming. Accordingly we mention it on the packaging such as one year conversion, two year conversion and certified organic (after three years). We keep 100% transparency on all our transactions with consumers," states Mr. Chapke.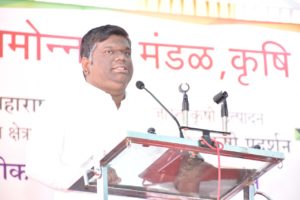 In addition to perk up farmers' income Mr. Chapke recommends farmers to reduce the production cost because in agricultural commodity market selling price fluctuates tremendously. To reduce production expenditure only way out is to use farm made agri inputs and it opens the door for conventional farmers to turn organic. To lessen the expenses farmers are encouraged to work in group. "We provide the technology transfer to make agri inputs using farm available ingredients. They are also encouraged to maintain a seed bank. With the use of farm based agri inputs the water required for irrigation also reduces and soil fertility improves consistently. It not only reduces their farm expenditure but makes farmers more independent. They get confidence by working in the group and slowly quit chemicals completely to turn organic," highlights Mr. Chapke.
Awareness on organic food exists in the market so demand is high but there is no consistent supply subsequently the price of organic food is premium. "The reason being at farmer's level there are few myths about organic farming such as low yield, hard work to prepare the farm yard manure, insufficient quantity to feed the soil etc. Also farmer gets attracted towards organic farming only with respect to selling price and he seems less concerned with improving the soil quality, growing nutrient rich food and less production expenses. Therefore to integrate supply with demand we encourage farmers to grow fresh vegetables and fruits organically. We closely interact with the farmers and explain them the non-monetary benefits of the organic farming," he elucidates.
As farmers are trained and provided the guidance company also takes initiative to educate the consumers on identifying organically produced fruits and vegetables visually because they should not be duped too! "Consumers are aware about the health benefits of eating chemical free food but they are often cheated as they cannot identify organically grown vegetables and fruits. So we train them such as colour of cauliflower is always creamy yellow not white, native tomatoes will have more seeds, okra seeds will be bigger in organic variant and so on," he shares.
By 2025 Mr. Chapke aims to have 65% of his transactions only in organic and also bring down the cost of organic by increasing the production area. "We are working robustly to make farmers quit using chemicals. And by 2030 it should be 100% organic. It is very much achievable and I am sure we will do it!" he signs off.
Mr. Maruti Chapke did post graduation from Manage, Hyderabad. Before the entrepreneurial bug bit him he served 15+ years in agri produce sourcing, operations and commodity trade with Future Group, Reliance Retail, HDFC Bank and Mahindra Shubhlabh. With Fresh Produce Value Creation Services (Go4fresh) he aims to organize and deliver market oriented demand and minimize distress situations in the farming community.
Contact details:
Fresh Produce Value Creation Services
#A/2, Mafco Market Yard, Sector – 18, Turbhe, Navi Mumbai – 400 705.
Phone: 022 6640 9191
Email: maruti.chapke@go4fresh.in
Web: http://www.go4fresh.in/