Introduces Galvanised Silos for food grains storage. Located at Bengaluru, Karnataka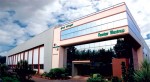 Fowler Westrup (India) was incorporated in the year 2000 as a joint venture between John Fowler (India) Pvt. Limited and Westrup A/s, Denmark for manufacturing post harvest agricultural processing machine and oil filtration system. The company's operations commenced in 2001.
Fowler Westrup is a global leader in providing solutions for Grain Storage Silo System, Post Harvest Agricultural processing machinery for Seed and Grain, Opto Electronic Colour Sorter, Grain conveying equipment, Oil filtration and Regeneration system. Fowler Westrup has a modern manufacturing plant located at Bangalore, India. New Product development is an on-going process to meet the continued enhancement of customer needs.
Food wastage in India is estimated to be over Rs. 50,000 crore. Government of India is seriously planning to put up Scientific Storage Solutions for Food Grains. This is an extremely important initiative in view of the huge wastage of precious food grains due to lack of proper storage facility. Govt. of India has executed Galvanized Silo Storage System for 5,50,000 Matric Tonne in 2007-08 on BOO basis. Execution of such type of projects will reduce the stocks lying in the open and deteriorating due to moisture, rodents, fungus etc. Fowler Westrup strongly recommends Galvanised Silos for storage as they have a long life and have enough controls to have zero wastage.
The Product Manager – Silo says "Fowler Westrup has got a complete range of products required for Post Harvest cleaning, grading, sorting, conveying, lifting, storing etc. Vertically, the range includes very low capacity of 5 Matric Tonne storage to 15,000 MT and above. We have tie up with leading manufacturers for other related products like Drying, Packaging, Treating of the grains etc.
We plan to add such machinery to our manufacturing programme shortly. We have started a new manufacturing unit at Bangalore in a 20 acre plot with latest infrastructure and world class R&D facility to develop most modern Agri Processing equipments. The host of these products can meet any storage needs of the country.''
"Food wastage in India is estimated to be over Rs 50,000 crore. Replacing bags of Jute with any other material will not solve the problem of food wastage. The focus should be to protect the Grain for longer periods without deterioration due to moisture migration, rodents etc. This could be avoided through scientific bulk storage method i.e., Galvanized Silo Storage system with Silo Accessories and Mechanized handling system for receiving as well as distribution of Grain,'' adds the Product Manager – Silo.
"We have developed wide range of post-harvest machinery. The capacity ranges from 100 Kgs to 400,000 Kgs per hour. These machineries are affordable to small-scale entrepreneurs but not to farmers. Indian farmer is selling the excess production of Grain in the local market to Food Corporation of India (FCI) after harvesting. The farmer is not yet financially sound to hold the stock and take it to the market when prices of commodities are higher.
Farming Co-operatives can afford to have such machineries. Government should encourage such Co-operatives across the country. Accessing such machineries is not a problem and we are ready to set it up and train people and service when needed across the country,'' says the Product Manager – Silo.
"State Warehousing Corporations under Govt of India (FCI) should plan Galvanized Silo Storage System on their own. State Warehousing Corporation has the land and trained workers who are operating the traditional storage and distribution system (Godowns) at present. We suggest minimum packaging of foodgrains. Only the grain required to be distributed at taluka place should be packed at field depots of State Warehousing Corporations.
FCI / State Government should distribute the grain in bulk to private entrepreneurs i.e., Rice Millers, Wheat Roller Flour Millers, Poultry / Cattle Feed manufacturers etc. This will avoid packaging expenses as well as wastage of grain'', adds the Product Manager – Silo.
Our Correspondent
For further information contact the Product Manager – Silo,
Fowler Westrup (India) Pvt. Limited., Plot No: 249/250, Third Phase,
Bommasandra Industrial Area, Hosur Main Road,
Bengaluru – 560099. Karnataka Phone: +91 80 27832992
Source : Agriculture & Industry Survey