Soon to launch mobile app for direct customer sales. Exports G9 banana and curry leaves powder
Wani couple, Mrs. Kavita and Mr. Hemant are the new-age farmers who think and act beyond boundaries and constraints to make farming profitable. She manages the production and personnel while he takes care of marketing and finances. Their 55 acres organic farm in Chopda village, Jalgaon district, Maharashtra was once gripped in chemical farming process but series of experiments based on cow dung and urine along with apt water management techniques had turned the farm absolutely residue free! Consequently the production has been increased by many folds and farm products enjoy good demand. 50% of the produce is sold to the companies while remaining 50% is sold directly to the end users across the state.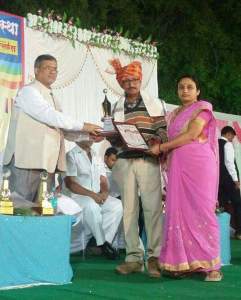 E-commerce craze is not hidden from the watchful eyes of Mrs. and Mr. Wani! They are developing a mobile app that shall give complete list of farm products grown and processed at the farm. It shall have the details on the stock available and its production schedule for the next season. "We are producing many types of pulses and cereals that are used in day-to-day cooking in every house. In addition, we are growing it all organically therefore taste and nutrient content is quite superior. Presently we sell it directly to the end users on the order as received over the telephone. But to expand and reach more people we need to have the technology. So we decided to have our own mobile app," shares Mr. Wani. "It shall be easy for the customers to place the order and we too can process it in much more efficient way." The mobile app will be available for the download by the end of the month.
Wide varieties of crops are grown on the farmland based on rotation and market dynamics. Diverse pulses, cereals and flowers are cultivated. G9 banana grown in the farm is of premium quality and has given remarkable recognition to Wani couple in the region as it is 100% exported. "We are exporting banana for past seven years now through the export traders located in cities such as Bangalore and Mumbai," shares Mrs. Kavita Wani. "They also buy pulses from us on large scale."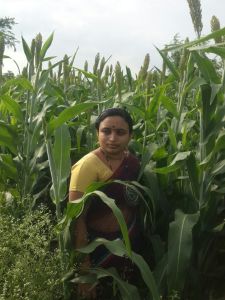 Curry leaves powder has high demand in International market. "We found about this demand so we started growing curry leaves on commercial scale. We later processed the leaves into powder at the farm itself. It sells effortlessly," adds Mr. Wani.
Farmland came as ancestral property to Wani couple but the soil was extremely sick due to prolonged years of chemical usage. To revive it was a challenge, "I studied B.Sc agriculture therefore was aware of benefits of organic farming. My brother is Gold medalist in agriculture so he also gives lot of input. And most important I always had immense support of my wife for zero-budget natural farming practices. We modified teachings of Mr. Subhash Palekar as required in our farm. With consistent efforts the farmland soil regained its fertility and texture. Consequently the farm produce of our farm is distinctive from other farmers in the vicinity and is sold easily," he asserts. The farm is certified to be chemical free.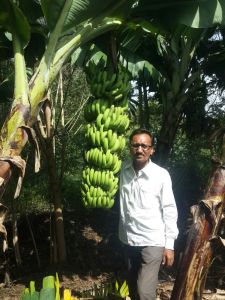 The production increased through the organic farming. Next step was to get into value addition in order to increase the earnings, "We started processing all the produce in-house. It was neatly packed and then supplied either to commodity trading companies or direct customer. It surely is more work but at the same time has upgraded our revenues," avers Mrs. Kavita Wani. All the products are stored at the warehouse in the farm premises. "We ensure to take the precautionary steps to safeguard the produce. All our storing techniques are natural," she adds.
Organic farming practices and foresightedness had brought immense change in the life of Wani family.
They conclude, "Natural farming works wonder, it is all about belief and hard work. Chemical based farming gives short term gains but in the long run it leads to huge losses. Farmers who stick to chemical suffer and fall down where as those who switch to natural farming survive and grow. So farmer needs to decide!"
Contact details:
Mr. Hemant Murlidher Wani / Mrs. Kavita Wani
Raghuvansh Plaza, Gujarati Lane, Chopda Village, Jalgaon district, Maharashtra 425107
Mobile: 098815 80208
Email: kavitahemant1@gmail.com