Jointly grows and sells seasonal vegetables and stevia for better returns
"Farmers are quick learners and hard working but lack the awareness on the changes taking place in agriculture. Also in Himachal Pradesh the land holding is less and farmlands are uneven. Therefore to resolve these issues we like-minded people formed one common entity that is facilitating the farmers to work in groups," says Mr. Rakesh Kumar, one of the representatives, Farmer Club Himachal Pradesh (FCHP). Adopting new crops, integrated farming, value addition and joint selling are the main focus of the club. "We are also working towards creating a unique recognition for our state in Indian agriculture industry just the way we are renowned for tourism." In all there are 250 active farmers in the group at the moment. It is located at Sirmour, Himachal Pradesh.
Majority of farmers are having very small land pieces so their poly houses are also small. Across the state poly house in small areas like 250-500 sq meters are commonly seen. Farmers are able to produce reasonable quantity of the crops as per their capability however the problem comes in selling! "To transport smaller quantities of vegetables or any other agricultural products to wholesale markets in New Delhi and Chandigarh is very expensive for an individual farmer. Thus it is compulsory to work in groups, grow similar crops to obtain bulk quantity and sell jointly. To facilitate the same we have created the farmer club. We farmers work together then it is gainful for all as our state is gifted with best climatic conditions and crops do not get easily affected by diseases or pest infestation. Also the percentage of chemical usage in our state is very less," he adds. Mostly seasonal vegetables are grown in the poly house. "We will also be growing exotic vegetables after we group farmers together and bulk buyers are identified."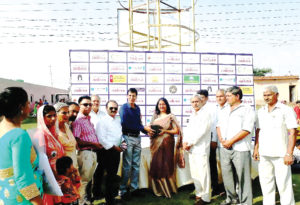 Speaking on integrated farming Mr. Vikas Kumar says, "We are growing multiple crops like fruits, vegetables, herbs and grains. It is so because then we can have regular income from our farms all the year round. Amongst the herbs we are concentrating on stevia."
Stevia is a long term cash crop. Once planted it generates revenue in every 2.5-3 months for four years consistently. It is a sturdy crop and resistant to diseases therefore requires very less farming inputs and monitoring. "In order to make it further realistic we are doing contract farming. Under contract farming planting material, production assistance and buy-back guarantee is provided. Stevia selling price/kg is mentioned in the contract before the crop is cultivated! It gives assurance on sales," he informs. The tissue culture plants of stevia are sourced from Noida. "We have selected tissue culture plants because it would have higher percentage of glycosides (approximately 10-13%) and also give higher yield of leaves." The soil ph required is 6-7.5 and the plants grow only with bio-inputs such as vermicompost and trichoderma etc. It doesn't grow in water logging area.
Training on cultivation, harvesting and packaging stevia leaves is provided. After every harvest the production increases in the next season. On an average annual production of stevia in the first year is 1500-1800kg/acre. Then after there will be an increase of 15-20%. Neat and clean leaves with moisture level 8 in dry condition fetches Rs. 110/kg. "Right now we are growing in 60 acres but post winters by February 2018 the acreage for stevia shall be escalating substantially. The goal is to grow stevia in 500-1000 acre collectively," he shares.
Future plans are to make Farmer Club Himachal Pradesh into a legal and formal FPO where all the farmers will be share holders and would be contributing in different activities of farming from cultivation till marketing. "Also interactions with Government are going-on to set-up stevia processing plant to make the extract and value added products. Farmers income will increase only when we scale operations to processing," he states.
Mr. Rakesh Kumar himself is a farmer and also offers poly house and drip irrigation solutions to the fellow farmers. In his words, "Farmers in Himachal Pradesh are now working in co-operation with one another. By selling our farm produces jointly and growing stevia we are going to increase our annual income atleast three times. As the farming practices are modified and new crops like stevia are cultivated the future looks promising."
"Stevia is boon for the farmers as well as consumers. Previously as the crop was not approved by FSSAI it could not be used commercially but now after the approval the future is promising as stevia extract is allowed to be used in food processing industry as a healthy sweetener. Consumers would fall less prey to the lifestyle disease 'diabetes' by consuming stevia extract in place of sugar. Demand is surely going to increase substantially therefore we are encouraging fellow-farmers to prepare ourselves beforehand to be able to reap maximum gain in time to come. We are hopeful stevia will be a life changing crop for us," he concludes.
Contact details:
Farmer Club Himachal Pradesh
Mr. Rakesh Kumar
Village Kanlog P.O. Banah Ki Sair Tehsil, Pachhad District, Sirmour – 173024, Himachal Pradesh
Phone: +91 8837671544, 9418974425
Email: farmerclubhp@gmail.com