Urban India interacts with rural India through fun filled activities and learns about growing food
Disturbed with the rat race in the urban life, vagueness in the so called "upward mobility" to be the only goal in lives and careers, advertising professional Mr. Rahul Kulkarni and his actress wife Ms. Sampada Kulkarni decided to move closer to the nature. Determined to live a more meaningful, contented and peaceful life, they laid the foundation for "Farm of Happiness" at their ancestral property in village Phungus, Konkan, Maharashtra.
Sharing as to how his little journey in agriculture started, Mr. Rahul says, "Mr. Shekhar Bhadsavale (The Father of Saguna Baug, Neral) made us understand the importance of owning the land and growing food. We realized that we had to become farmers first and then spread awareness on the importance of growing food with the world through the medium of agri-tourism."
Mr. Rahul and Ms. Sampada always believed happiness is experienced when life is simple and less complicated and so they invested all their earnings in setting up the agro-tourism farm without any hassle. In addition they felt, "Besides the monetary aspect there is lot of peace and aesthetics when you choose to live in the laps of nature." The self-driven couple started from scratch to turn the grass-covered land with no water source into a comfortable living space for guests in 2005. The total property spreads in 20 acres but presently approximately 8-9 acres have the perennial crops cultivation like mangoes and cashews with some seasonal crops like vegetables, turmeric, chillies, rice, ragi, etc. "A house for the home-stay with the front and back yards occupying about 8 gunthas along with a cattle and wood stock shed. The entire land is used to serve guests as the farm trail includes meeting the wild flora & fauna, trekking and cycling around," he informs.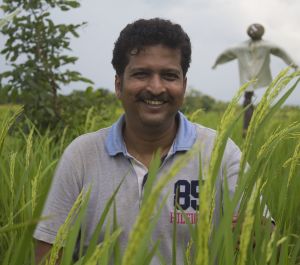 Farm of Happiness can host maximum 15 guests in three bedrooms and a huge living room. "It is a house designed in a very traditional form and layout. It was inaugurated in January 2014." Soon by March 15, 2015, three more rooms with a dormitory for additional 20 persons will be ready to serve more guests.
Clearing the doubt on the year of establishment, Mr. Rahul says, "I started on this venture in 2005, streamlining things one after the other. The rooms were ready and we had about 10-12 rounds of pilot guests since a year before January 2014. This was in light of understanding how things are going to be, what would be the expectations of guests and training local staff on every little detail possible. Finally we launched our website in January 2014 and welcomed our first commercial guest in February 2014."
People in urban India know everything about mobiles but do not have even the slightest idea of how food comes to their plate, and this thought prompted Mr. Rahul to design all the agri tourism related activities to entertain the guests around the theme 'growing food'. He shares, "We show guests how different crops grow, their life cycle, why crops are produced in particular season and why they should be eaten in specific seasons only. We give a walk through as to how nature has created different living creatures and its relation to one another. Our guests are requested to join and participate in all farming activities from ploughing, weeding and harvesting etc." Mr. Rahul proudly adds, "So far our guests have really been interested in these activities and have admitted to have learnt a lot with such fun filled practical."
Nature lovers, new-age tourists inclined to experience off beat places and themes, farming enthusiasts and families (NRI and Indian) keen to introduce their kids to rural India and to the life that they have missed are the target customers. Recently, the first set of foreign visitors too have enjoyed their stay and farming experience at Farm of Happiness.
Mostly guests travel to the farm in their own cars with the help of maps and route details as provided to them. "Some come by train or buses to the nearest station and we arrange for paid pickups in auto rickshaws or jeeps of the locals and that's getting them some business too," he says.

Farm website and its Facebook page are used for reaching to the target audience. Marketing and creating awareness about the farm are not the challenges as, "Thanks to my advertising career! On our social media we regularly reach to Indian travelers as well as families and youngsters in US, Europe and Middle East to attract foreign tourists," says Mr. Rahul.
When told agri-tourism is picking up fast and so is the competition, Mr. Rahul promptly replies, "No competition bothers me. I am happy if more people want to do it as that means many are getting into farming." Permanent staffs (locals and also farmers in their own farms)of 10 people manage the entire operation under the supervision of Mr. Rahul himself.
Citing future plans he says, "Make more and more guests aware of the food growing industry. Conduct farming workshops for kids and adults, build a pool of local farmers wanting to get into organic farming, grow some indigenous crops in bulk and market them." He concludes saying, "I owe this all to the immense belief and support of my family. It has not been easy for them and I could do it only through my family's endeavor. It is not a single person's task."
Contact details-
Farm of Happiness
Near Katal Wadi, P.O. Phungus, Tal. Sangameshwar, Dist. Ratnagiri 415611
Mobile – +91 98200 02863
Email – info@farmofhappiness.com
Website – http://www.farmofhappiness.com/