Maintains seed bank of 250+ indigenous crops varieties
Millets are the new super food gaining popularity in the consumer world. Farmers too are getting inclined towards millet cultivation as it requires less water and yield is also good with little use of farm manure. Anticipating the demand Mr. Eshwarappa Siddappa Banakar from Hireyadachi village, Hirekerur taluk, Karnataka started seed bank in his house itself. He specializes in millet seeds and other indigenous crop varieties. Investing 15 years, travelling to remote location and adopting organic farming practices Mr. Eshwarappa has collected more than 250+ indigenous crop varieties. "Millets are usually 3months (90-95days) crops. It is becoming popular amongst the farmers because it can be cultivated round the year and needs very less water. My seed bank is open for all. I sell only desi seed varieties of millets, legumes and vegetables. I sell these seeds to farmers at nominal price," he shares.
His seed collection has assorted varieties of different crops like 8-10varieties of brinjal, 8-10varieties of beans, 4-5 varieties of jowar (sorghum), 4 varieties of chili, 5 varieties of pumpkin, 2varieties of bottle gourd, 4 varieties of desi cotton, 3 varieties of sweet potato and so on. He is doing seed preservation and conservation in association with Bangalore based NGO, Sahaja Samrudha. Mr. Eshwarappa deals only in desi seeds thus he takes help of only organic farmers for seed multiplication. Besides on his own farm he multiplies the seeds through zero budget farming model. "As I am into cow based farming I have 4 desi cows in my farm to fulfill the requirement of organic fertilizer, bio-pesticides and bio-insecticides," he says. His farm spreads in 8 acre. He upholds 30guntas farmland only for seed multiplication where he cultivates ragi, jowar, foxtail millet, pearl millet and vegetables namely cluster beans, ridge gourd, ladies finger, brinjal) etc.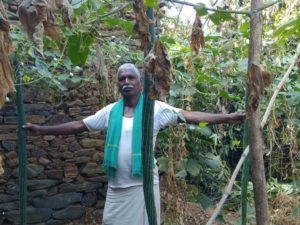 Mr. Eshwarappa recommends intercropping millets and legumes for seed multiplication in the pattern of 8 rows or 12 rows. "We cultivate 8rows of millets then one row of black eyed beans, green gram, urd dal, tur dal, doddajola (jowar), horse gram. After every 8th rows of millets a legume crops seeds are grown in one row. Intercropping after 8rows has come from our ancestor. Our ancestors have made this pattern of 8 rows or 12 rows for intercropping. We cannot grow vegetables as intercrop," he explains.
Elaborating on his seed collection he says, "I have cultivated 22varieties of ragi (kona kombinaragi, gidkindalragi, hydaluragi, underagi, ragallishivalliragi, jagalurragi, chandahuvuragi, belemundagaragi, deymundaga, karemundaga, jenuguduragietc) and 3 varieties of pearl millet (moon sajje, marasajje, haalusajje). Amongst all the 22 ragi varieties 'belemundagaragi' is most popular amongst the farmers." He keeps the stock of 2-4 kg seeds of every variety.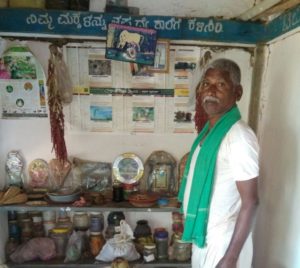 Initially Mr. Eshwarappa used to sell seeds on barter system or seed exchange. "I used to give seeds to farmers and ask them to return after the cultivation. But majority of them failed to return seeds to me therefore I then started selling seeds at nominal price. For example I sell some millet seeds at Rs. 100/kg, ragi seeds at Rs. 50/kg, vegetable seeds Rs. 10 for 10-12 seeds. I have not fixed the quantity for selling, it can be as low as 50 gram or 100 gram," he shares.
Seeds are stored in earthen pots. "We store seeds using tradition process. Jowar seeds are stored with dry cow dung cake because the later acts as desiccant. We also keep neem leaves to avoid insects. Millet seeds are kept in earthen pots in dry place," he states. Unfortunately Mr. Eshwarappa doesn't maintain any documents of the seeds. "I do the work all myself so it stays with me always," he says.
In future he shall continue his present operations as well as aspires to open a mill to de-husk paddy. He concludes, "I started experimental farming with seed preservation when I was in my twenties. I have invested all my life in collecting and preserving indigenous seeds. Today when I am 61, my seed bank has collection of more than 250 indigenous varieties of seeds. I feel contended to safeguard the national treasure of seeds."
Contact Details:
Mr. Eshwarappa Siddappa Banakar
HiriyadakiGrama, Chikkayadaki PO, HirekerurTaluk, Haveri District – 581 116, Karnataka
Phone: 09980087362